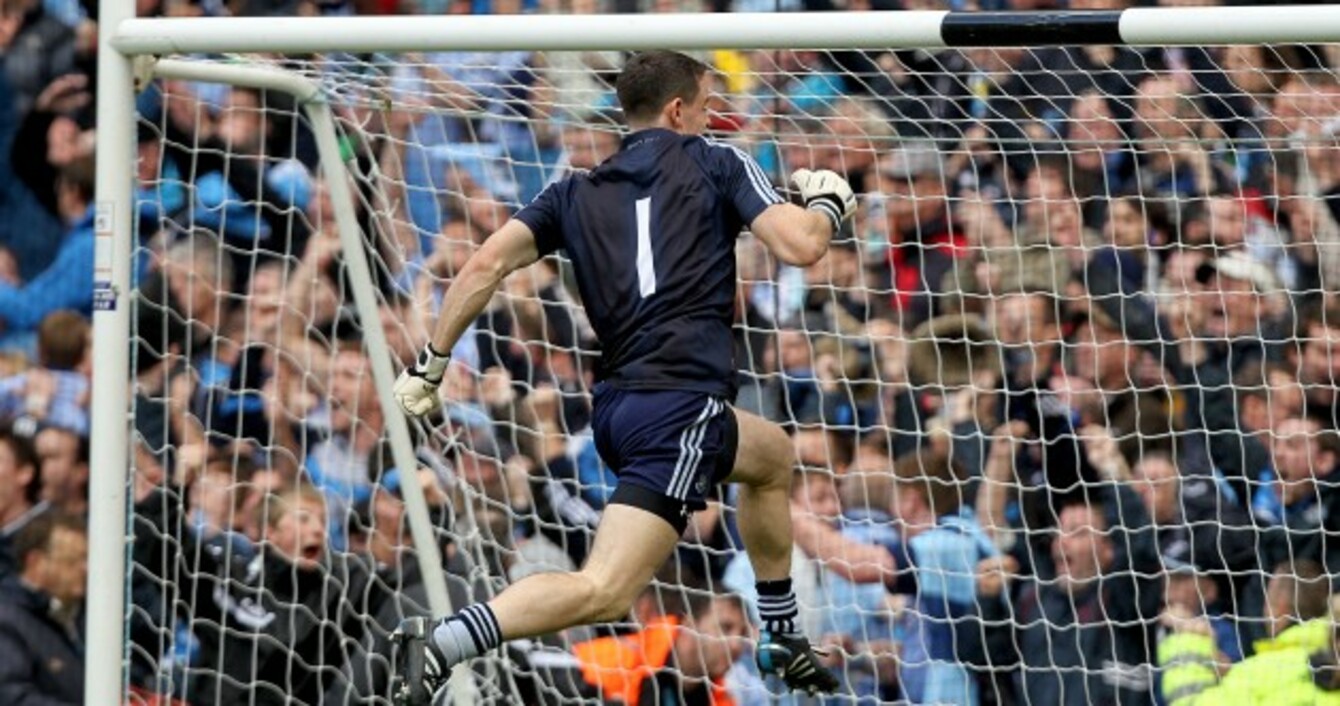 Always be yourself... unless you can be Stephen Cluxton. Then be Stephen Cluxton.
Image: ©INPHO/James Crombie
Always be yourself... unless you can be Stephen Cluxton. Then be Stephen Cluxton.
Image: ©INPHO/James Crombie
SO, EH… THAT was pretty good.
The most dramatic All-Ireland in 30 years was won on Sunday by the best team in Ireland, with the last kick of a marvellous final.   You couldn't have asked for better drama, or a more thrilling denouement.
Or a more interesting central character.
Stephen Cluxton certainly looked more at home lining up that last free than he did in the Burlington on Sunday night but he was ice-cool when it mattered. He's obviously shied away from the media for his entire career, and didn't have much interest in lifting the trophy or in taking part in the celebrations afterwards, but that is apparently just 'his way.'
I played with him briefly, in DCU, but I certainly wouldn't profess to know the fellow at all.  I actually only trained with the Sigerson Cup panel for a few weeks before we were knocked out by Cork IT in the quarter-final… and I took the left-footed frees for that team, not him!
But back then, he wasn't a quiet lad (he was great craic in fact, as I recall); just not a man in it for the glory or the gains.  He just seemed to really enjoy football, and left the rest up to fate.  A pretty fine approach to life I think.
Anyway, after all the disappointments, heartbreaks, and outrageous punches to the jaw of former Irish World Cup heroes, he fully deserves his All-Ireland medal. I should also note there is a Facebook page recently opened called – "Always be yourself… unless you can be Stephen Cluxton.  Then be Stephen Cluxton" – advice for life there!
Made in Marino
That DCU team had Paul Casey and Bryan Cullen on board, and was managed by Mickey Whelan; and through Whelan I played with Vincents for a year, where I met up with Diarmuid Connolly, Ger Brennan, Mossy Quinn and Pat Gilroy.  So I had many reasons to be cheerful about yesterday's result, and in truth I was – the people who keep the GAA alive in Dublin are amazing characters, who have to deal with problems (personal and societal) beyond the ken of most people in rural clubs.
The one year I spent with Vincents gave me a small insight into what made that club great, and this is another Dublin All-Ireland that can truly be said to have been dreamt up in Marino.  I think it highly unlikely that at some stage this week Pat Gilroy and Mickey Whelan didn't sit down with Kevin Heffernan for a coffee and discuss what beating Kerry is all about.
For the neutral, All-Ireland final day 2011 had everything.
The minor game was a classic, decided in the dying moments by an absolutely magnificent goal by Colman Kennedy for Tipperary, giving them a first All-Ireland title at that grade since 1934.  And there can be no doubting the pedigree of their success – they beat Cork and Kerry in Munster, before beating Dublin in the All-Ireland.
But the build-up to the senior game was huge, the noise was huge, the colour, the occasion – all absolutely mammoth in scale.  And the crowd was brilliant too, even if myself and my Dad seemed to find ourselves in the middle of a sitcom in the lower Hogan.
Beside me – a large, curly-red-haired man with a Kerry jersey on OVER his rainjacket, exclaiming loudly about the power and the glory of the Kingdom.  Beside Dad – a loud-mouthed, ill-informed Dub who was making a return to Croker after 16 years away by the sounds of things.  As they were taking their seats we were wondering which one of them would be more insufferable at the final whistle!
"Breathless, magnificent stuff"
In the end, the drama of the game outweighed any such petty concerns. I predicted here last week that Kerry would win by two, and at half-time I still thought they would win.  With ten minutes to go, I was certain they had it in the bag. But we were about to discover the sheer scale of the belief in this Dublin team.
Kevin McManamon's goal will be looked back on as a major turning point of course, and what a year he's had.  He was the key difference in the semi-final against Donegal (I'd have given him man of the match that day in fact), and he made an immense contribution again yesterday, winning the final free as well.   Is he in line for an All-Star, despite not starting a game?
See Sport
Differently
Get closer to the stories that matter with exclusive analysis, insight and debate in The42 Membership
Become a Member
The goal still left them a point adrift though, as we moved into a seven minute period of football that was as good as anything we've seen in years.
First Kevin Nolan's point, his first ever in championship football.  Then, the lead for Dublin, through Bernard Brogan.  The sky-scraping effort from Kieran Donaghy looked to have forced the replay, before Cluxton's amazing final say.
It was breathless, magnificent stuff, but the 60 odd minutes before that were great too – lost in all the post-match chatter about Cluxton et al. was just how good Darran O'Sullivan was.
He carved the Dublin defence apart for Kerry's goal, allowing Colm Cooper to apply the coup de grace, and was a constant threat throughout.  In fact I was walking back into town after the game and met Wexford manager Jason Ryan on Henry Street and he felt that moving Darran O'Sullivan into full forward could have tipped the balance in Kerry's favour.
It was something I must say that had never crossed my mind, but made perfect sense when he said it – and it goes to show that I can be wise here on a Monday morning, but guys like Pat Gilroy, James Horan, and Jason have to be wise on Sunday afternoon… a very different proposition.  We seemed to be covering Wexford every second week in June with Newstalk's GAA coverage, so i would have met Jason quite a few times, and he was like so many of the GAA's biggest managers and players; an absolute gentleman.
It's been a pleasure to have been so close to so much of the action all summer, and I hope you've enjoyed the half-baked opinions and cheap gags I've shared with you here on TheScore.ie during Championship 2011.
This week Murph was – so proud to be a Copper Face Jack's gold card member. WE were mentioned in an All-Ireland final speech! Yes, that's a we, it's a long winter…