"GETTING THERE IN plenty of time" is something to be celebrated in all walks of life, punctuality being a virtue of course.
But in the GAA supporter lexicon, it is a particular badge of honour.
So rather than feel any shame, Newstalk commentator Dave McIntyre and I were feeling very proud of ourselves when we landed into Dr Cullen Park in Carlow a full three and a half hours before Meath and Wicklow was due to throw in last Sunday.
We were required on air at 1pm to set the scene, and Dave McIntyre has a foot made of lead when he's behind the wheel, so we were the first two in the door of what is a beautiful little ground.
And instead of ridiculing our quite outrageous misjudgement of the time it takes to get from the Red Cow Roundabout to Carlow, the stewards on hand saluted our dedication to the cause, and silently acknowledged our bona fides as "quare details."
It also gave me the chance to find this little beauty in the press box –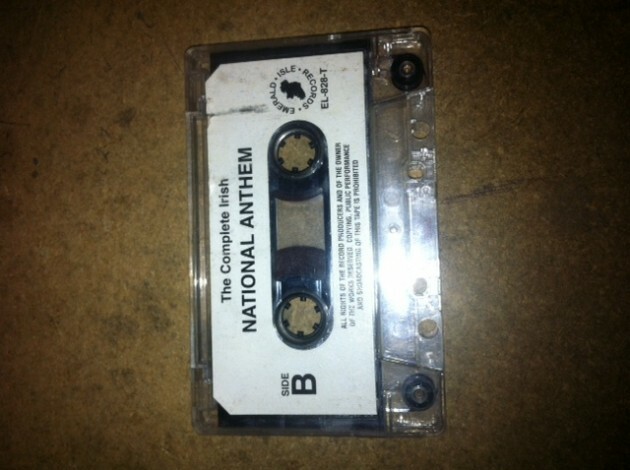 The A side is 'Blue' by Eiffel 65
And I got to talking with the man in charge of the PA, who told us that Croke Park sent them out a blank CD, with instructions that that's what you're to play at half-time.  He didn't even know what was on it, so I told him to stick on track one and see what it was.  We heard the first 30 seconds of 'Footloose', and left it at that.
I don't know if that told us everything we needed to know or not, but he seemed to have drawn quite a few conclusions from it all.
Of course we could have picked worse days to be three and a half hours early, and the summer sunshine gave the whole day a lazy, relaxed feel, which one feels was a million miles away from the real feeling in the Meath dressing-room.
Spotlight
Everything about their build-up to this game has been played out in the full glare of the spotlight.  First there was their disastrous league campaign, which saw them relegated to Division 3, the tin-hat being placed on that particular bit of bad news by their nearest rivals Louth on a chastening day in Navan in early April.
Then of course there was the saga over Seamus McEneaney's job, too long and too depressing for all concerned to go into at length here, but a saga nonetheless from which no-one in Meath football came out of with any credit whatsoever.  So the feeling come into this one was that they were in real danger here –particularly when facing a team like Wicklow who had won promotion and a Division 4 final in Croke Park in the course of their league season.
And when Wicklow went 5-0 up after 15 minutes, I'm sure Meath football fans feared the worst.
Thereafter though Meath did enough to merit their victory — although it must be said that the win owed as much to doggedness and to individual flashes of brilliance (particularly from Graham Reilly), as it did to a rigidly enforced game plan.
There's no doubt the loss at the start of the second half through injury of Leighton Glynn really hurt Wicklow's chances but as Darragh Ó Sé and Colm Parkinson said repeatedly during our commentary, they must stand indicted for giving Graham Reilly the run of the pitch basically, and also for allowing Brian Meade to win ball after ball pretty much uncontested at midfield.  Both of those issues were there within 10 minutes of the start of the game, but both were left untouched for the entire match.
I told a few people who our commentary team was before the game and they seemed to think that Darragh and Woolly was a rather combustible combination, but they dove-tailed expertly and you can expect to hear plenty from both of them throughout the summer. Woolly may need to wear a name-tag next time though — he felt that all the people craning their necks to see and hear what Darragh made of it all just presumed he was there as Darragh's secretary.
An All-Ireland minor medal counts for little or nothing anymore, apparently.
Perhaps his debut appearance on The Sunday Game after he left us in Carlow will help 'Brand Woolly' establish itself more fully in the minds of the people…
This Week Murph Was – honoured to get both Louth manager Peter Fitzpatrick and Limerick hurling legend Richie Bennis on "Off the Ball."  The Champions League and the Heineken Cup provide you with many things, but they just can't compete with two of the greatest accents this country's ever produced.