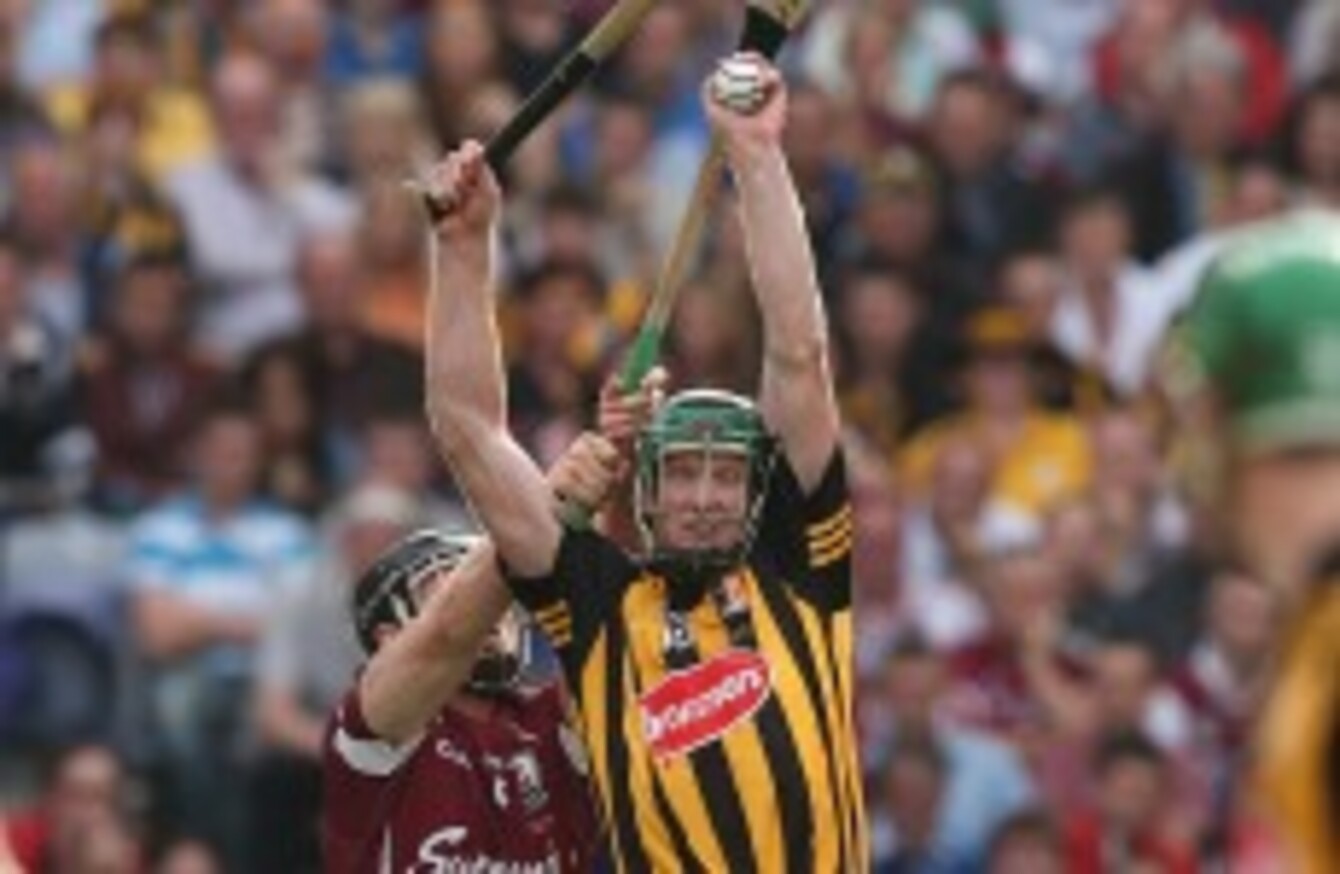 Kilkenny's Henry Shefflin catches the ball.
Image: INPHO/Billy Stickland
Kilkenny's Henry Shefflin catches the ball.
Image: INPHO/Billy Stickland
WHEN YOU WORK on a show like "Off the Ball", you spend much of your time searching for narratives – sporting stories from around the world that you've never heard of, that can be made easily digestible for a listener.
There can be great stories that are just too heavy, 3,000 word magazine articles that just can't be compressed into 10 minutes of radio.
Yesterday was many things — Ireland's showpiece sporting event, a sparkling day of culture that you just have to experience and a magnificent game — but in the end you could boil it down to a simple battle between Joe Canning and Henry Shefflin. It's a pretty 'Hollywood' thing to do, but you take the two stars and you see the game through their eyes. And through that prism could be told the entire story.
Canning owned the first half, his early goal sending a bolt of electricity through the crowd that you could almost feel in the balls of your feet.  It sparked the game into life, after the much-anticipated fiery opening hadn't really materialized.
Galway's Joe Canning scores the opening goal of the game. Pic: INPHO/Cathal Noonan
Shefflin had missed a few opportunities in the first-half, but when he arrowed over a brilliant free from the Hogan Stand side with a few minutes to go to the half-time whistle, Eoin McDevitt, who I was sitting beside, turned to me and said – "he's not going to miss another one, is he?"
He took over the show in the second half, and as Kilkenny inexorably pulled back the half-time deficit, and Canning was being marshaled into almost-anonymity by Kilkenny, that narrative suddenly became clear – it would be Shefflin's day, after all.  Number nine would be his, and he would win it for his team.  And then…
He goes for a point from the penalty.  Canning is given his chance to draw level and wrest the narrative back from him.  He misses. Shefflin gets two more late chances to provide the coup de grace – he misses again.
And then Canning stands over a free that was harder than the one he had missed three minutes before, without the safety net of the prospect of another chance, because after the puck-out would be the final whistle.  He stooped, he lifted, he struck – and the narrative read… SEQUEL.
It was a day when Shefflin was supposed to write himself into immortality, or when Canning would take over the mantel as the game's most gifted exponent.  We didn't get to write either of those stories, yet there's a replay coming up in which those stories may yet be told.
But beyond seeing just the simple picture, it's increasingly clear that in the autumn of Shefflin's career, Kilkenny are growing more and more dependent on him, not less. The legend is being burnished further by this raging against the dying of the light, because Kilkenny looked tired.
No-one would be so silly as to suggest that Kilkenny are gone, but there's no doubt in my mind that the Kilkenny of 2008 (the pinnacle of this team, and of the sport probably) would comfortably beat the Kilkenny team we saw in Croke Park yesterday. I think this is Cody's greatest achievement – he's managed to slow down the inevitable decline of this extraordinary team.
What are they
really like?
Rare insights on sport's biggest names from the writers who know them best. Listen to Behind the Lines podcast.
Become a Member
The skills are no longer as extravagant, but this outrageous refusal to lose is still there, perhaps growing by the year. Shefflin is of course the living embodiment of that on the pitch.
Whether Galway have it in them to apply the coup de grace in the replay is another thing of course. There is no doubt that over 140 minutes of championship hurling this year, their defence has the measure of Kilkenny's attack. And what they will have learnt on Sunday is that the Leinster final was no flash in the pan. They deserve to be at the top table.
They watched the penalty being awarded, they waited for the axe to fall and they escaped. They could have allowed themselves to admit defeat to history after Joe missed that free with half a minute of ordinary time left. But they're still alive.
A lot of Galway people I spoke to after the game had regrets, but I would feel the opposite.  Galway are the younger team and they have been through the All-Ireland final experience. Guys like Fergal Moore, Johnny Coen, Iarla Tannian and Niall Burke did brilliantly. They have made Kilkenny draw deeply from their resources, only for them to realize that Galway are still there.  It will take an almighty effort for Henry and Kilkenny to go to the well one more time.
This Week Murph Was – delighted to see the huge Galway support in Croker.  I can only put it down to every man, woman and child in Mayo giving us a ticket in the hope that… "ya know, in two weeks' time… if you could, you know, keep us in mind…"