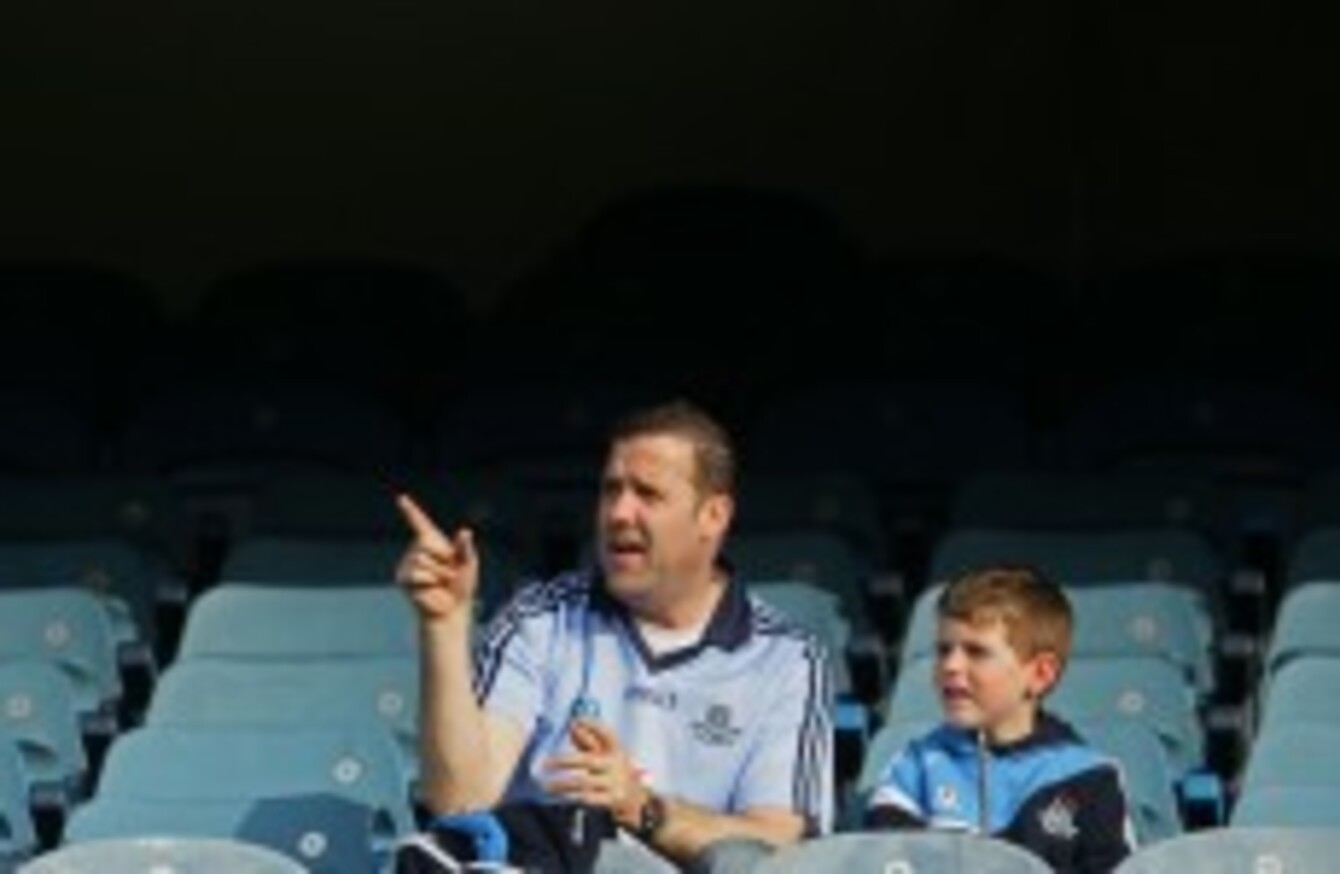 'And that there is Hill 16'. Dermot O'Brien with his son Craig.
Image: ©INPHO/Cathal Noonan
'And that there is Hill 16'. Dermot O'Brien with his son Craig.
Image: ©INPHO/Cathal Noonan
THE NATIONAL FOOTBALL LEAGUE was a calendar-filling behemoth in the 1980s and 90s – stretching from early October until May of the following year.
The current format sees the footballers taking to the field on a weekly basis after a staggered, February start and finishing up in late April.
I was brought along to my first GAA match by my father in May 1991 — after some pre-match refreshments at The Red Parrot, four for a pound chocolate and a lift over the turnstiles — to watch Dublin beat Kildare 1-09 to 0-10.
Charlie Redmond, with his odd run-up for free kicks, scored a fine, curling point from the placed ball, and Vinny Murphy chipped in with a crucial 1-01.
The win secured an NFL title for The Dubs and they repeated the feat in 1993.
Four years later in my Leaving Cert Irish oral exam, I told the examiner in imperfect Gaeilge that Redmond was my favourite player.
The examiner asked what job Redmond did for Dublin, thinking no doubt about his free kicks and less than successful penalties.
"Obair se le briogád dóiteán [fire brigade]," was my response. I did not get an 'A'.
Here are some other memories from TheScore.ie and TheJournal.ie staff…
Adrian Russell
The first game I remember attending was Cork City v Dundalk in a last-game of the season title decider.
City needed a point and Dundalk needed to win at Turner's Cross. Which they did, 1-0. Tommy McNulty scored the winner in the 73rd minute [see 1:35]:

YouTube credit: DFCTV
We were stood on the ditch where the main stand is now. Life was also in black and white.
Tony Cuddihy
It was a friendly between Ireland and Tunisia at Lansdowne Road in late 1988, just a few months after the European Championships. We won 4-0, with John Aldridge finally scoring his first goal in the Irish jersey. I can't be certain but I think Kevin Sheedy and Tony Cascarino were the other scorers.
The match was also notable for being Steve Staunton's debut – he would go on to become my favourite player [before Robbie Fowler stole my heart], while I remember names such as Ken de Mange and Pat Scully on Jack Charlton's teamsheet.
Gavan Reilly
First match I can consciously remember was David O'Leary's testimonial in Lansdowne Road. Ireland got tonked 4-2 by Hungary.

YouTube credit: sp1873
I know I was at a few Meath games before then but the only ones I can tangibly remember were the early ones from the 1996 Championship season – Laois, Carlow and Dublin in the Leinster Championship.
The first two games were notable only because we were in the New Stand – Meath won both of them fairly easily. We beat Dublin 0-10 to 0-8 in the Leinster final, on a pissing wet day in Croker when I was sat in whichever row in the Lower New Stand was directly below the ridge of the roof.
There were giant raindrops accumulating at the ridge of the stand and falling right on my head. [In 1997] Paul Bealin hit a penalty off the crossbar at the Canal End late in the game [Dublin lost 1-13 to 1-10].
Steven O'Rourke
Like a lot of people, I'd imagine my first actual match was probably some Junior B encounter between Ballykelly and Carberry I was dragged along to because my dad was playing.
However, I've scratched most of those memories from my head and the first live sporting event to stand out for me was Notre Dame and Navy in Dublin in 1996.
Notre Dame defeated Navy 54-27 at Croke Park. (©INPHO/Billy Stickland)
To be fair, I remember the event more than what actually took place on the field in front of me but, as a spectacle, it opened my eyes as to everything sport could be. There was drama, comedy, cheerleaders, leprechauns and more than a few Kit Kats. It was brilliant.
You can read more about the game here.
Niall Kelly
I'm reliably informed [thanks Dad] that the first match I ever went to was the 1990 FAI Cup final between Bray Wanderers and non-league St Francis, but I remember absolutely nothing about it.
The first live match that I can recall properly was the infamous Republic of Ireland v England friendly in Lansdowne Road in February 1995. I was seven at the time and so excited to be sitting on the Havelock Terrace with my dad and his best mate, sitting on top of one of the crash barriers.
David Kelly's goal should have been part of one of my happiest childhood memories, but instead I was watching Combat 18 hooligans tossing bits of chairs at fans and police a few minutes later.
Sinead O'Carroll
Although my first actual live game was 'seeing' my Dad win a Senior Hurling Championship with Ardclough [he later switched allegiances to the nearby - and now rival club - Celbridge] in 1985, I don't remember any of it because I was about four months old. It was nice to attend the 25-year-anniversary team presentation in 2010, when our club Celbridge won the title.
The first non-club/big game I remember is the 1997 All-Ireland semi-final between Wexford and Tipperary.
Conor Gleeson of Tipperary and Martin Storey of Wexford. (© INPHO/Billy Stickland)
I was standing in the Hill with my Dad, older brother and younger sister. Couldn't see much but I remember Tipp won. My Dad was smug [not really, sorry Dad if you're reading] but most Tipp fans were smug.
I also remember one of my aunts giving out to me in McDonald's for saying that I preferred watching football to hurling. In my defence, I was from Kildare and we were better at it.
My opinion has since changed.
Paul Fennessy
First match I attended was Ireland's 2-0 friendly loss to Russia in Mick McCarthy's first game in charge. The game was memorable for all the wrong reasons. Roy Keane got his relationship with McCarthy off to a less-than-auspicious start.
McCarthy took the interesting decision to award Keane the captaincy and the Cork native subsequently failed to live up to this responsibility, getting sent off after he kicked one of the Russian players in frustration late on in the game.
Roy Keane trudges off for an early bath in 1996. (Aubrey Washington/EMPICS Sport)
Yet the while the game itself was disappointing, I came away with two great souvenirs – Phil Babb's autograph and a free VHS copy of 'The Charlton Years' that they were giving out to everyone at the ground.
I have met many sporting greats since Babb, but nothing has come close to the thrill felt by my eight-year-old self upon meeting him, even though he was one of Ireland's less feted players at the time.
*What are your memories of your first live match?