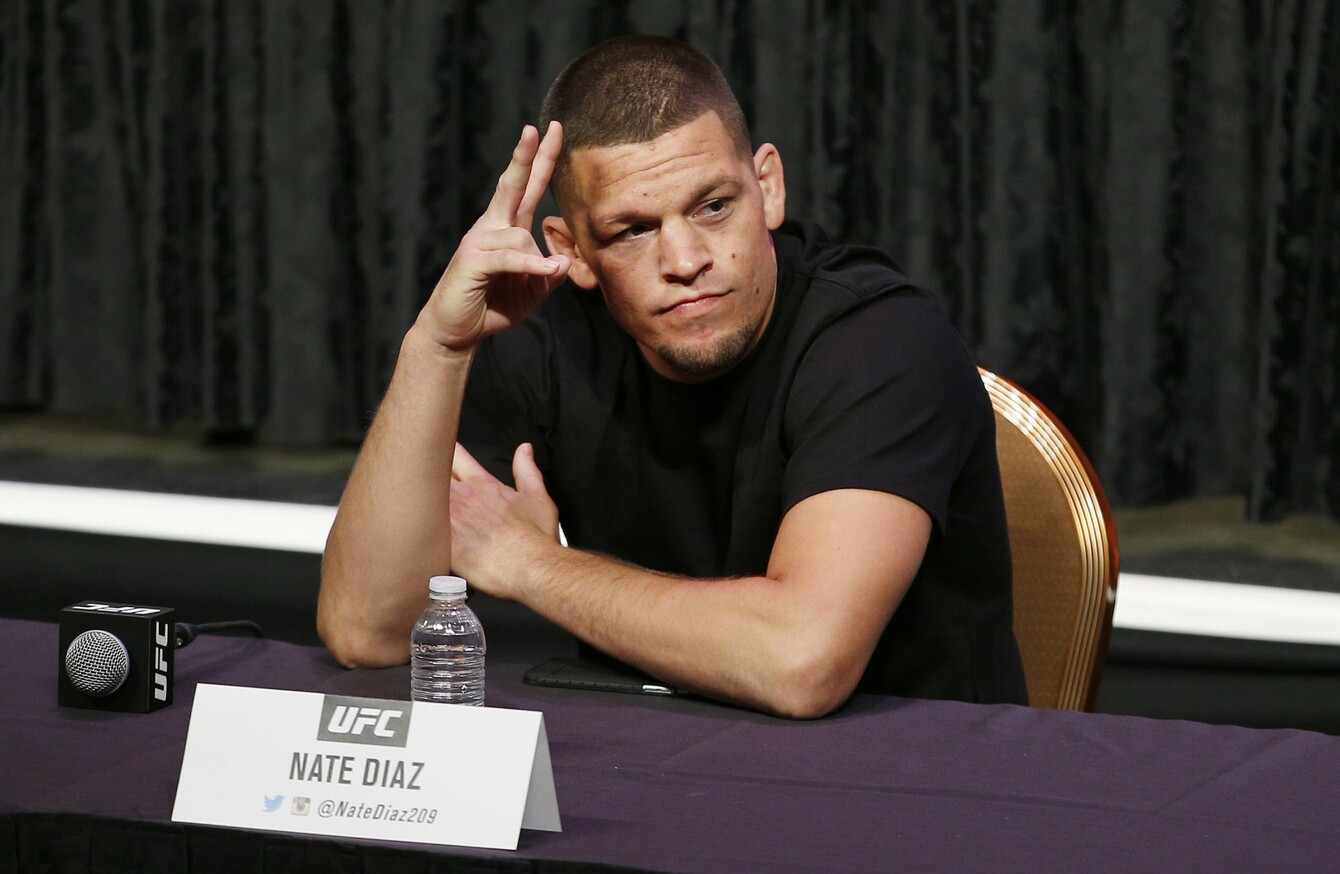 Image: John Locher
Image: John Locher
NATE DIAZ IS confident that his rematch with Conor McGregor will go ahead, despite negotiations with UFC bosses encountering a hurdle last week.
Diaz met with UFC CEO Lorenzo Fertitta and president Dana White in his hometown of Stockton on Friday to discuss a rearranged second bout against McGregor — targeted for UFC 202 on 20 August — which was originally scheduled for UFC 200 on 9 July but fell through when the Irish fighter refused to travel to Las Vegas for media obligations.
Initial reports claimed that the meeting ended with White angrily storming out of a restaurant. But speaking to Ariel Helwani last night on a special edition of The MMA Hour, Diaz explained that although the meeting didn't go according to plan, the former lightweight title challenger believes the rematch will eventually be booked.
"That [report] was exaggerated," Diaz said. "We finished talking and then we walked out. It wasn't the worst meeting. It wasn't the best meeting but it wasn't the worst meeting either."
The 31-year-old, who submitted McGregor on just 11 days' notice in the second round of their headline bout at UFC 196 back in March, added: "They were cool and I was cool and it was just business talk. It didn't end on the happiest note but I think stuff is getting done and stuff is moving forward."
According to Diaz, he and the UFC have differing views on how much the TUF 5 winner should earn from a fight which will attract such enormous attention. His victory over McGregor earlier this year brought in a reported 1.5 million pay-per-view buys — the second-highest buy-rate for a PPV event in UFC history.
"It seems like this is a pretty big deal, so can I be compensated for this? They weren't the happiest about that but they're not talking to me about it right now, so we're working on it and we're going to get it figured out," said Diaz.
The Brazilian jiu-jitsu black belt added that he expects a bigger fee than what he was due to receive when he agreed to fight McGregor in July: "I think they thought that this is the new deal, this is a new fight. That was UFC 200, this is UFC 202 now. I said yes to 200, and I wasn't happy with it. I was rushed into the last thing anyway."
Diaz also wants to benefit from the kind of sizeable promotional push that helped to elevate Conor McGregor from the status of a relative unknown to the biggest star in the organisation in the space of less than three years.
SEE SPORT
DIFFERENTLY
Get closer to the stories that matter with exclusive analysis, insight and debate in The42 Membership.
Become a Member
"Can I get built up a little better?" he said. "Conor McGregor is artificial. They pushed him and he wasn't whooping all types of asses and shit. They put me in, I've been in fight after fight, I didn't do no media, I didn't do no shit. Now he's where he's at because the UFC kicked his ass and put him in gear and blew him up.
"How come he was such a big deal when he beat Dennis Siver. Who the fuck is Dennis Siver? Is that guy even ranked? I'm like, 'Get the fuck out of here'."
Diaz, who believes that McGregor deliberately delayed the rematch in order to give himself more time to prepare, is also adamant that the current speculation about the potential for an absurd boxing bout between the UFC featherweight champion and Floyd Mayweather is merely a smokescreen.
"I hear all this Mayweather-McGregor shit and I feel like that's just a big old publicity stunt to hide the fact that he got his ass whooped," said Diaz. "It's rumours somebody is letting out because they're both benefitting off each other's fanbases and they're both building off it.
"They don't care if it happens or not, they're both winning right now from the talk even happening. That's the truth about what's really going on. The media is working their way and they're loving it. They're probably having dinner together every night."
Asked if he feels McGregor is using the Mayweather reports as leverage in his own negotiations with the UFC, Diaz said: "That's exactly what I think, because every time I hear more about it, I get a call.
"I'm like, 'Hey, I call your bluff. Fight that motherfucker then. I'll be right here'. I'm the only one out of the three of us that can say I'll whoop both of their asses in one night, because Conor can't say that. Floyd definitely cannot say that."
Diaz added: "I just think it's all fake and phoney, and people should recognise that. Let's see that, Mayweather. I call your bluff. Fight Mayweather, motherfucker. Let's see how that goes. I'll be right here, sitting back, like, okay. And what's going to happen? Mayweather is going to fucking whoop his ass in a boxing match."