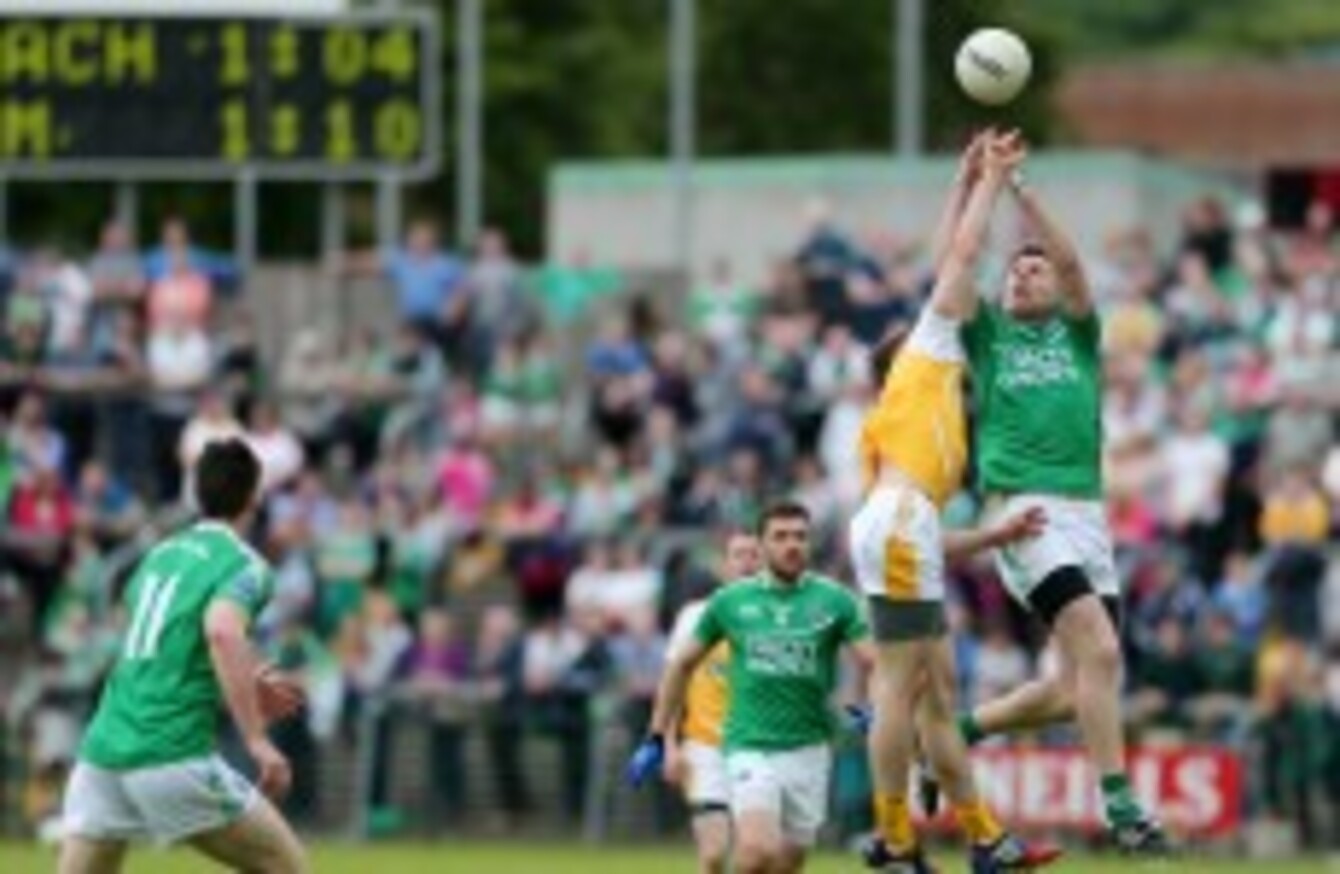 Richard O'Callaghan with Antrim's Mark Sweeney compete for possession.
Image: Presseye/Jonathan Porter/INPHO
Richard O'Callaghan with Antrim's Mark Sweeney compete for possession.
Image: Presseye/Jonathan Porter/INPHO
Antrim 2 – 18
Fermanagh 3 – 13
A DOMINANT OPENING half hour proved invaluable for Antrim as they defeated Fermanagh in this Ulster SFC quarter-final in Brewster Park.
In that period the Saffrons, lead by Brian Neeson's 1 -3, held a 1 – 10 to 0-  1 lead over their hosts.
From the 31st minute however, that incessant attacking rhythm was lost and Fermanagh's 1 – 4 before the break gave the home fans reason to hope for a comeback.
Despite Kevin Niblock's second half goal giving Antrim an eight-point cushion to counter-attack from, the north-westerners were left hanging desperately for the right to reach the final four in Ulster.
Fermanagh claimed the lead with their only score of the first half hour, a fine effort from Sean Quigley, but most of the remainder of the opening period belonged to the visitors.
Neeson levelled and edged his side ahead before Niblock claimed the score of the half to extend the advantage. Fermanagh lost John Woods to injury, but with Paul, Michael and Tomas McCann all on fine form, there was little to worry the Saffrons as they opened up their commanding lead.
12 points down approaching the break,  Quigley claimed a second point and then a goal to ignite hope of a comeback. And that silver lining grew brighter with Paul Ward and Paul McCusker's scores which left the scoreline at 1 – 5 to 1 – 10 at the half-time interval.
There was a sense of relief more than optimism, but after a sixth score the reply came from Antrim and Niblock's goal signalled the start of some tit-for-tat scoring in the second half.
Just as they did in the first, Fermanagh ramped up the intensity late in the second half and suddenly Antrim were being made to sweat for their place in the Ulster semi-final.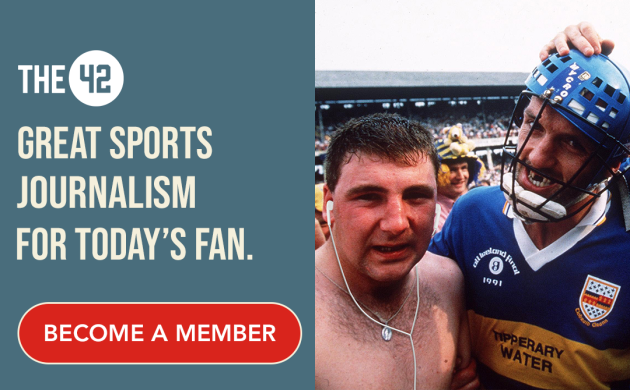 Barry Owens blasted in Fermanagh's second goal of the game to narrow the gap to 2 – 12 to 2 – 17 with five minutes to play. And, with the ball flying an around the square, Mary O'Brien found the Ernesider's third goal to make it a two-point game  in injury time.
An unbelievable comeback from Antrim's 30-minute stranglehold on this game was almost completed at the death when McCluskey fired in a rasping shot which beat goalkeeper Patrick Flood, but not the yellow-shirted defenders covering on the line.
A dramatic ending to a game that looked in danger of being a procession.
Scorers
Fermanagh

:  Sean Quigley 1-6, Donnelly 0-1, P McCusker 0-3, Ward 0-1, Maguire 0-1, Owens 1-0, O'Brien 1-1

Antrim: Neeson 1-6, Niblock 1-3, P McCann 0-2, T McCann 0-3, M McCann 0-2, R Murray 0-2
ANTRIM:
1. Patrick Flood – Naomh Eanna
2. Kevin O'Boyle – Cargin
3. Ricky Johnston – Creggan Kickhams
4. Niall Delargy – Roger Casements
5. Martin Johnston – Creggan Kickhams
6. Justin Crozier - Cargin
7. James Lavery - Cargin
8. Michael McCann - Cargin
9. Niall McKeever – Roger Casements
10. Conor Murray – Lamh Dhearg
11. Mark Sweeney – St Jude's (Dublin)
12. Paul McCann - Cargin
13. Brian Neeson – St John's
14. Kevin Niblock – St Gall's
15. Tomas McCann - Cargin
FERMANAGH:
1       Chris Snow – St Joseph's
2       John Woods – Lisnaskea
3       Che Cullen – Belleek
4       Lee Cullen – Belleek
5       Declan McCusker  - St Joseph's
6       Ryan McCluskey – Enniskillen Gaels
7       Tommy McElroy – Parnells (Dublin)
8       Eoin Donnelly – Coa
9       Richard O'Callaghan  - Enniskillen Gaels
10      Eamon Maguire – St Patrick's
11      Ryan Jones – Derrygonnelly
12      Paul McCusker - St Joseph's
13      Sean Quigley – Roslea
14      Barry Owens – Teemore
15      Tomás Corrigan – Kinawley