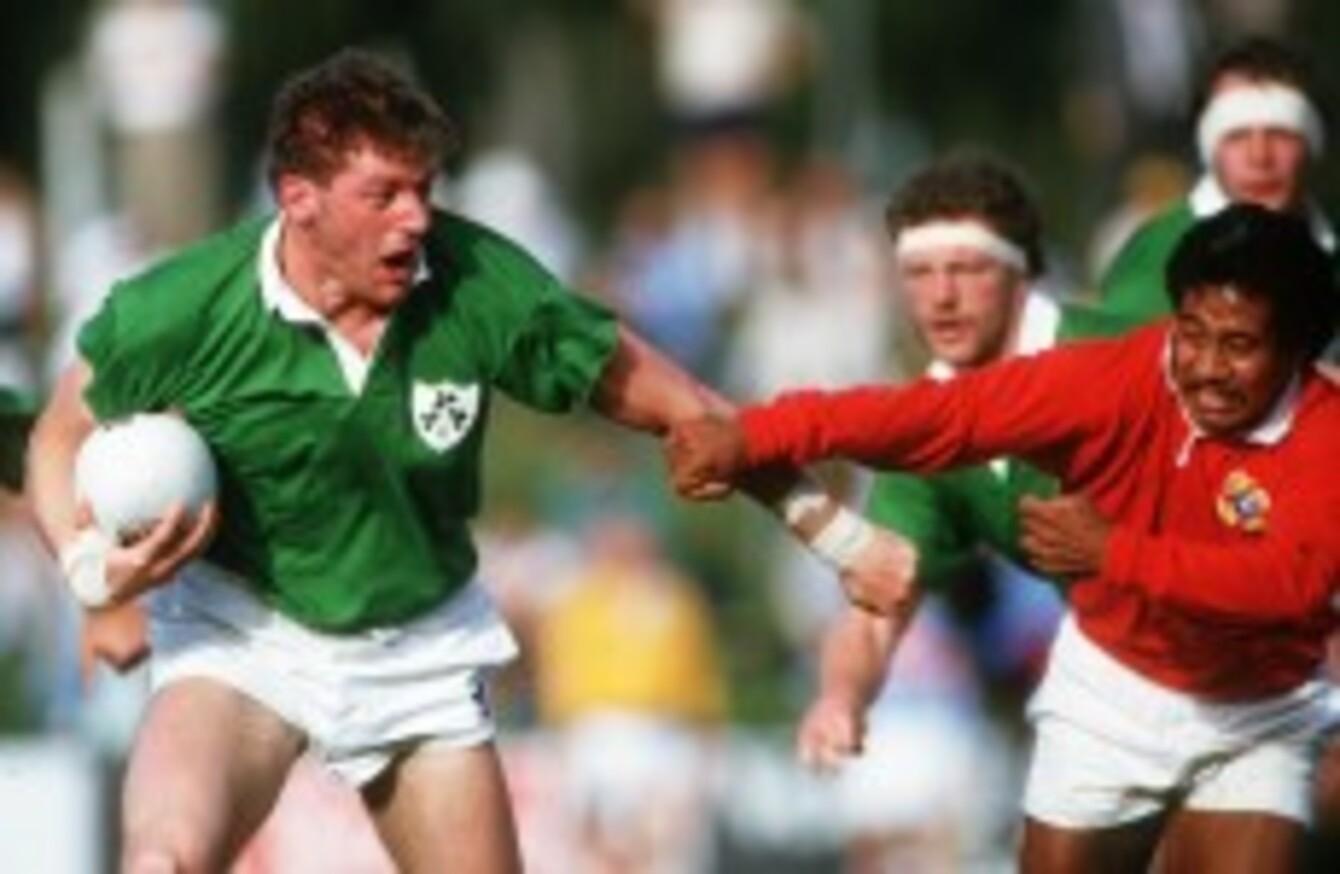 Francis in action for Ireland in 1987.
Image: ©INPHO/Billy Stickland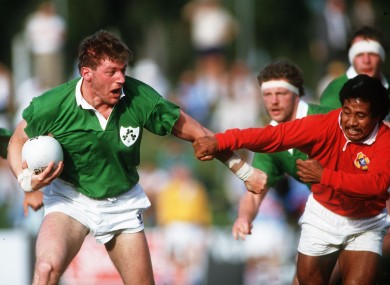 Francis in action for Ireland in 1987.
Image: ©INPHO/Billy Stickland
NEIL FRANCIS HAS apologised for the comments he made yesterday evening about gay people in sport.
Speaking on Today FM's The Last Word with Matt Cooper, the former Ireland international said:
"On reflection, I would like to withdraw those comments and apologise profusely and unreservedly for any issue for anybody who heard them or felt offence from what I said."
Host Matt Cooper opened the segment of the show with a statement expressing his displeasure at Francis' words, labeling them "highly offensive and downright stupid." The broadcaster then went on to play a recording of Dale Hansen's speech in support of Michael Sam.
When asked to reflect on the comments he had made on Newstalk's Off the Ball, Francis admitted that they were "clumsily made" points, with "poorly expressed" analogies.
"When I got home, I had a listen to the interview again and I must say it didn't sound like me at all," he stated. "A lot of people who listened to it said 'that's not your form'. I realise I was in a field of landmines and I stood on one or two.
"On reflection I said the wrong things and some of the things I said were extremely clumsy."
International rugby referee Nigel Owens, who has been openly gay for nine years, was also a guest of the show and underlined that he hopes Francis' apology was genuine.
"Yes, its good that he's been able to go back and reflect on what he's said. We all make mistakes in our lives, I have made mistakes on the field. As long as they're from the heart and I hope that Neil's apologies are genuine and from the heart, and not something that's been pressured."
Asked by Cooper if his apology was indeed genuine, Francis replied: "I say what I mean, and I wouldn't say this unless I meant it."
Francis went on to outline his involvement in aiding the process of a rugby player coming out in the past through an article in the Sunday Tribune, as well as his interaction with the Emerald Warriors rugby club.
Having labeled Michael Sam as "flamboyant" yesterday, Francis also stressed his belief that the young American football player could be an "icon" for the gay community.
"That was badly expressed and really what I'm saying is that this guy can be an icon for the gay community. He has made a move which is almost unprecedented in the United States."
Owens went on to detail that despite the apology from Francis, comments like the ones he made yesterday can put people in "difficult situations".
Cooper concluded the discussion by telling Francis, "I accept your apology as genuinely offered, and I hope that people do accept it as well."