RUGBY GROUNDS ALL over Ireland and Britain are set to sing out in respect of Ulster centre Nevin Spence this weekend.
Spence, 22, died in tragic circumstances last weekend alongside his brother and father.
Since the news broke on Saturday night, Ireland's rugby community has been united in disbelieving grief.
Ulster have postponed this weekend's RaboDirect Pro12 fixture against Zebre, but fans of other provinces have promised to make their voices heard by singing 'Stand up for the Ulstermen' – the iconic theme tune to every Ulster fixture in Ravenhill.
According to contributors to both MunsterFans.com and LeinsterFans.com post made under the alias' SimonOKeefe and Xanthippe first suggested the salute on the Leinster fansite.
"Know it's only a small gesture on our (Leinster fans) part," commented SimonOKeefe, "and one of many we can make, but after his minutes silence in the RDS next weekend lets make sure we give him the biggest round of applause/cheer/send off/show of appreciation we can".
This was seconded by Xanthippe, who suggested: "Perhaps we could 'Stand Up For The Ulster Man'.
Leinster will play at home to Edinburgh this Saturday, the side Ulster defeated in last season's Heineken Cup semi-final, while Munster host the Newport-Gwent Dragons. Connacht travel to Glasgow, but this is unlikely to muffle the sound of the chant.
Since the new spread to the southern province's fan forum, it has caught the imagination of not only rugby supporters from the RaboDirect Pro12, but also in England's top divisions.
A Twitter account under the name #RugbyUnited (@Trevorlarge) has taken up the campaign, urging its worldwide followers to 'truly unite' by singing Stand up for the Ulstermen (SUFTUM).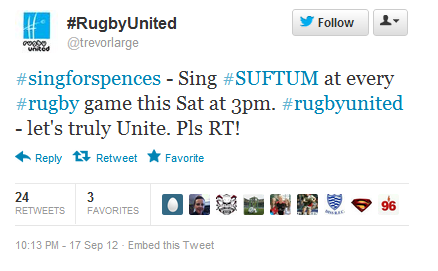 This morning, the cause was endorsed by the RaboDirect Pro12, who tweeted: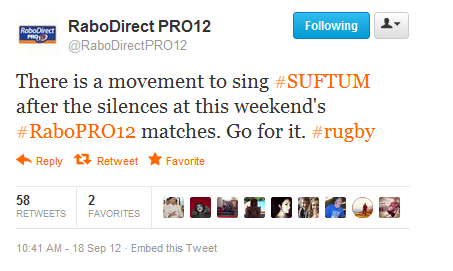 In case you haven't heard it before. It goes like this…
YouTube credit: UlsterRugbyTV