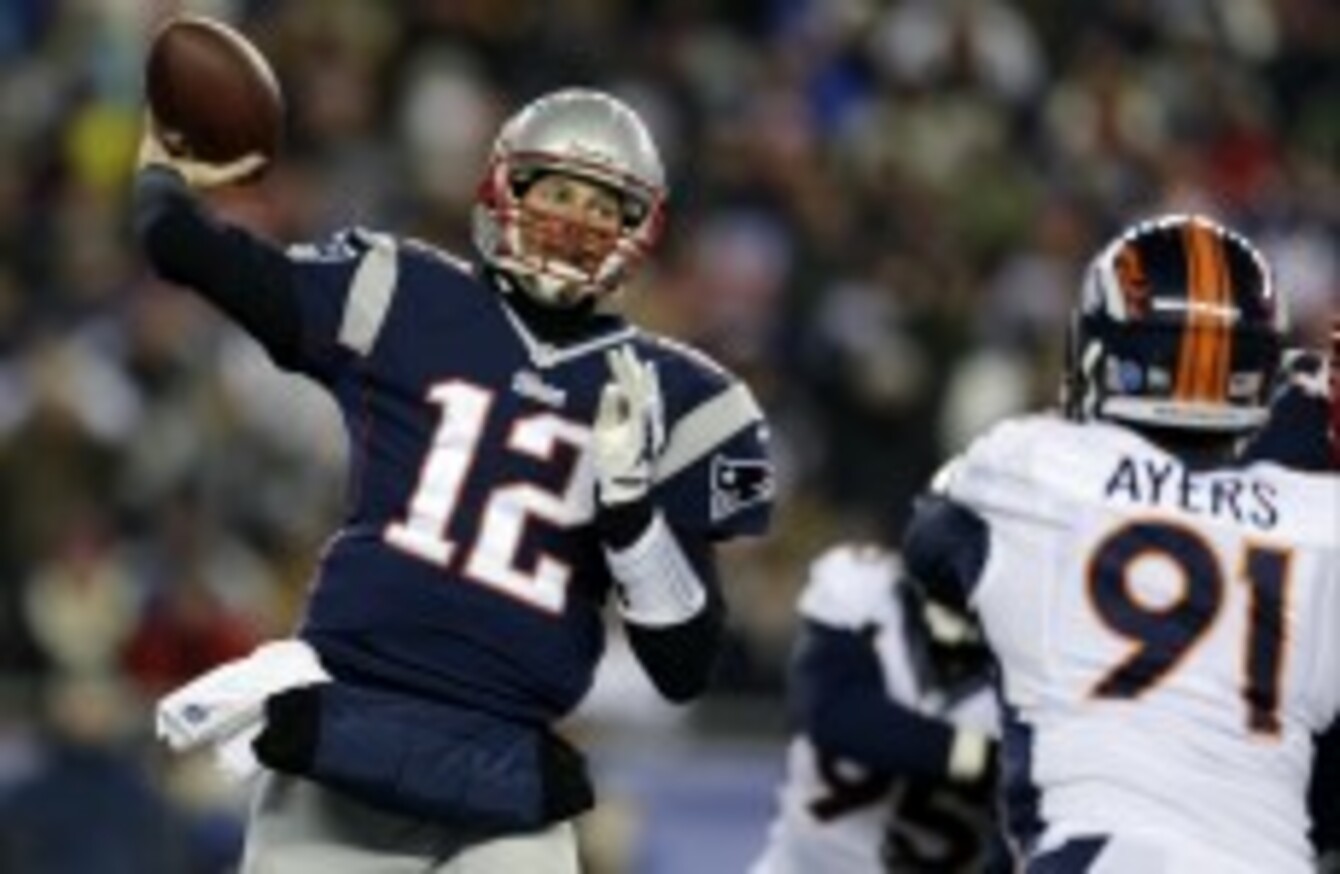 Brady making a pass.
Image: Steven Senne/AP/Press Association Images
Brady making a pass.
Image: Steven Senne/AP/Press Association Images
TOM BRADY PRODUCED the greatest comeback triumph of his NFL career last night, rallying the New England Patriots from a 24-point deficit to a 34-31 overtime victory over the Denver Broncos.
On a cold and windy night, Brady threw three touchdown passes and eclipsed his and New England's best prior win rallies — 21-point comebacks to beat Chicago in 2002 and Buffalo in 2011 — to lift the Patriots to 8-3 while the Broncos fell to 9-2.
Three-time Super Bowl champion Brady improved to 10-4 in games against Denver's Peyton Manning, his biggest rival among the NFL's top active quarterbacks.
The final turning point came on a New England punt when the ball bounced into Denver return blocker Tony Carter and the Patriots recovered the loose ball to take over at the Denver 18-yard line.
That set up a 31-yard field goal by Stephen Gostkowski to kick a 31-yard field goal with 1:56 to play in the extra 15-minute period to win for the host Patriots.
We had some plays that didn't go our way in the first half. I'm glad we got a bounce that went our way for once," said Brady. "It was a heck of a win. We really needed it."
Brady, who completed 34-of-50 passes for 344 yards, improved to 9-2 in overtime games while Manning, who completed 19-of-36 passes for 150 yards and two touchdowns, fell to 3-4 in overtime games.
"He's a great player and they have a good team," Brady said. "We've got a lot of football left to play this season. It's just the beginning."
Denver defender Von Miller returned a Stevan Ridley fumble 60 yards for a touchdown just 5:06 into the game and forced a Brady fumble that set up a 2-yard touchdown run by Knowshon Moreno, who ran for 224 total yards on 37 carries.
New England's LeGarrette Blount fumbled on the next Patriots possession and Denver's Danny Trevathan recovered, setting up Matt Prater's 27-yard field goal, and Manning had a 10-yard touchdown toss to Jacob Tamme to put Denver ahead 24-0 at half-time.
Brady capped an eight-play, 80-yard march to open the third quarter with a 5-yard touchdown pass to Julian Edelman and New England pulled within 24-14 on Brandon Bolden's 1-yard touchdown run.
Brady then made a 5-yard touchdown pass to Rob Gronkowski with 19 seconds remaining in the third quarter.
Logan Ryan intercepted a Manning pass at the Denver 30-yard line on the next Broncos possession and Brady needed only three plays to connect with Edelman on a 14-yard touchdown pass that gave New England a 28-24 lead.
Gostkowski added a 31-yard field goal for the Patriots, but Manning led the Broncos back, flipping an 11-yard touchdown pass to Demaryius Thomas to force overtime.