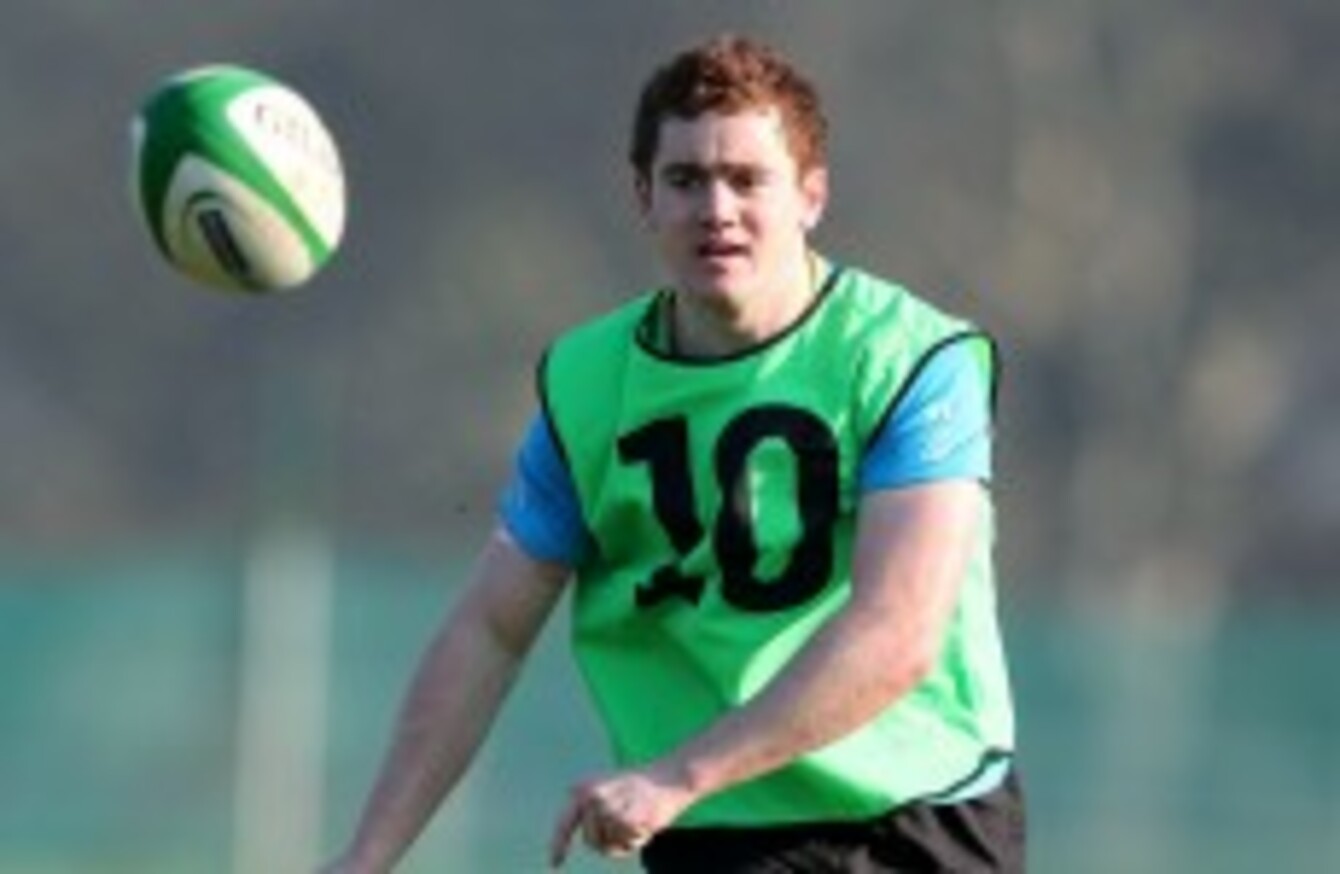 Image: ©INPHO/Dan Sheridan
Image: ©INPHO/Dan Sheridan
TO LOOK AT Paddy Jackson sitting in front of a mass of microphone and television cameras, you'd never guess the weight of a nation has just been put onto his shoulders.
On Sunday he will become Ireland's youngest out-half of the professional era – and you have to go a fair bit further back to find 20-year-old Paul Dean's debut in 198o.
On top of that, he is replacing perhaps Ireland's greatest ever number 10. And onlookers will be treated to another round of Ronan O'Gara facial expressions each time the usurper lines up a kick at goal.
"I kinda sat up a bit more in the seat when I saw (Jonathan Sexton)  down injured." Jackson admitted with an almost embarrassed smile.
"Then my friends all started shouting at me, but I honestly didn't (think), 'I'm going to be in now'. I thought I would maybe come into camp and I'm back in camp and I'm glad it has come my way now."
Declan Kidney said the greatest compliment he could pay the young debutant was that he was chosen ahead of O'Gara. Who, Kidney says, has taken the news "like the man he is. He took the decision and he trained this morning as if it was his first training session."

"I've always said how someone deals with adversity shows the man they are and he has just gotten on with it."
Now, the torch passes to Jackson to let Ireland 'get on with it' after a painful defeat in many respect to England.
"It's very special, and it's good to share it with Luke (Marshall) and I'm just looking forward to getting out there. I'm very excited now," said the 21-year-old, adding:
"I was just very surprised. I had a bit of butterflies in my stomach and then after a minute or two I calmed down  and I'm just really glad I've got my chance now, so I'm looking forward to it."
Rusty
One of the few worries surrounding Jackson's game this season has been his place-kicking. When given the tee in place of Ruan PIenaar with his province he has looked like every inch a rusty place-kicker. But, with only O'Gara and Rob Kearney in the squad as alternatives, he spoke confidently about working closely with Mark Tainton and taking up the responsibility 'as if it was just another game'.
However,  did concede that this is far from any other game. It's the biggest match of his short career. but one he hopes will define him in the nation's mindset instead of the disappointing display in the Heineken Cup final which remains imprinted on the psyche of many in Ireland.
"It's probably the biggest game I've played in." Jackson says. "I think I've come a long way since the Heineken Final, so I don't think I'll be quite as nervous. I'm used to dealing with my nerves now, so I'm genuinely just getting excited."
There was certainly no sign of nerves when he spoke easily about changing his pre-match party-piece to a rap in place of  his lip-synced JCB Song. Though with pressure from the captain, his YouTube moment may have to get a reprisal.
"I might do a slow acoustic version of it. Jamie was trying to get me to sing today… but no."