Pittsburgh Steelers safety Ryan Clark kneels and waits following the injury to Oakland Raiders' Darrius Heyward-Bey.
Image: Marcio Jose Sanchez/AP/Press Association Images
Pittsburgh Steelers safety Ryan Clark kneels and waits following the injury to Oakland Raiders' Darrius Heyward-Bey.
Image: Marcio Jose Sanchez/AP/Press Association Images
AS A JOURNALIST, I love the 2012 NFL season.
So far, it has had pretty much everything. The Cardinals are at 3-0 for the first time since 1974 when they were based in St. Louis. The Saints are 0-3 for the first time since 2007 and have lost all three games to teams who are 0-6 on the rest of the season. They are that bad.
The Patriots, who, until Sunday, had gone 145 games dating back to 2003 without back-to-back losses, are now 1-2 and third in the AFC East while the Washington Redskins have scored more points than anyone in the NFL (99) – with a rookie quarterback – and are still bottom of the NFC East.
Any one of those stats would make for an interesting hook on which to hang a column.
As a fan though, I hate the 2012 NFL season.
I don't recognise the game anymore. Rules I thought I understood – not just as a reporter and as a fan but as a former coach as well – have not so much been ripped up, but rather sucked into a parallel universe where left is right, black is white and Bill Belichick smiles at press conferences.
Holding by the offensive line, it seems, is no longer deemed a penalty while legitimately making contact with a receiver inside the first five yards is. Coaches can seemingly call any number of time-outs they like while the penalty yardages for fouls appear to be at the discretion of the referees rather than those outlined in the NFL rule book.
Quaint
Like you, I found the picket-line crossing referees almost quaint early on. Ha ha ha, I said, as the confused looking man called a five year penalty rather than a five yard one.
In week two, I was less enamoured. Teams – such as the Ravens – were actually losing games because the replacement referees were missing fouls that happened and calling phantom ones that hadn't.
Right here, you're probably saying to yourself that regular officials make mistakes too. And do you know what? You're dead right, they do. All the time.
However, the difference here is that players, particularly defensive players, know they can push the boundaries of what is and is not acceptable play much further with the replacements than they can with the regular officials.
Each week this season it has gotten progressively worse. Starting with some pushing and shoving in week one and mass brawls in week two, to full on flagrant and dangerous fouls that have no place in the game this week.
In the Texans win over the Broncos, Houston QB Matt Schaub actually lost part of his ear after taking a helmet to helmet hit from Denver's Joe Mays. It was a late hit, it was a cheap hit, but at least it was flagged.
The same can't be said about Ryan Mundy's helmet to helmet hit on Raiders receiver Darrius Heyward-Bey which saw the 25-year-old receive over 12 minutes of treatment on the field before being hospitalised and held overnight as a precaution.
As Heyward-Bey looked to get on the end of a touchdown pass from Carson Palmer, Mundy launched his body and lowered his helmet into Heyward-Bey's facemask. Heyward-Bey's neck jerked violently and his head crashed into the ground with sickening force.
At any level of football, from the Irish league to lower level college and all the way up to the NFL, that's an illegal hit and should have been flagged.
In this situation, a person's life, never mind career, was put in danger and the officials – whose role includes looking out for player safety – didn't see fit to even call a penalty. When it gets to this stage, something has to be done before something truly tragic happens.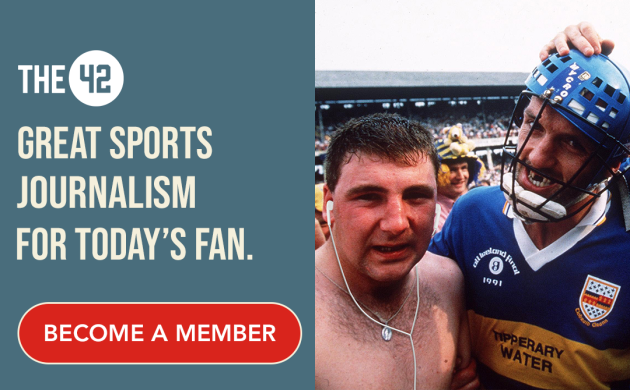 Enough is enough.
Game of the week
Two weeks into the season, two weeks, and I was hearing 49ers fans talking about going 16-0 and having the perfect season. Nobody could stop the beast from the, eh, west.
Well the Minnesota Vikings did and in doing so went some way to verifying that it's the Falcons, not the 49ers, who are the team to beat in the NFC.
Play of the week
A little bit of razzle-dazzle from the Titans' Darius Reynaud and Tommie Campbell which evoked memories of the Music City Miracle.
Week 3 results
New York Giants 36 @ Carolina Panthers 7
St. Louis Rams 6 @ Chicago Bears 23
Buffalo Bills 24 @ Cleveland Browns 14
Tampa Bay Buccaneers 10 @ Dallas Cowboys 16
Jacksonville Jaguars 22 @ Indianapolis Colts 17
New York Jets 23 @ Miami Dolphins 20 OT
San Francisco 49ers 13 @ Minnesota Vikings 24
Kansas City Chiefs 27 @ New Orleans Saints 24 OT
Detroit Lions 41 @ Tennessee Titans 44 OT
Cincinnati Bengals 38 @ Washington Redskins 31
Philadelphia Eagles 6 @ Arizona Cardinals 27
Atlanta Falcons 27 @ San Diego Chargers 3
Houston Texans 31 @ Denver Broncos 25
Pittsburgh Steelers 31 @ Oakland Raiders 34
New England Patriots 30 @ Baltimore Ravens 31