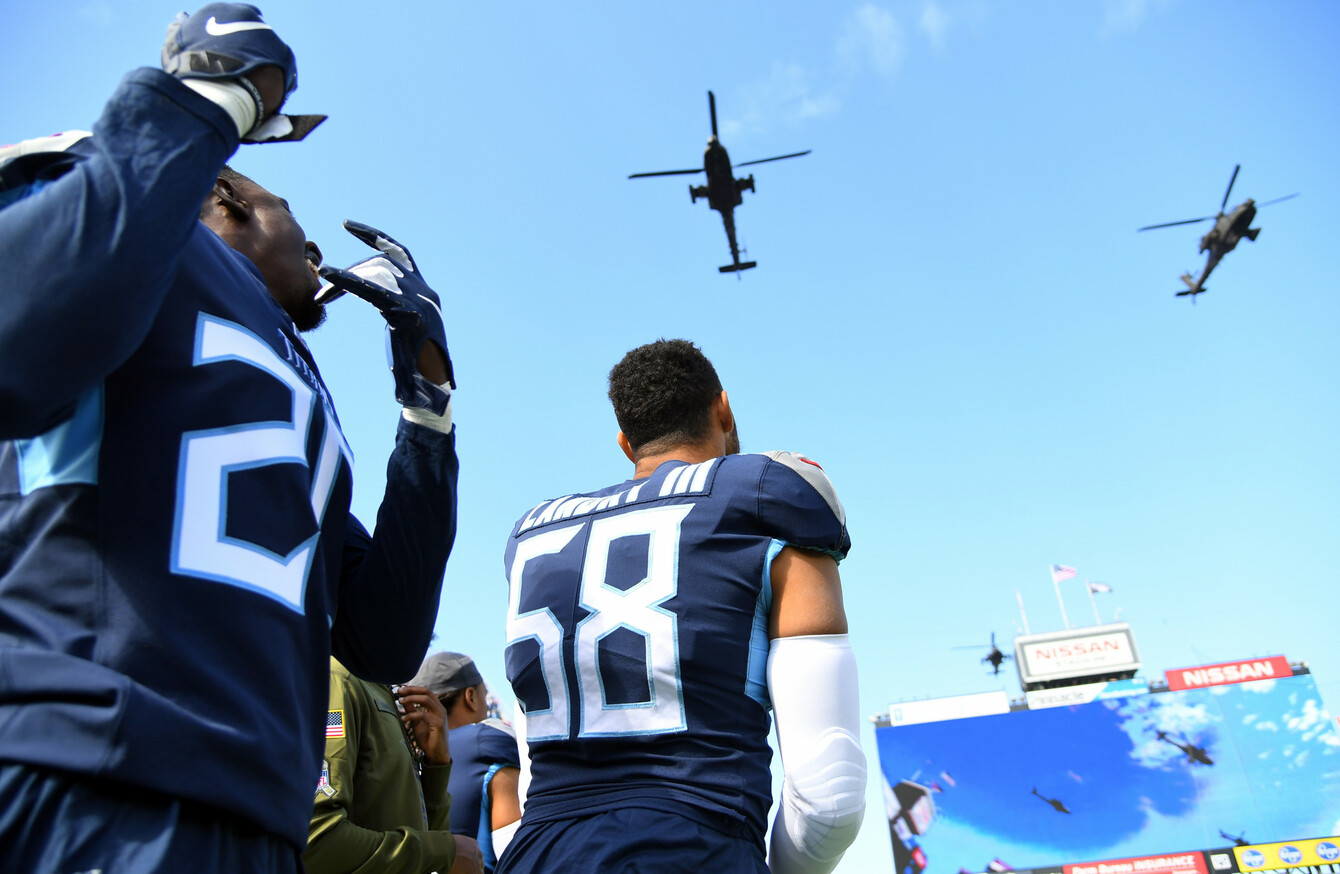 Titans defensive back Kenneth Durden (20) and linebacker Harold Landry (58) watch a flyover by the 101st Airborne before their game against the New England Patriots
Image: SIPA USA/PA Images
Titans defensive back Kenneth Durden (20) and linebacker Harold Landry (58) watch a flyover by the 101st Airborne before their game against the New England Patriots
Image: SIPA USA/PA Images
THE FACT THAT Little Giants is in the top three demonstrates just how difficult it is to make a movie about American football.
As I've mentioned before, I'm more a Sharknado than Shawshank fan when it comes to movies, so maybe I'm not the best critic. But the best of the footballing variety, Oliver Stone's oddly compelling Any Given Sunday, will turn 20 next year.
Few movies before or since have come even close to capturing the action on the field as well as Stone did back in 1999. As a movie, however, it has massive flaws.
For a start, it features Al Pacino at the beginning of his parody phase; the shouty Italian-American with wildly gesticulating hands every third-rate impressionist has been aping ever since.
But, by far the worst thing about the movie is Pacino's 'Game of Inches' speech.
Even if you don't know the movie, you know the speech. It's the one that every U12 rugby coach or Junior B camogie captain up and down the country has tried to replicate since the movie's release.
I know people who love the speech, but I also know people who have paid money for Ed Sheeran albums so the world is a strange place and people have strange tastes.
All that said, the movie did — on this side of the Atlantic, at least — popularise the phrase 'any given Sunday.'
It is said to have originated from former league commissioner Bert Bell who, during his tenure said: "On any given Sunday, any team can beat any other team."
Unlike sports cliches such as 'there are no easy games in international football', or 'we're just taking it one game at a time', this one actually means something and we saw the perfect example of it this weekend.
On Sunday, the Patriots were seven-point favourites on the road to Tennessee. The Titans won. Actually, that doesn't do justice to the Tennessee performance.
In the past decade, New England has lost just one game by more than 20 points — a 2014 41-14 loss to the Chiefs — but they were on the end of a 34-10 trashing in Nissan Stadium.
The defending Super Bowl champions didn't fare much better. Needing a win to keep pace with Washington in the NFC East, many — this writer included — expected Philly to come out firing against a Dallas Cowboys team whose season, and coach, were on the line.
Instead, the Eagles' first-half drives included two punts, a turnover on downs, an interception and a solitary field goal to avoid going into the break scoreless.
With the win, the Cowboys leapfrog them into second place in a division led by a Washington team whose defence gave up 501 yards but just three points in a 16-3 win over the Tampa Bay Buccaneers.
It was a record-setting day for Tampa, eclipsing the 2011 St Louis Rams in terms of most yards gained in a game for just a three-point return on the scoreboard.
After week nine saw the men in the desert record huge losses — perhaps the most ever in a single game week — they must have been quite happy with the Browns overcoming the streaking Atlanta Falcons.
Without either the head coach or offensive coordinator with whom he started the season, Baker Mayfield showed just why the Browns drafted him with the number one overall pick as he completed 17 of 20 passes for 216 yards, three touchdowns and no interceptions.
But, despite the fact that both teams that appeared in last year's Super Bowl lost to teams no better than .500 at kickoff, the biggest shock of the weekend came as the Buffalo Bills hammered the New York Jets.
For perspective, Buffalo entered the game last in both points and yards per play and first in turnovers. They'd scored just 33 points in their past four games.
Having already gone through three quarterbacks this season — Josh Allen, Nate Peterman, and Derek Anderson — who had combined for just three passing touchdowns and 16 interceptions, little was expected of Matt Barkley.
He hadn't thrown a pass in anger since 2016 and, even when he did, it usually ended up in the arms of opposing defences as, before Sunday night, Barkley had just eight touchdowns and 18 interceptions.
So of course he threw two touchdowns and no picks as the Bills ran up 41 points in a performance nobody saw coming.
But we shouldn't be surprised. That's football. On any given Sunday any team can beat any other team.
Except the Raiders.
Subscribe to our new podcast, Heineken Rugby Weekly on The42, here: