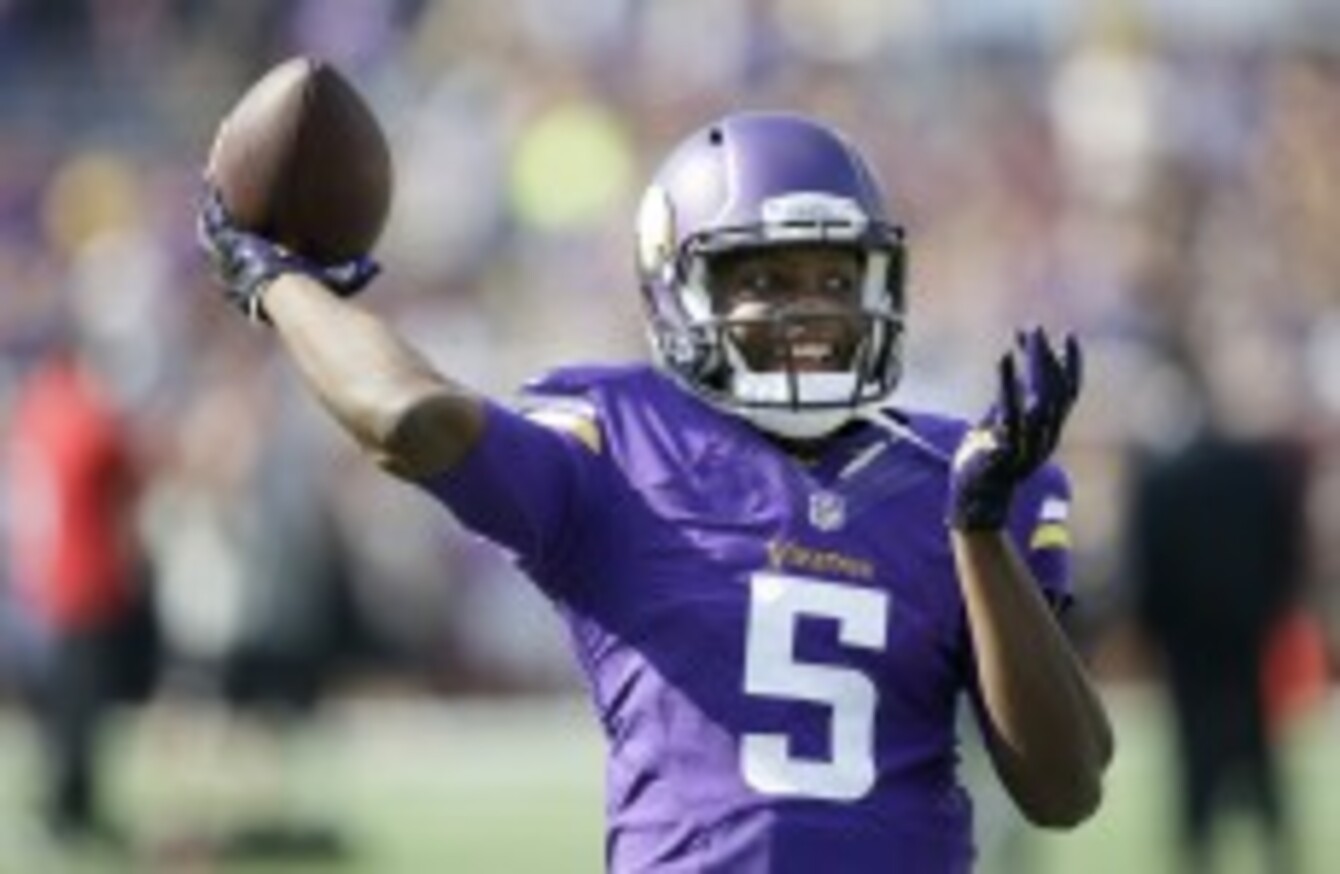 Teddy Bridgewater should return for the Vikings today.
Image: Charlie Neibergall/AP/Press Association Images
Teddy Bridgewater should return for the Vikings today.
Image: Charlie Neibergall/AP/Press Association Images
Detroit Lions @ Minnesota Vikings – 6pm
INJURY NEWS DOMINATED the build up to today's early TV game with concerns over the Lions' star receiver Calvin Johnson and Vikings' rookie quarterback Teddy Bridgewater.
Bridgewater – who looked so assured in leading Minnesota to a 41-28 win over the Atlanta Falcons in his first ever NFL start – missed last week's loss to the Green Bay Packers with a sprained ankle.
However, it appears as if Bridgewater has recovered sufficiently to make this match-up with another divisional rival but he'll face stiffer opposition in his second start as the Lions possess the best defence in the league through five weeks.
Detroit are not without their troubles though and come into this evening's game with serious injury concerns hanging over Reggie Bush (90 yards against the Vikings in his first game with the Lions) and Calvin Johnson whose ankles have caused considerable problems this season.
However, in his absence, Golden Tate has stepped up to the plate and become Matthew Stafford's go-to receiver with 250 yards and a touchdown in his last two games.
The Lions will want a better return from Matt Prater took Alex Henery's job after the kicker's three missed kicks cost them a win against Buffalo last week.
Line: There's no line on this game at time of writing.
Best bet: See above
Fantasy advice: Golden Tate is still starting in just 45% of leagues despite being owned in 100%
Verdict: Teddy Bridgewater is a much better quarterback than Kyle Orton and he beat the Lions at home last week. Vikings by 5+
Dallas Cowboys @ Seattle Seahawks – 9.25pm
The Dallas Cowboys – alongside the San Diego Chargers – are perhaps the surprise team of this NFL season mostly because of how competent they look all of a sudden.
After failing to make the playoffs since 2009, the Cowboys – having started 4-1 – now have a 77% chance of reaching the post-season which will make their inevitable collapse to 8-8 all the more spectacular this year.
Harsh? Maybe but a defence that has been traditionally terrible over the last few years should be even worse this year with their two best players DeMarcus Ware (Denver) and Sean Lee (injured) missing.
This game will feature one of the top three receivers in the league (Dez Bryant) against the best secondary and two of the best running backs in football in Marshawn Lynch and DeMarco Murray.
Line: The Seahawks are 8 point favourites
Best bet: The over/under is 46.5, it could be past that by the end of the third quarter.
Fantasy advice: Cole Beasley only has 8 points to his name but the Seahawks have already given up nearly 220 yards and three touchdowns to slot receivers this season and he's owned in less than 1% of leagues.
Verdict: I'd prefer if the line was 7.5 but Seattle are still a much better team than the Cowboys. Seahawks by 8.
Other games and picks*
Carolina Panthers @ Cincinnati Bengals -7
Pittsburgh Steelers @ Cleveland Browns -1
Green Bay Packers @ Miami Dolphins +2.5
Denver Broncos @ New York Jets +9.5
Baltimore Ravens @ Tampa Bay Buccaneers +3.5
Jacksonville Jaguars @ Tennessee Titans -4
San Diego Chargers @ Oakland Raiders +7
Chicago Bears @ Atlanta Falcons -3
Washington @ Arizona Cardinals -3.5
New York Giants @ Philadelphia Eagles -2.5
San Francisco 49ers @ St. Louis Rams +3
*Remember, the team in bold is picked to beat the spread, not necessarily win the game.