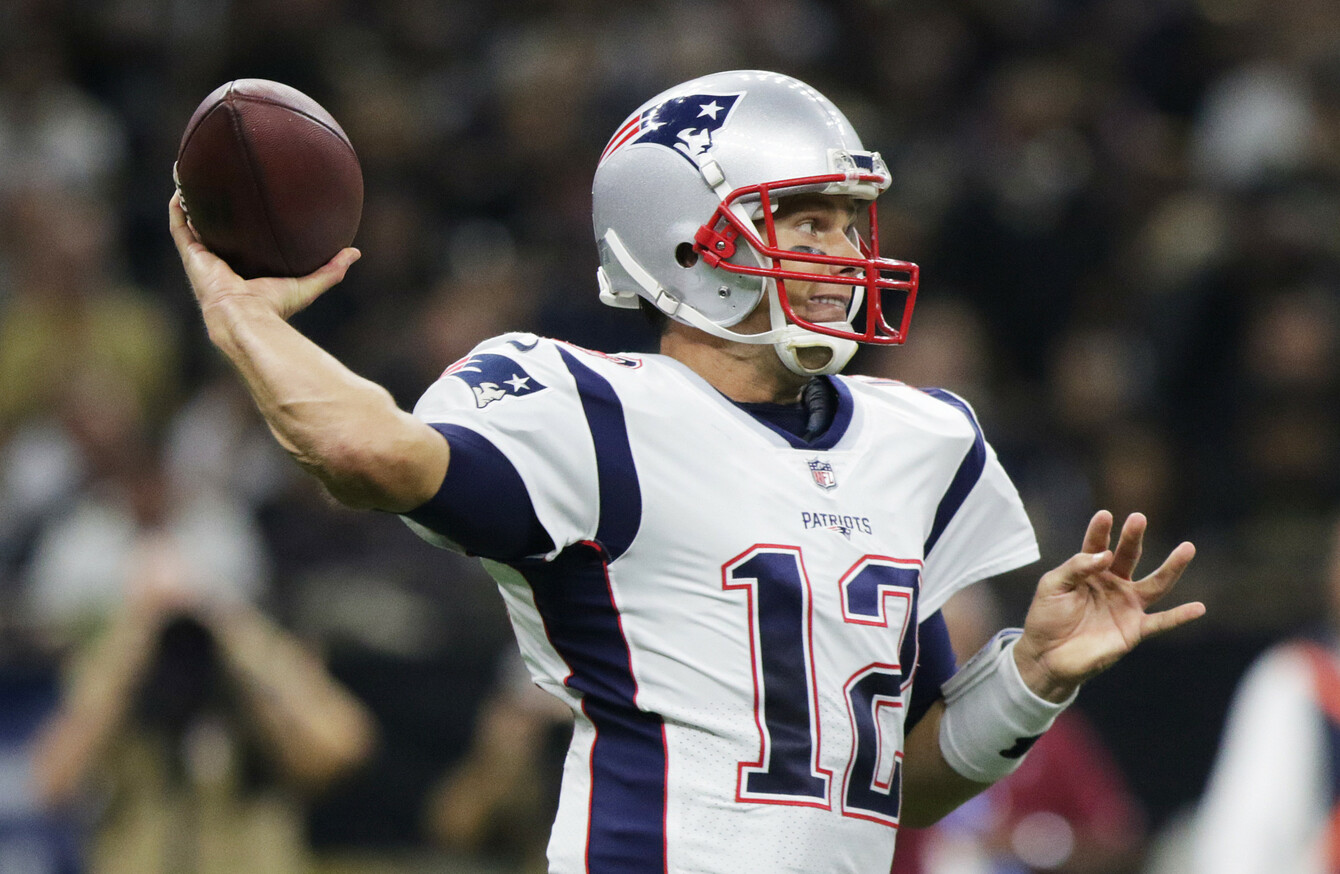 Tom Brady (file pic).
Image: Dan Anderson
Tom Brady (file pic).
Image: Dan Anderson
THE SUPER BOWL champion New England Patriots took advantage of the Los Angeles Chargers' mistakes on Sunday to notch their fourth straight NFL victory, 21-13 at Foxborough, Massachusetts.
Superstar quarterback Tom Brady threw for 333 yards with a touchdown and Stephen Gostkowski kicked four fields goals for the Patriots, who improved to 6-2.
Brady, who threw a two-yard touchdown pass to tight end Rob Gronkowski, recorded his 81st career 300-yard game. His fifth this season matches his total of 300-yard games last year.
"I'm glad we won, that's the most important thing," Brady said. "Starting 0-1 and then being 6-2, a lot of mental toughness. That's good. We've got to keep it going. Our biggest games are ahead of us so we have to go play well."
The Chargers, who lost their first four games of a season that saw them relocate to Los Angeles from San Diego, had won their last three.
But any hope of shocking the reigning Super Bowl champions evaporated in a string of errors.
The worst of them came when punt returner Travis Benjamin fielded a Ryan Allen punt near the sideline at his own eight yard line.
He ran backward and wound up fumbling the ball at the goal line, recovering it inside the end zone for the first safety on a punt return in the NFL since 2003, one that gifted the Patriots a 9-7 lead.
As the season reached the halfway stage, tensions continued to simmer over controversial national anthem protests, undertaken by players to address racial injustice but criticized by some, including US President Donald Trump, as unpatriotic.
All but a handful Houston Texans players took a knee during "The Star-Spangled Banner" before their game in Seattle, a response to Texans owner Bob McNair's comment in an owner meeting on the topic that the league "can't have the inmates running the prison".
McNair had issued a statement apologizing for his choice of words on Friday, after the comment was publicized in an ESPN story.
He also met Saturday with Texans players, some of whom were reportedly prepared to boycott the game in Seattle, where the Seahawks emerged from a back-and-forth battle with a 41-38 win.
Week eight action kicked off in London, where the Minnesota Vikings shook off a slow start to beat the still winless Cleveland Browns 33-16 at Twickenham Stadium.
The Browns seized an early 6-0 lead, but after five lead changes it was the Vikings who emerged with the victory as the Browns fell to 0-8.
Elsewhere, the Philadelphia Eagles won their sixth straight, improving to 7-1 with a 33-10 victory over the San Francisco 49ers — the only other remaining winless team.
Eagles quarterback Carson Wentz threw two touchdown passes, taking his tally through the first eight games to a franchise record 19.
In New Orleans, the Saints marched to a fifth straight victory, 20-12 over the Chicago Bears.
Drew Brees connected on 23 of 28 passes for 299 yards, but for the first time since 2009 the Saints won a game without benefit of a touchdown pass from their star signal caller.
"We're playing really complementary football," Brees said. "Offensively, I felt we had good balance. It was closer than it needed to be with the two turnovers, but the defense came up with some huge stops."
Bears tight end Zach Miller was carted off with a grisly dislocated knee in the third quarter. To add insult to his injury, the play on which he was hurt was overturned on review as officials ruled that Miller lost control of the ball on what would have been a 25-yard touchdown catch.
Dallas running back Ezekiel Elliott ran for 150 yards and two touchdowns and the Cowboys had four field goals from Mike Nugent in a 33-19 win over the Redskins in rainswept Washington.
The Cowboys defense also played a key role, with five sacks and a clinching interception return for a touchdown by safety Byron Jones.
"Everybody had a piece of this. Offense, defense, kicking game. Everybody. This game was fight," Cowboys coach Jason Garrett told his players after the game. "We didn't blink."
Sunday's results 
Carolina Panthers 17-3 Tampa Bay Buccaneers
Philadelphia Eagles 33-10 San Francisco 49ers
Atlanta Falcons 25-20 New York Jets
New Orleans Saints 20-12 Chicago Bears
New England Patriots 21-13 Los Angeles Chargers
Cincinnati Bengals 24-23 Indianapolis Colts
Buffalo Bills 34-14 Oakland Raiders
Minnesota Vikings 33-16 Cleveland Browns
Seattle Seahawks 41-38 Houston Texans
Dallas Cowboys 33-19 Washington Redskins
Pittsburgh Steelers 20-15 Detroit Lions
- Additional reporting by OmniSport
Subscribe to The42 podcasts here: