NHL Division 1A: Tipperary 1-23 Cork 1-23
A tightly-contested encounter at Semple Stadium ended in stalemate when Patrick Horgan, in a fitting culmination to his afternoon's work, drove home a point to pull Cork level with the home side.
Jimmy Barry-Murphy's side had the best of the opening exchanges, but a quartet of unanswered points from Tipperary communicated the host's unwillingness to go quietly.
What ensued was frenetic, skillful and – somewhat ironically, given the certainty that both sides would reach the semi-finals – unrelenting in its intensity.
Goals from Pa Bourke and Cork tyro Conor Lehane ensured the game built pace as it hurtled towards the 70-minute mark. With the outcome in the balance, John Gardiner fired one over the bar to grant Tipp a precarious one-point advantage, but immediately ceded centre stage to Horgan.
NHL Division 1A: Waterford 0-17 Dublin 0-13
Waterford's dramatic rescue of their Division IA future reached a satisfying conclusion this afternoon when they dismissed the reigning league champions in front of hysterical home support at Fraher Park.
Replicating their form of last week, Waterford raced to a eight-point lead at the interval courtesy of some opportunistic scoring and an inspired performance from Tony Browne.
Dublin showed their pedigree in the second half, however, and began diligently to erode the hosts' advantage. With fifteen minutes left on the clock, David Treacy and Eamonn Dillon had dragged Anthony Daly's side to within four points of Waterford.
With the game at a crossroads, the marksmanship of John Mullane and Eoin Kelly to restore Waterford's ebbing momentum.
[caption id="attachment_403701" align="alignnone" width="630" caption="Shane Walsh and Niall Corcoran battle for possession."]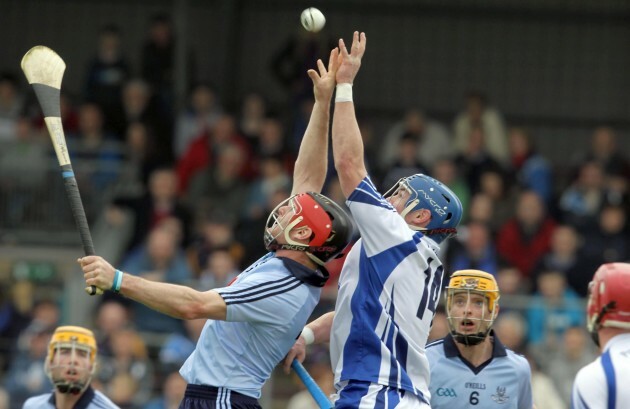 [/caption]
Other results:
Division 1B
Wexford 4-18 Laois 0-15
Offaly 0-19 Clare 2-14
Antrim 0-17 Limerick 3-22
Division 2A
Wicklow 1-11 Carlow 1-11
Down 2-20 Westmeath 3-21
Derry 0-16 Kerry 1-6
Division 2B
Armagh 0-8 Meath 1-19
Mayo 1-20 Kildare 0-19
Roscommon 2-14 London 3-22
Division 3A
Fingal 2-19 Donegal 4-12
Monaghan 4-18 Sligo 2-10
Louth 0-25 Tyrone 0-15
Division 3B
Leitrim 2-10 Warwickshire 2-20
Fermanagh P-P Longford