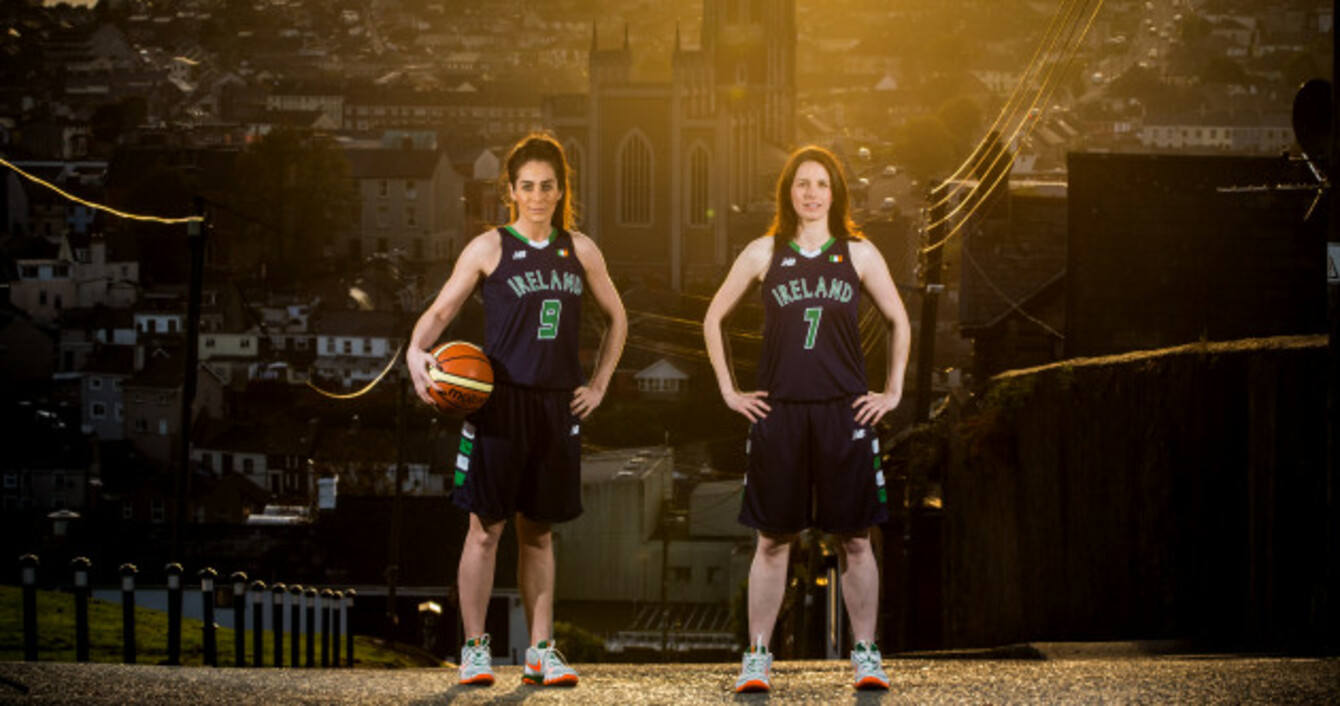 Gráinne and Niamh Dwyer are both aiming to help their respective sides make history at the National Basketball Arena later today.
Image: Cathal Noonan/INPHO
Gráinne and Niamh Dwyer are both aiming to help their respective sides make history at the National Basketball Arena later today.
Image: Cathal Noonan/INPHO
THERE'S A SCENE in the Wes Anderson movie 'Rushmore' where Bill Murray's character asks the movie's protagonist, Max Fischer: "What's the secret?"
Max is failing all his classes and yet maintains an upbeat disposition, in contrast with the much older and perpetually depressed character played by Murray.
The young student loves the eponymous school he attends so much that he is more than happy to flunk his studies and essentially hopes to stay there forever.
In response to Murray's character's question, Max says: "I guess you've just gotta find something you love to do and then… do it for the rest of your life. For me, it's going to Rushmore."
The scene is effectively a comment on how life is all about finding your niche and inhabiting a place where you feel as if you belong, no matter how ridiculous or inexplicable it may seem to outsiders.
For many people, playing sport is their Rushmore, and for the Dwyer sisters and basketball, this is definitely the case. For minority sports in particular in Ireland, there tends to be a strong community feel and level of support keeping everything going from a small but dedicated group of followers.
The athletes involved may not earn the millions that, for example, Premier League footballers are granted, but there is often a purity and a sense of kinship inextricably linked to the likes of basketball, which more high-profile sports with far greater funding and participation numbers cannot hope to emulate.
1. Starting out
"I didn't apply myself the best at school and I'm awful dyslexic, so it kind of restricted me," Gráinne Dwyer tells The42, when asked about the possibility of going to the US on a scholarship. "It wasn't my basketball, it was more so I felt like my academics held me back.
"I think my confidence off the court was what restricted me a little bit more from going to the States. I opted in the end not to, and I ended up going to Waterford IT, which was great. I don't regret not going to the States, but I do wish I'd given it a chance. There's a girl on my team, Claire Rockall, she went for a year. She didn't love it, she came home but she experienced it and she tried it. That's all you can do."
It has been basketball, however, that helped Gráinne become more confident during her adolescence and beyond, as well as serving as "an outlet for me whenever anything's pissing me off".
I definitely think in a way it defines me and I define myself," she says. "When you're younger, you don't realise it and it's a bit of a drag to go training, and even now on a wet cold evening, though not that I can complain, because I play an indoor sport."
She continues: "(Basketball) sculpted me into the person I am today, it definitely made me find confidence and like I said, I was dyslexic, not majorly, but it restricted me. I did lack in confidence a small bit but through (that lack of) confidence, you find another confidence.
"I think everything doesn't have to do with academics. Obviously, it helps, but I'm definitely the person I am today because of the sport I play and the people who I'm surrounded with through sport."
One of the people who Gráinne happens to have been surrounded by during her years in the sport has been her older sister Niamh. The pair's career paths have coalesced on occasion, while they were a major influence on each other growing up.
"I came from Thurles, we didn't have the channels for NBA," Gráinne says. "Growing up, it would have been all the (Tipperary) hurlers that you'd look up to. You would have been watching that more.
My older sister Niamh played as well and it's really fucking cheesy, but I admire her — her determination, she was such a fantastic player. She's very talented, but Niamh worked so hard. Her work ethic was crazy, I always admired her for that.
"Her last year in school, I would have played schools basketball with her. I played with (WIT Waterford) Wildcats a couple of years after school, and ended up moving to Cork. Niamh moved back (to Ireland) then, she was playing professional in Latvia. She came home, she went back to UCC and we ended up playing together for a couple of years at Glanmire, so it was great."
2. American Dream
Unlike Gráinne, Niamh was fortunate enough to get a basketball scholarship to the States. Until then, she had been combining the sport with playing underage camogie for Tipperary, but the move to the US, where she spent time at colleges in both Illinois and New Jersey, spelled the end of any thoughts of a GAA career.
"You work hard, but you also need a few breaks with it," Niamh says. "We've had the opportunities and I've been in a position to take them. The States was a phenomenal experience. I still enjoy training, so I'm blessed in that sense. You train six or seven days over there, when you're in conference. I actually love that, I love to train and get better."
Niamh was still a teenager when she made the move way across the world to study in Monmouth College. Was it an intimidating and slightly scary experience to leave all her family and friends behind at such a young age?
"I wasn't daunted at the time to be honest, because I'd just left school and I wanted to try something new. In my head I kind of said 'look, if it doesn't work out, I can still just come home.' I wouldn't have lost out on anything. I could have deferred my college course for a year and if it didn't work out, I could come back the next year.
A family that took care of me over there had a gathering to welcome me. And one of the guys goes 'you just got on the plane and flew 6,000 miles and changed your whole life'. I kind of went 'oh my god, yeah, I did that'. It was kind of like a little bit of ignorance is bliss. I looked at it as an event. 'Holy crap, I just did that.' So I didn't overthink it.
"I've been accused of over-analysing, but definitely in my younger years, I didn't over-analyse."
After her US experience, Niamh spent four years playing in Lithuania, mainly as a back-up player for Vilnius, while sharing a dressing room with future WNBA star Katie Douglas among others. She then spent an additional year in Latvia.
"I remember when I went to Lithuania on the first professional contract I had. I got off the plane and my Irish mobile didn't work on roaming at the time. You're talking about 11 or 12 years ago. The guy who was due to pick me up and who I had emailed wasn't there and I'd no phone and no money. I thought: 'What the fuck, if he doesn't show up, what will I do?'
I remember being off the plane and sitting there for a half hour or 45 minutes. I was sitting there and going: 'Fuck, what am I going to do?' Thankfully, he came in the door not long after, but I remember going: 'Jesus.'
"I think travel kind of gives you that faith in people to get on the plane and go to Lithuania. I never checked roaming at the time, the old Nokia block phones were the trend, and I remember going: 'Oh shit, I didn't think about it.'
"But I'm still alive, I'm well, so I think I learned on my travels that 90% of people are pretty excellent and they do take care of you."
Later, Niamh spent a year working as a teacher in England, and was a big success in the national basketball league there too, winning Player of the Year for 2011.
"When you're in Europe playing professionally, that's your job every day, you're doing two sessions a day on it," she adds. "Even when I moved to England and became a teacher, that was a different experience and a different level."
3. Good times bad times
Both sisters have also represented Ireland internationally. Niamh's achievements include being part of the first Irish U18 team to ever qualify for the second round of the European Championships, helping her side place eighth at the 2003 World University Games, in addition to finishing as the tournament's leading scorer two years later. She has been involved in three Senior Women's European Qualification campaigns in 2005, 2007 and 2009, and more recently, played a part in Ireland's run to the quarter-finals of the 3 x 3 2015 European Olympic Games as well as contributing to the country's qualification for the 3 x 3 European Championships in 2017.
Gráinne was also involved in those 3 x 3 feats, but despite all they have achieved, both sisters cannot help but look back with a degree of regret when it comes to their international careers.
In 2009, financial problems prompted Basketball Ireland to withdraw their teams from international competitions. The timing of the move, in particular, was galling. There had been signs of considerable progress in the previous campaign, when they had narrowly missed out on qualifying for the 'A' grade/top tier of European basketball. Not only the Dwyers, but other highly talented players such as Susan Moran, Michelle Fahy, Michelle Aspell, Lindsay Peat and Anne-Marie Kyne were all lighting up the basketball scene back then. It was as close as the women's game in this country has come to a golden period, but these players would not get the chance to showcase their talents on the international stage for some of their best years.
Niamh consequently describes Basketball Ireland's decision as "gut wrenching," even though there has been the return of international fixtures via the more affordable 3 x 3 format in recent years.
"You had 10 players who had either been on a scholarship in the States or some of us had played professionally as well," she adds.
"Obviously, I'm a bit biased, but to play with that group of players and be considered good enough to play with that group of players was a real honour as well.
To be within a few points (of reaching the 'A' grade), it's a pity we didn't follow through on it. We beat Holland that year, you can hear it in my voice, I'm talking about nine years now. We hope it's not the closest we'll ever come (to success).
"But you saw the (Ireland) 18s this year and what they did (winning a silver medal at the Women's European Championships). Hopefully that's the start of it again and they're building a team where you can go: 'Yeah, they could have competed with the 2008-2009 team.'"
4. The younger generation
But despite the Ireland U18s' success, Gráinne is not unequivocally positive when it comes to the younger generation of players coming through.
"I played with the most unselfish girls growing up. Generations have changed so much — some kids nowadays, they all play to score points, they play for golden balls, there's all these external factors, they're not just playing to win. I played with a bunch of girls who just wanted to win. We had a really good coach, a good foundation and there was never any favourtism on my team growing up.
I think a lot of it is to do with social media to a certain extent. I think things sometimes come a little easier to them. I remember years ago playing on Irish teams, okay, they had to change up training, but you'd go for four or five hours. There were a few water breaks and maybe a half-hour break in between.
"I'm not saying we were tougher, I just think we were reared differently. Social media makes everything look fantastic and don't get me wrong, basketball wouldn't be as big in the last couple of years without social media. I just think it glamourises a lot of stuff and people are putting up this stuff when they win something or when they do something, but they're not putting the hard work in.
"I don't think people train as hard, though there are kids that do, I just think everything is so… I feel like a lot of it is given to them instead of them working for it at times."
5. Road to recovery
The Dwyer sisters are certainly no strangers to winning or having to work for success.
Gráinne's accolades include six National Cup titles, six league titles, three cup final MVPs, one league final MVP and three Irish Times January Player of the Month awards.
Similarly, Niamh's domestic achievements include five National Cups, six league titles, two league final MVPs, in addition to being named Player of the Year in both 2009 and 2015.
And three years ago, when The Irish Examiner compiled a list of the top 25 greatest Irish female basketball players, both sisters featured, with Niamh seventh and Gráinne 15th.
However, perhaps the biggest challenge of Niamh's career came more recently. In December 2015, she tore her anterior cruciate ligament.
SEE SPORT
DIFFERENTLY
Get closer to the stories that matter with exclusive analysis, insight and debate in The42 Membership.
Become a Member
"I was going for a steal and whatever way my knee twisted, it ripped my ACL. Anyone who's had an ACL injury knows it's just a long recovery."
At 33, many people in Niamh's position would have called it quits and at times, she feared the injury would spell the end of her illustrious career. Against the odds though, she returned to action after roughly a year out.
You just re-set your goals and you basically have to start all over again," she says. "When you come out of surgery, you have to learn to walk properly again, extend the knee and bend the knee, it brings it back down to the details — it basically let me know that I still had a passion for the sport and I still had a desire to get back.
"I really didn't want the injury to be what retired me. It would be lovely to go on my own terms and I think that's what drove me on. I knew I wanted to try to get back to the highest level possible, so I just pushed myself on basically from there.
"I constantly was doubting myself, not in the sense of the injury, I'm just stubborn, and that's what it is. The first night after surgery was extremely hard when I went home — I nearly cracked. But what I learned from the recovery is, you take one step at a time.
There were plenty of times where I was frustrated, I couldn't get off the couch. Bending my knees or even straightening my knees was extremely painful, you're like: 'How will I ever get back?'
"If you focus on getting it back to a high level… I had to extend my knee — that was what my physio told me. The extension is crucial to get back for it, you have that, then weight-bearing.
"It was literally just step by step and I tried not to focus too much on the overall picture, because you would just never think you would get there then. It was quite amazing then last summer when I tried out for the Irish team. I went to the 3 v 3 trials and I went to the physio after training, I had a setback at the end of last season, I didn't play the last four games of the season because I overstrained the knee, I was playing too much and I did too much on it.
"It was my own fault because I'm quite stubborn. Once I reach a level, I want to push myself on and I pushed myself too far last season.
"I remember going to my physio saying 'I think I want to try out for the 3 v 3′. They said: 'Look, we'll see what happens, we'll do a programme and we'll see how you respond to it.'
"In the trials, I was just thinking: 'Right, if I get through the first two hours, that's all I want to do, just get through two hours of training.' Three and a half hours later, I was still going. I was like: 'Okay, maybe I can do this.'"
6. No end in sight
All the hard work eventually paid dividends, and Niamh could be rewarded for her perseverance this weekend. At 2pm today, the Hula Hoops Senior Women's Cup final gets underway, and the Thurles native will be hoping to help Fr Mathews win the trophy for the first time ever at the expense of Meteors.
Later in the day, in what she describes as "the biggest weekend in the basketball calendar," Gráinne will also be hoping to make history, as she is part of a Glanmire team aiming to win the Women's National Cup final for an unprecedented fifth time in succession, with league leaders DCU Mercy standing in their way.
I was talking to the U16 Irish team a couple of weeks ago and someone said: 'Do you ever get sick of winning?'" she remembers. "I was like: 'Are you kidding me? No.' You can't take things like this for granted."
It's remarkable in many ways that, at 33 and 35 respectively, both Dwyer sisters are still going strong, having helped to define Irish basketball for well over a decade. Aside from Niamh's couple of years away from Ireland, the pair have managed to achieve what they have while holding down full-time jobs.
Gráinne, who is playing her 13th season in the league, currently works for AIB, while Niamh teaches Business and Geography at Glanmire Community College. As if all that is not enough, both are also coaching various underage basketball sides.
"I feel like I'm still competitive," she says. "I do work hard. I get to the gym on my own but I have to, because I feel like when I don't, I can't compete in the league, I don't want to play anymore.
"At the moment, I don't have kids or anything like that, so I can put all the time and effort into basketball or whatever. I definitely feel like I'll (always) be involved.
"I feel like I have a lot to learn as a coach, I think it's totally different to play, it's crazy. You see so much sitting there, yet when you're on the court, you see it differently."
"I love coaching and I love that aspect of it," Niamh adds. "I'm married now and my wife's pregnant, and I suppose for the first time, I can see the next step outside training four nights a week and playing.
"I still have the passion coming back from the injury, I had to do more gym work than I did before it.
(When you're young) as well, it's easier to recover, it's easier to build. I have to do that little bit extra now with my age, I have to warm up a little bit more, so it is that bit more demanding to prepare for games and to get up to a level.
"But I definitely see the next step ahead of me. I still think I have a couple of big games left in me. I'm not quite there yet, but I think I can see it out and I'll always be involved in basketball. I've got way too much from the sport, I've been able to live in five different countries, I've been able to travel the world and I've been very blessed (in terms of) timing."
7. Learning from ROG
After a much-decorated career, when Niamh does step away from the playing side of the sport, she is unlikely to go out with many regrets.
"The best feeling for me is when you've trained hard, prepared right and given everything," she explains.
"You've nothing left, you come off the court and you just have that feeling. I couldn't have done anything else, whether the result goes your way or not. That's what I learnt from that Baku experience, when we came off the court against Russia (with the Ireland 3 x 3s in 2015).
"Once I got over the initial upset of losing, it was that sense of pride in saying: 'There was nothing else any of us could have done here.'
"We came up against the best team in Europe and gave it everything, knowing that I've trained as hard as I can.
I think Ronan O'Gara said it after his last game over in France for Munster. Munster came so close to beating Clermont. Even though it was a loss, he just knew that was everything he had.
"Sometimes it works out and don't get me wrong, I've been very fortunate, it's worked out most of the time. But there were matches where the result didn't go my way, but that feeling was there and I love that feeling."
8. Fire still burning
Reflecting on her career so far, Gráinne sums up one moment that highlights why she loves basketball so much. It took place at the beginning of what could become the 'five-in-a-row' for Glanmire later today.
"Paul Kelleher came in and coached us and it was the best team basketball I have played potentially ever with a team. It was amazing. I loved every minute of it. I could have killed him sometimes, I could have killed the girls sometimes, but that was all part and parcel.
"But in the final we played, one of my team-mates had a broken foot. We went to overtime with UL. She came on and scored 14 points in 10 minutes to bring us back into the game, when we were down 10 points. It was kind of mind over matter. I know her so well, she knew her foot was fucked, people asked her to go for an x-ray, she refused.
"She didn't play the rest of the season, because she couldn't. But for that one game, if she hadn't pulled it off the bench — and she didn't play until the end of the fourth quarter — we would have never won.
"She came on, she brought it back for us, it was amazing."
This abrasive attitude is nothing new to Gráinne. Indeed, if anything, it has characterised the Tipp native's career and been a major reason for all the success she enjoyed up to this point.
I played with my sister," she adds. "We could kill each other. There have been a few occasions. It's crazy. We probably go harder at each other than anyone else.
"And as well, we're all women, so we're definitely going to have a bit of a bitch and a fight and a bit of an argument. But it kind of makes us as well.
"Sometimes things have to be said. I think women tiptoe around things a little bit more. With men, there's no shit, they just call it out. With women, they (sometimes) don't want to offend someone, they don't want to hurt someone.
I'm not the same off the court, but I'm always aggressive on the court. It just comes out, but I think the girls know me now at this stage.
"But yeah, absolutely, we have our highs and lows, we almost kill each other at times, but it works."
Hula Hoops National Cup final Fixtures 2018
Sunday, 28 January
Hula Hoops Under 20 Men's National Cup final: Moycullen v KUBS, 10.00
Hula Hoops NICC Women's National Cup Final: Killester v St Mary's Castleisland, 12.00
Hula Hoops Senior Women's Cup final: Fr Mathews v Meteors, 14.00
Exhibition Game: Masters Exhibition, 16.00
Hula Hoops Women's National Cup final: DCU Mercy v Ambassador UCC Glanmire, 17.30
The42 has just published its first book, Behind The Lines, a collection of some of the year's best sports stories. Pick up your copy in Eason's, or order it here today (€10):