SUMMER IS JUST around the corner.
We know because it's raining and the calendar tells us so.
We can also tell by the removal of many 'Leinster Rugby' signs from doorways around the RDS.
'Eucharistic Congress' will be the new show in town and we dare say the pious folk attending may throw out as many tantalising tid-bits as Leinster did today.
The eastern province are well used to the routine for this time of the year. It's been four years since they failed to make the final four of Europe's top competition and, of course, they have won it twice in that time.
So they can be forgiven for eschewing giddy anticipation in preference for stern focus this week – they do their entertaining on the field.
It will not come vocally, but the message from Leinster is clear enough. They will be giving nothing away, no further ammunition for this impressive Clermont Auvergne side on a revenge mission.
Instead, they will train within the confines of the RDS, not out in the open at UCD. Scrum coach, Greg Feek is the man rolled out to sate the media. Yes, Leinster will be putting their hard edge forward to take on Clermont at source.
"I see a very powerful and physical team." Said Feek when asked about the joint leaders of the Top 14, "They've some really explosive ball carriers right up to their number ones and threes – right out to Sitiveni (Sivivatu) out wide."
They know if they can settle the score up front and come out, take us on it's an advantage to them – It's French rugby and they have the players to go and do that, mentally and physically. It's a great challenge.
Aside from some prolonged uncertainty over Eoin O'Malley, the first team is injury free. The centre has been absent with a calf injury since before the win over Munster. Despite, being listed as ready last week, he was withdrawn from the team at the last minute.
"Eoin O'Malley is hopeful this week. Obviously, he's had a little bit of an issue there. Other than that – it's credit to our medical and strength and conditioning staff that the boys are all in good health."
They've worked hard to get into this position and will work even harder to push on. Ever since Joe Schmidt took over his mantra has been 'one game at a time'. Well, that game is afoot.
The familiarity between these sides has bred, maybe not contempt, but certainly an intense competition. A limited amount of cross-pollination will make the intrigue even stronger.
Schmidt; 24 months removed from Stade Michelin, but still with an in-depth knowledge of personnel and skill sets; and Nathan Hines, a man Jonathan Sexton feels will have an ear out for familiar line-out calls. All friendships will be put aside.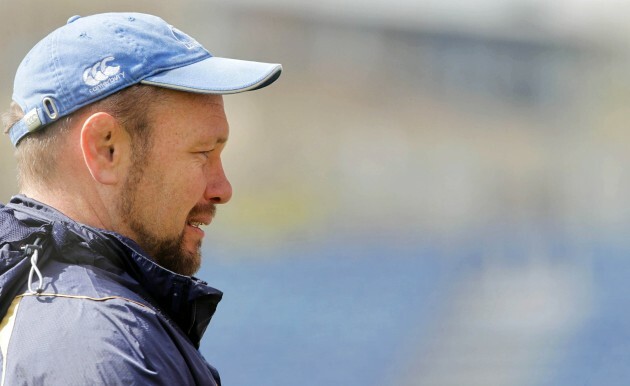 Greg Feek surveys training. / ©INPHO/Donall Farmer
It doesn't get much more difficult than Clermont away as Damian Browne, a veteran of three years with Brive, can attest:
"Any time you play a French team in France it is a huge challenge. The stature of the club that Clermont are, they're one of the top two teams in France year in year out, it's definitely a daunting challenge."
In their centenary year, the Heineken Cup is very much a serious target for Vern Cotter's side. At home, in Stade Marcel Michelin, they have managed the incredible feat of 42 consecutive wins.
Distraction
In a game which could have the smallest of margins, the move away from the Massif Central, 230 miles west, to the picturesque city of Bordeaux can only be of advantage to Leinster.
"We're hoping there'll be a bit of roadworks on the way on the bus, if they do bus there. Just to distract them a little bit." Feek added, half joking with only a hint of a smile.
Summer may well be on the way, but school is not out for Leinster. Far from it.