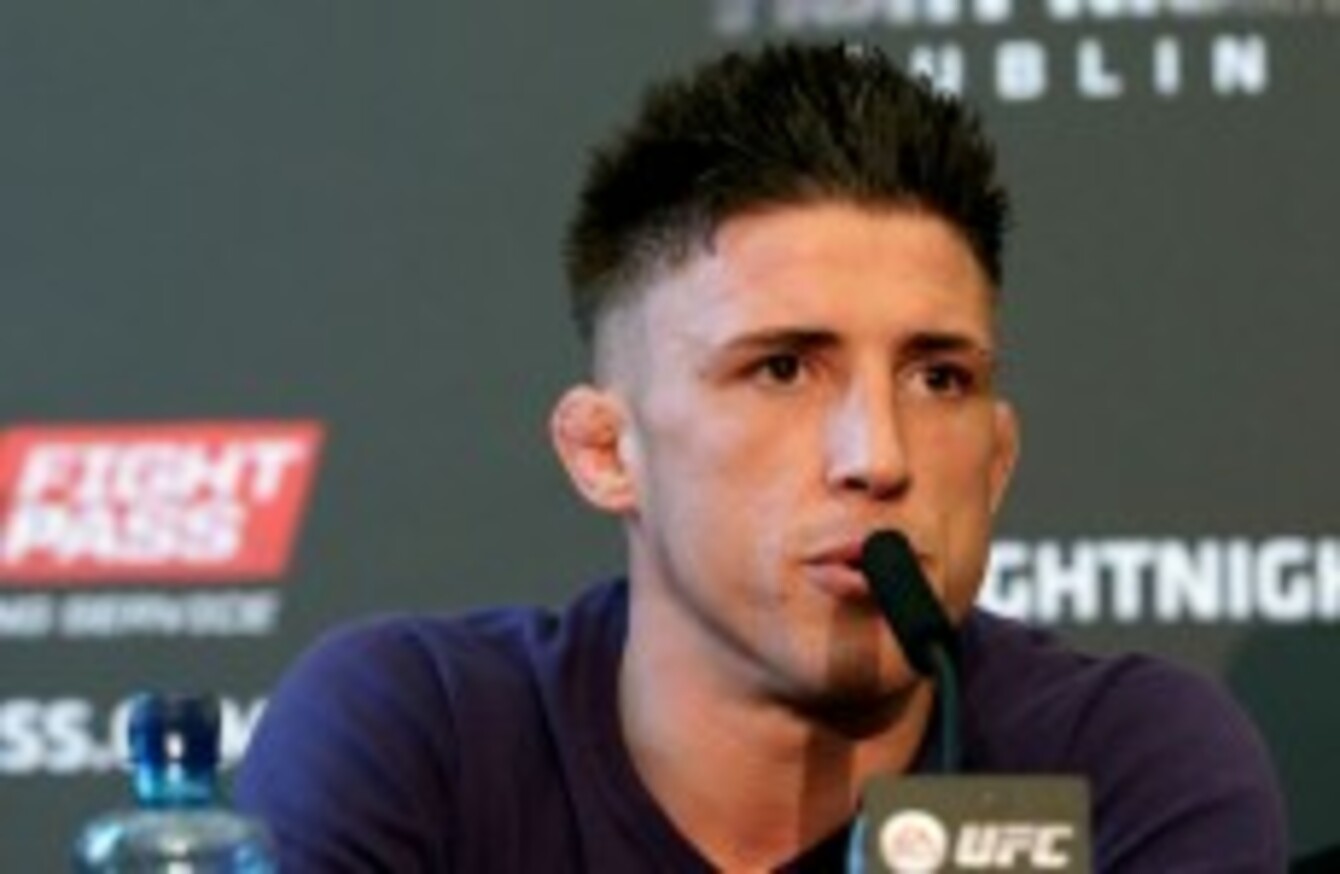 Ultimate Fighting Championship lightweight Norman Parke.
Image: Dan Sheridan/INPHO
Ultimate Fighting Championship lightweight Norman Parke.
Image: Dan Sheridan/INPHO
HE DIDN'T QUITE know what kind of reception to expect, but it turned out to be the best experience of his career.
Last July at the 3Arena in Dublin, Norman Parke was one of five Irish fighters on the bill at UFC Fight Night 46. The Antrim native was the only one from north of the border, however.
Parke had fought in Dublin plenty of times before and with no cause for complaint — but not in front of a raucous crowd of 10,000 fans.
If he was apprehensive, his doubts diminished before he even set foot in the octagon. As Parke prepared to enter the fray, his face appeared on the screens in the arena and the fans roared their approval, just as they had done earlier in the evening for Dublin's Paddy Holohan, Cathal Pendred and Neil Seery.
"I wasn't overly concerned about the reception but I did have it in the back of my mind," said Parke, who went on to secure an impressive win over Naoyuki Kotani. "But I've fought in Dublin loads of times and I've got a lot of family and friends there, so I knew there'd be a lot of support as well.
"It meant a lot, for sure. I remember standing behind the black curtain, waiting to walk out for the fight, and I could see some of the crowd through the curtain. They were going absolutely crazy.
"I was quite hyped up then and you get a bit emotional when you hear that atmosphere, and it can be hard to control your emotions then. But the people in Dublin supported me 100%. That's a great thing.
"It was just unbelievable, that whole experience. I'll never forget the atmosphere. It was probably the best experience of my whole UFC career so far. It's great for me that I get so much support down south."
Although no date has been officially announced for the Ultimate Fighting Championship's next event in Ireland, the leading organisation in mixed martial arts is expected to return to Dublin in October.
Conor McGregor topped last year's bill but the featherweight title challenger has since graduated from Fight Night shows to pay-per-view main events. As a result, there'll be a vacancy for a worthy headliner when the UFC come back to these shores and it's one Norman Parke would have no hesitation in filling.
He faces Francisco Trinaldo this Saturday night in Brazil, but Parke had originally agreed to take on Edson Barboza this weekend — until the Brazilian lightweight was forced to withdraw before the fight had even been announced.
Overcoming the challenge of Trinaldo will be a tall enough order in itself, but if Parke can emerge victorious, he'd love to welcome Barboza to Ireland later this year. How about it as a headliner?
Parke said: "Main event? One hundred percent, I'd jump at that chance. I'd definitely take that fight and it'd be even better if it was in Dublin. I'll take any fight, no problem. A main event would be incredible but I'll fight anywhere on the card just to be on it."
Norman Parke fights Francisco Trinaldo this Saturday night on the main card at UFC Fight Night 67 in Goiânia, Brazil. Live coverage begins on BT Sport from 3am.