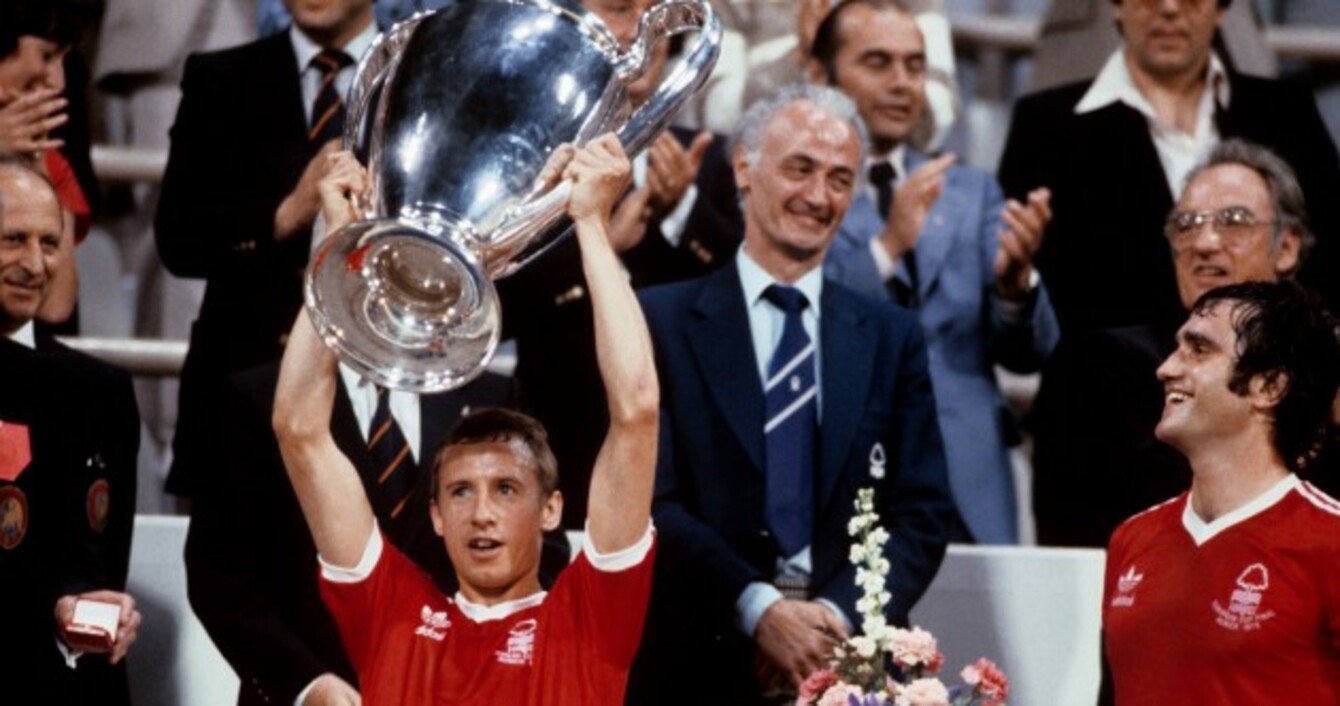 Image: Peter Robinson/EMPICS Sport
Image: Peter Robinson/EMPICS Sport
Updated 15.10
WHEN BRIAN CLOUGH arrived at Nottingham Forest in January 1975, he inevitably had a line ready befitting of the grand occasion.
"I'm leaving the human race to rejoin the rat race", he said.
"At my age I'm too young to retire, football is my job. Now there is one thing in Forest's favour – the club has me."
Despite his ignominious, fleeting and scarring 44-day spell in charge of Leeds, Clough still talked the talk.
The reality of the situation though was that he was taking the reins of a club going nowhere fast. Nottingham was most famous for Robin Hood, not football.
Over the following five years though, Clough, along with his band of merry men, would work wonders.
Forest's journey from no man's land to the promised land is the subject of Daniel Taylor's fascinating I Believe In Miracles, a magnificent account of a largely inexplicable period of unprecedented success.
In just five extraordinary years, Clough took the side from mid-table obscurity in English football's second tier to promotion, top-flight success, a litany of other domestic triumphs and the crowning glory – back-to-back European Cups in 1979 and 1980.
But it wasn't always such a romantic story. When Clough arrived, he did so under a cloud of suspicion. Many stakeholders wanted nothing to do with him. Four board members said they'd resign if he was approached to take over. Still, they had very little to lose and Clough promptly was brought on board.
He'd later say that Forest were heading for bankruptcy and though that's almost certainly an exaggeration, they were in poor health.
"Forest were a lower mid-table team in the old Division Two, crowds were dropping beneath eight thousand and were described by one of the directors as the least progressive club in the country", Taylor tells The42.
Dave Mackay, who had been the Forest manager shortly before and who Clough knew well having signed him for Derby, told him not to got to Forest. They were stagnating, basically. There was nothing really going for them, the irony being that five of the players that would eventually go on and win the European Cup were all on the books at the time. It was a club in a very inhospitable ground, they were pretty skint in Clough's first year – they had a cheese and wine event just to raise some money from the local businesses, his first signing, Bertram Nathanial Bowery, cost £2,000 from Worksop Town – a little non-league team in north Nottinghamshire."
Forest's rise was eventually rapid but the first eighteen months of Clough's reign was immensely difficult. He was a box-office attraction and that meant bums on seats but the results were not good enough.
"They won their first game – an FA Cup tie against Tottenham who were 17th in the First Division so that was a giant-killing of sorts at the time", says Taylor.
"Then they beat Fulham in the league and everyone was thinking 'Oh, this will be great' but what's forgotten is that they actually hardly won a game from January 1975 until the end of the season and really could've been relegated at one point. The following season they finished eighth but that was largely due to a late run at the end of the campaign – they never challenged for top spot. In the Championship these days, you'd probably get sacked with the results Clough had in his first year and a half. It was when Peter Taylor came the following year that it really took off."
Clough's dynamic with Taylor is well-documented elsewhere.
"I am the shop window and he is the goods in the back", Clough would say about his deputy.
The pair worked together at Hartlepools before tasting remarkable success at Derby, getting them promoted to the top-flight in 1969 before winning the championship in 1972 – the first in the nondescript club's history. There was also a bitter and controversial European Cup semi-final loss to Juventus before the duo acrimoniously resigned.
Taylor remained at Brighton for three seasons, becoming boss when Clough went to Leeds, but were back together at Forest in 1976 when Taylor resigned.
It was the perfect tonic for Clough who had been growing increasingly depressed by the deteriorating quality on show at his club – the sparkle and charisma decreasing with each on-pitch setback.
"Ken Smales, who was the Forest secretary at the time, talks about going into the office on more than one occasion and finding Clough sitting there with his head in his hands saying that he'd just watched the worst training session he could ever remember", Taylor says.
He'd say there was no left-back in the team, that no-one could head the ball. He told Ken that it was all a mess, basically. If you looked at their results, they lost to Bristol Rovers, York City and to Peterborough United in the FA Cup. In these games there were seven of the players who would go on to win the European Cup three years later. Seven of that team played in the game at York City. The irony was that when they won promotion in 1977, it was with the fifth-lowest points total that there'd ever been at that stage.
They were playing Southampton one midweek night. A fog came in from the River Trent and the game was abandoned. Forest were losing, they had lost the previous three games so were looking at four defeats on the bounce. And apparently that night, they were playing absolutely abysmally. Southampton, who would go on to win the FA Cup at the end of the season, were winning comfortably even though it was only 1-0 at the time. The game was abandoned and when it was rearranged, Forest won. If that fog hadn't happened, what would've happened? They were only promoted at the end of the 1977 season because Bolton Wanderers, quite ludicrously, had three games in hand but they lost one of them against Wolves and it meant Forest went up."
What happened next was scarcely believable.
With some astute signings, including goalkeeper Peter Shilton, centre-back Kenny Burns and midfielder Archie Gemmill, Clough's newly-promoted side claimed the First Division title.
They went on to set the record for longest unbeaten run – 42 games – which was only beaten by Arsenal's Invincibles in 2004.
In 1979, Forest beat the likes of Liverpool and Cologne on their way to reaching the European Cup final against Malmo. They triumphed 1-0 in Munich thanks to a winner from Trevor Francis.
Twelve months later, they repeated the trick and beat Hamburg in the decider with the dazzling left-winger John Robertson grabbing the only goal of the game.
In between there were back-to-back League Cup successes in 1978 and 1979.
And yet, given football's penchant for the fairy-tale, Forest's story has been largely ignored even in the UK.
"It does slightly annoy the players – well, maybe bemuse is a better word, that they don't get the credit they deserve", says Taylor.
"If you look at the National Football Museum in Manchester, Forest are not even in the Hall of Fame whereas a team like Aston Villa, who won the European Cup once, are there.
Source: alhaidaree12forest/YouTube
John Robertson, the star of that Forest team, wonders what the criteria is. Like, some of these players have remarkable stories. Kenny Burns had arguably the worst reputation in the country at that time. Larry Lloyd was always seen as trouble – he left Liverpool to come down a division. Frank Clark, having been ditched by Newcastle, was on the verge of joining a Fourth Division team – Hartlepool or Doncaster Rovers. So, there is a touch of the 'How did it work?' about the story.
Garry Birtles was a £2,000 signing from a team called Long Eaton United, which was basically a Sunday League pub team and within a couple of years, he's the European Young Footballer of the Year and playing in two European finals. There is that side to it but it also adds to the miraculous nature of the story. It's not the usual football story. People will always say to me – 'It will never happen again' and I'll tell them 'Yeah, but it never happened before either'. Can you imagine? The equivalent of Bournemouth getting promotion last season and then within two or three years, they've won the Champions League twice?"
As much as the players feature prominently in the book, Clough's shadow is inescapable. In many ways, he converted a ramshackle bunch into not only the the best team in England but the best in Europe too. Having won back-to-back European finals, Forest are part of an incredibly unique bunch. Only Milan, Inter, Ajax, Bayern, Liverpool and Real Madrid – the heavyweights – have retained the European Cup. In the modern era, it's never been done.
The size of the achievement cannot be under-estimated.
"A lot of it goes back to Clough's aura", according to Taylor.
"He was incredibly simplistic in getting his message across. And he was particularly brilliant at coaching players during games. He had a great feel for the game and it wasn't the orthodox way of coaching. They rarely talked about tactics but he'd get a player incredibly motivated. Robertson says that he just couldn't wait for Saturday because the drug he was addicted to was Clough getting out of his dugout, putting his finger against his thumb and showing him that perfection sign.
He'd do that with Kenny Burns as well but he wouldn't do it to Larry Lloyd because he thought he was big-headed. It was like he was inventing this reverse-psychology for football. Lloyd had a big ego so Clough would keep him dangling. Lloyd was desperate to get one of these perfection signs because Burns – his partner in defence – was always getting them and he was jealous, for lack of a better term, and would try even harder to get one. He was so intent on winning Clough's approval. A lot of it was about winning Clough's approval."
It can be argued that the cult of Clough has counted against the teams he managed to success, that the fascination lies with the person rather than the legacy.
But the Forest story is a spectacular one and it's critical that the team's brilliance is given the respect it deserves.
"Nottingham Forest, pretty much, knocked Liverpool off their perch long before Sir Alex Ferguson actually came up with that phrase. They played them ten times after promotion – it was the Liverpool team that so many think was the best ever – and Forest didn't lose once. In eight of those games, they didn't concede a goal. Liverpool just couldn't beat them. So, for a promoted team with no great history whatsoever – their last major trophy came in 1959 and before that 1898 – to come out of nowhere and win two European Cups…it's an incredible story really."
A miracle, certainly.
I Believe In Miracles is published by Headline. More info here.