GORDON D'ARCY AND Brian O'Driscoll have both spoken glowingly about their record-breaking centre partnership that has seen them play 48 tests together in over a decade for Ireland.
The Leinster duo are expected to line out alongside each other against England on Sunday, provided D'Arcy overcomes a dead leg, and when the Wexford man was asked to describe the importance of the former Ireland captain to his career, he quipped: "Well, what does he say about me???
"No, I'm only joking. Brian's been great to play with. We've been in or around teams since we were 16 or 17, we were in the academies together, we always played together – him playing 13, me on the wing. He's just so easy to play with, particularly in defence.
"I think one of the things that stands to both of us is that we enjoy tackling, we enjoy the confrontation and the chip on the shoulder you need to carry to be a really good defender.
"If he does something, I can instinctively go the other way, if I do something he can do the other. The big mantra in this group of players is, 'whatever it takes to get it done, just do it.' That's coming across in the way (myself and Brian) have played down through the years."
For his part, O'Driscoll kept up the mutual appreciation.
"He's a hugely important player in my game, just because of the comfort that he gives me, particularly from a defensive point of view. I think he's incredibly strong, defensively the best centre I'd have played with, but he offers a lot more. It's not that we have a case of telepathy, but I don't think you always need to speak to one another to understand the body language and what each of us is doing."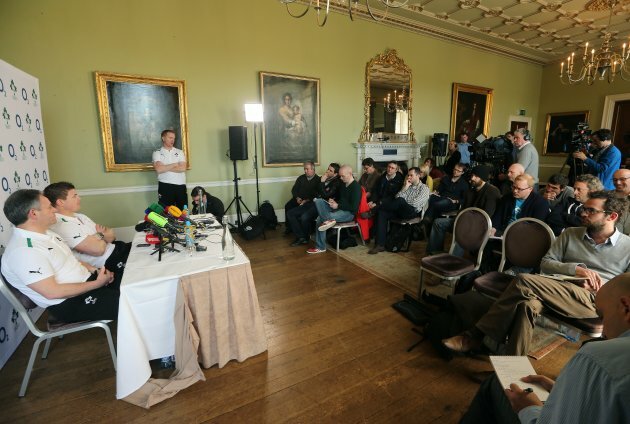 Following last weekend's deserved victory over Wales, both players pointed to the threat of Stuart Lancaster's side, and young counterpart Manu Tuilagi in particular.
"He is a unique player, he's a certain serious powerhouse in his ability to get over the gain line, that's phenomenal, but we love defending and love challenges. We've always been put up against really good players and we've always been able to hold our own," said D'Arcy.
While also ackowledging the sheer power of the 21-year-old Leicester player, O'Driscoll said that England have plenty of players to be wary of come Sunday's match at the Aviva Stadium.
"He brings a huge physical presence – from a ball-carrying point of view it's extremely effective for them, gives good gain-line, I think it's a momentum game that they like. Getting over the gain-line and playing phases thereafter. If you continually soak it up eventually you find yourself on your line. It's a case of trying to shut down that space.
"The thing about good teams is that they use big ball carriers as good decoy runners as well to exploit. They have smart players to be able to do that so it's not just a case of keeping an eye on Manu or whoever might play in that role."