Image: Billy Stickland/INPHO
Image: Billy Stickland/INPHO
AN EMOTIONAL DAY, but job done.
And once Brian O'Driscoll had accepted the adulation and hit the Aviva Stadium showers one last time as an Ireland player; he held court, immaculate in his grey suit.
Humble to the very end, the 140-cap midfield legend managed to start deflecting praise not only to his teammates, and the crowd who turned out to bid him farewell, but to the groundsman of the Lansdowne Road venue, Majella Smyth.
"He's got it playing the way rugby players want to play: A fast, hard surface – especially considering the amount of rain we've had.
"It's exciting to come out knowing that you're playing in that environment."
That environment provided O'Driscoll with the ideal conditions to weave his magic. He may not have claimed any of Ireland's seven tries, but three of the opening four were direct results of his mastery of the oval-shaped ball.
Satisfaction
"It was nice to be able to have an involvement in important moments in the game," the former captain smiled.
"I take as much satisfaction from setting up tries as scoring them – I have to these days because I don't tend to get that many myself.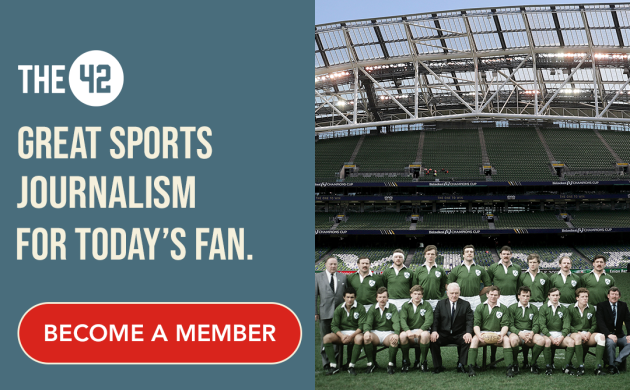 Source: RBS 6 Nations/YouTube
"So, it was really nice to have lots of involvement – some good, some to improve on, but it was just a really good second half performance in particular."
That he should point out areas for improvement is just typical of the man. It's a long time since he started talking about taking one game at a time. Now, even with only one game remaining his mindset won't change.
"The way he played was incredible," said captain Paul O'Connell, who continues to be amazed by the influence of his predecessor in the role.
"You think you've seen [everything]. We see him more than you guys, we see the little touches in training, but some of the stuff he did today – I've never seen before.
"He spoke during the week about his body not being willing, but his mind was. Well, his mind seems to be getting better and better to me."
The 35-year-old centre appeared to be choking back the tears as the crowd roared and hushed along to his on-field TV interviews. However, after taking a number of friendly digs in what was supposed to be a guard of honour, it was clear his team – because this is his team – would not leave him to wallow in sentimentality for long.
Source: RBS 6 Nations/YouTube
"It was a great," he said of the day as a whole, but it may be some time before he can put it into any many more words than that.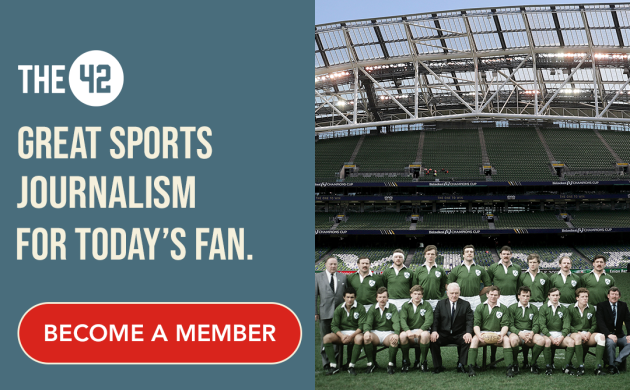 "I couldn't have asked for a better close to playing at home in an Irish jersey. To score 46 points in an international and only concede one try really made the day what it was – I'll remember that for a very, very long time.
"I wasn't emotional beforehand. I was very focused on the game. Yeah, I got emotional there at the end. It's kind of hard to take it all in – maybe when I go back and look at it all over again I might get more emotional then, but it's very, very special. A little embarrassing, but it was still great."
He added: "It's special because it's the last one and you've to take it on its own for what it was.
"It was a real semi-final for us. We have nothing next week if we didn't win, so we had a really good win today and put ourselves in position for a final.
"There are always going to be permutations and combinations next week, but at least we're the last team to play and we'll know what we need to do.
"Hopefully if we go and win in France it might be enough."
Now that would be a fitting way to say goodbye.