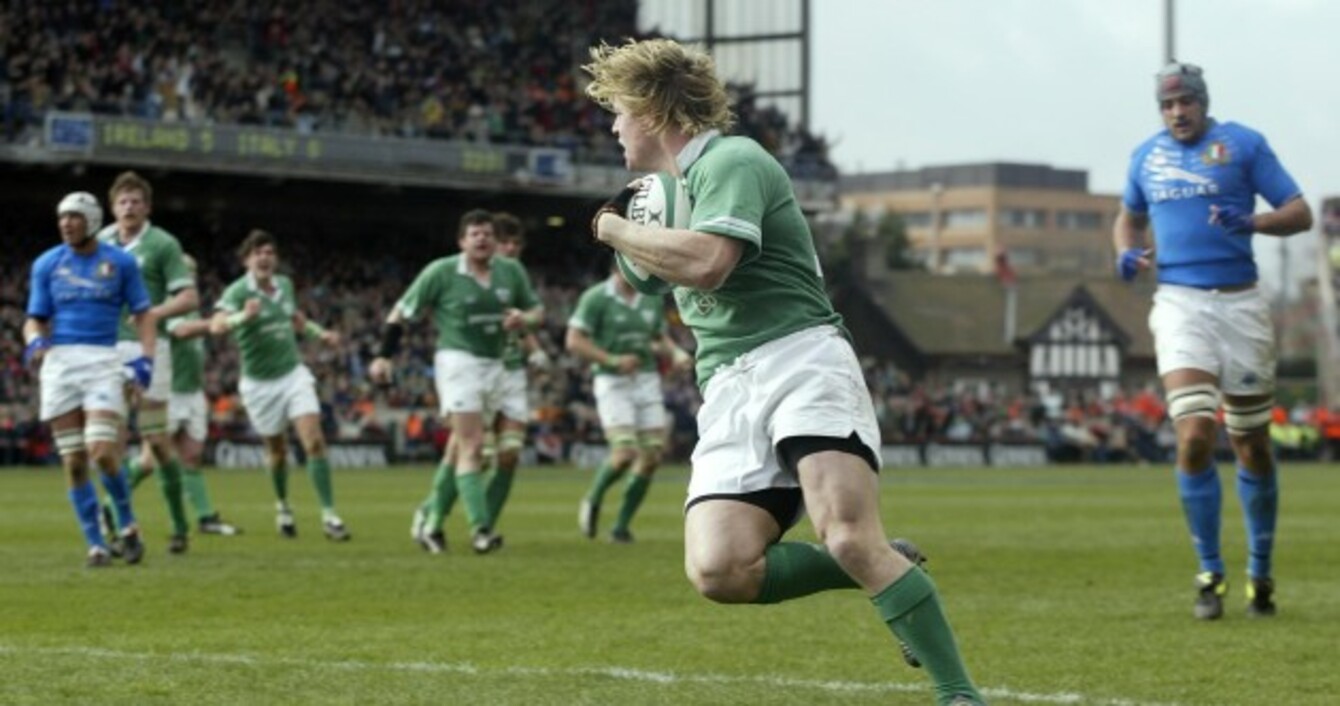 Image: INPHO
Image: INPHO
2004, HARDLY THE genesis of Brian O'Driscoll's great career.
Personally, however, it was simply a massive landmark and a decade on feels like a lifetime since we were first fortunate enough to see BOD play in the flesh.
We can't pretend to have charted his rise from Willow Park or even seen him battle adversity (and Gordon D'Arcy) in the Schools Cup. I was not present when the young O'Driscoll morphed into BOD or invited round for coffee with Amy and Sadie – we know him as well as you do… but, man, that first glimpse is unforgettable.
For the previous five years he had been impressive enough on television, but speed-walking underneath Lansdowne before nudging our way into a free spot on the south stand just in time to see a blonde streak scythe through sea of blue defenders was something else entirely.
It was an international like none before or since. Having played my own game that Saturday morning, my father and I hopped in the car with little more than an hour to spare knowing full well that we wouldn't be soaking up the pre-match atmosphere around Dublin 4.
Post-match delays in Kingscourt, traffic, parking; all three probably played their part in ensuring the Six Nations clash with Italy was already well under way as we hastily rattled through the turnstiles. And by then the old ground was already spewing out roars of approval after Malcolm O'Kelly claimed the opening score.
Italy were as stubborn and as abrasive as they have been at any point in the 10 intervening years and so Anthony Foley would work his way to a man-of-the-match award; but for these eyes behind rain-flecked glasses, there was only one real focus.
Source: Conor Ryan
That try, with the imagination and confidence to take Peter Stringer's pass against the grain onto the short side. The YouTube clip is a handy tool to see the perfection of the dummy to O'Kelly, but away to the right from the left corner where O'Driscoll eventually dotted down, all we could see was the brightest hair on the field ploughing into a dead end and coming out unscathed.
It was majestic, unforgettable. Seemingly so much so that the memory of Ronan O'Gara setting up Shane Horgan to put Ireland 19 – 0 up escapes, as did O'Driscoll's yellow card for a high tackle on Paul Griffen 10 minutes later. The euphoria of the game's defining try was well and truly killed off before Roland De Marigny claimed the last score of the game with a penalty.
This Saturday, we'll be on Lansdowne Road again and centre partnership of that day may well be the same. Everything else, though, will have changed forever.
There will be no last-minute dash, a shiny modern stadium replaces the grand old ground, there'll be no highlights and no standing behind the goal-posts.
Most importantly, rather than the consensus assuming that such out and out rugby genius would simply continue and be the cornerstone of Irish rugby, this will be the final time O'Driscoll wears an international shirt on home soil.
This time it will be a true landmark, the end of an era.
Tell us what you remember about the first time you were able to watch Brian O'Driscoll play – either on TV or in the flesh.