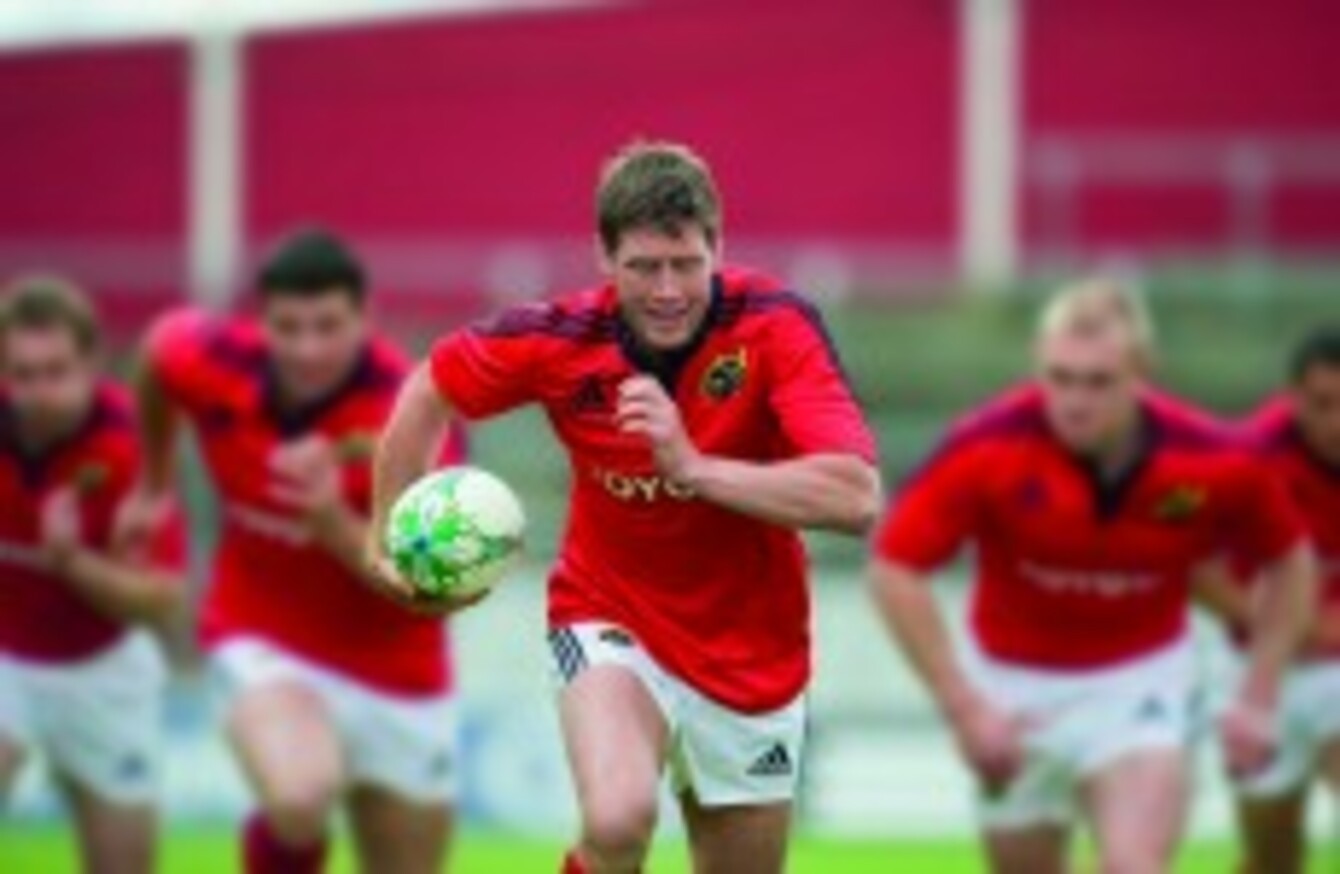 O'Gara at yesterday's launch of the new Munster kit for 2011/2012.
Image: Sportsfile
O'Gara at yesterday's launch of the new Munster kit for 2011/2012.
Image: Sportsfile
RONAN O'GARA HOPES to return to full training this morning as Ireland's extended World Cup panel continue preparations ahead of their first warm-up match against Scotland.
The Munster and Ireland out-half suffered a minor tear in his right calf during the first week back training with his international team-mates, leaving him with a bit of catching up to do in the fitness stakes as he attempts to nail down a place in Declan Kidney's starting XV.
"I hurt myself on the last day in Carton House," O'Gara said yesterday, describing the injury as " a very minor tear."
"I just pushed the body so hard on the first week back that I got a little bit of a twinge. I'm nearly back. I'll hopefully be back tomorrow [Thursday].
"The last ten days I haven't done too much running. The lads will have four heavy fitness sessions on me, and by the look of them, [the sessions] look really hard so I'll have to make them up."
Despite O'Gara's frustration at falling slightly behind in his preparations at this early stage, he is thankful that the injury happened when it did, rather than a couple of weeks down the line when the consequences could be much more severe. At 34 years of age, this autumn's trip to New Zealand is likely be his last opportunity to represent Ireland at a World Cup.
I suppose it couldn't happen at a better time really if you want an injury.
"The challenge that keeps burning inside me"
With over 1,000 test points to his name, O'Gara's claims to a place in the 30-man squad are as robust as anyone's. Should he be selected, as expected, this will be his third World Cup in the green jersey.
Eight years ago in Australia, in a situation similar to the current battle between himself and Jonny Sexton, O'Gara had to be at his best to earn even a single start at the expense of David Humphreys, the man whom he has since replaced as Ireland's all-time leading points scorer.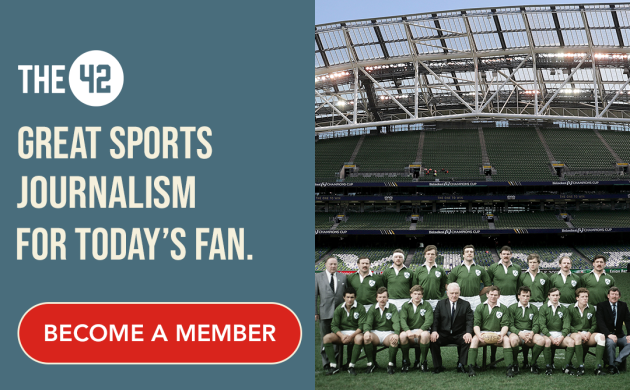 Without dimming his appetite and drive, the experience of that vastly competitive squad appears to have stayed with O'Gara, shaping his perspective as he prepares for the coming campaign.
"At my stage, I couldn't be happier with the way things are going. I'll be looking to make an impact and that's basically the bottom line.
"Both of us [himself and Sexton] are going to have roles. You can't be pig-headed about it and say that you want to start and you want to finish every game. I don't think that's realistic.
You can talk a lot but I suppose your CV or your actions or your performances speak for themselves and that's where the talking should stop. I'd like to think that I have done it and I can do it, but who's to say I can do it the next time? And that's the challenge that keeps burning inside me – that I want to do it the next time again.
"Build in blocks"
Yet, perhaps it is the trauma of 2007 – when a strong Irish side, revelling in its own pre-tournament hype, was cut down to size on the field – that has had the biggest impact on O'Gara's mental approach this time around.
While many of his potential team-mates are happy to target the Webb Ellis Cup as a realistic goal, O'Gara's has seen it all before and suffered the consquences. His maturity and experience shine through in his assessment of the team's chances.
"We're a long shot to win the World Cup. I think there are probably three or four teams that you could fancy ahead of us but then Ireland are probably there.
"To be realistic about it, you'd want to be winning three Grand Slams in the last four years if you want to be challenging the top three teams in the southern hemisphere.
With the World Cup, you have to back up your performance week after week after week against three teams that are probably ranked above you. I think that's the reality of it, but it can be done.
This rather modest appraisal of Ireland's prospects might not sit well, the out-half admits, but it is infinitely preferable to a repeat of the mistakes of 2007.
"If anyone thinks I'm negative, I'm not at all negative. I'm hugely ambitious but the lesson was learned from the last time when we were shouting that we were going to win the World Cup. The goal for us is get out of the group and then re-assess.
Obviously, the ultimate goal – the dream goal – is to win the World Cup. But you don't think about that, you build in blocks.