Updated at 11.24
IT'S JUST OVER two weeks since Oliver Dingley made history to become the first Irish diver in 68 years to reach the Olympics in diving, but he still can't quite believe it.
Born and raised in Yorkshire, he initially represented the country of his birth in diving, winning a bronze medal for England at the 2014 Commonwealth Games.
In October of that year however, he made a bold move, switching allegiances to Ireland, as he felt it would enhance his chances of qualifying for Rio. His coach, Damian Ball, also accompanied him across the water.
As it transpired, Dingley was right. Last month, the 23-year-old — who qualifies for Ireland through his grandmother – finished 11th in the 3m event preliminaries at the Diving World Cup in Rio, qualifying for the 2016 Olympics in the process.
Dingley subsequently narrowly missed out on a world championship final spot, finishing 15th the semi-finals of the 3m springboard, three spots short of the cut-off point, but he remained upbeat given what he had already achieved.
Dubliner Eddie Heron in the 1948 London Olympics is the only Irish athlete to match Dingley's feat, so it's no surprise to find he's still pinching himself just over a fortnight later.
Yet the experience was not necessarily an unequivocally positive one. "Exhausted" is the first adjective that springs to mind when asked how he's feeling upon reflection.
It was a four-hour event, so it was pretty intense," he tells The42. "I was over the moon for all of about two hours. It really did hit me. Later that night, I still couldn't sleep, my mind was racing. The whole experience really was amazing. There is a big sense of relief, because in diving, you only really have one chance to qualify and that was my chance.
"Every single dive counted. It was six dives, and luckily I managed to perfect all six dives, and I went through in a really good place as well."
For someone still quite young, who was appearing in his first World Championships, Dingley handled the pressure impressively. 60 divers featured with only 18 Olympics places up for grabs. The silver medallist from the same event last year missed out on a spot. A gold medallist from the day before also finished outside the top 18. To finish 11th in this kind of company was no mean feat.
The worst part of the experience, Dingley recalls, was the long 50-minute wait between each round.
It's a long time to think what could go wrong," he adds. "My coach stayed with me all the time. We had a tennis ball with us so we were throwing it back and forth, just to take my mind off each dive really. We found somewhere else in the arena, which was nice and quiet, below the stand where I couldn't hear any scores going on or see what divers were doing. Every now and again, my coach would go back and check.
"I actually felt very relaxed, but with 15 minutes to go before my dive, I'd then go back into the gym to warm up again, get myself down poolside. Then I'd go do my dive.
"It was one step at a time, or one dive at a time."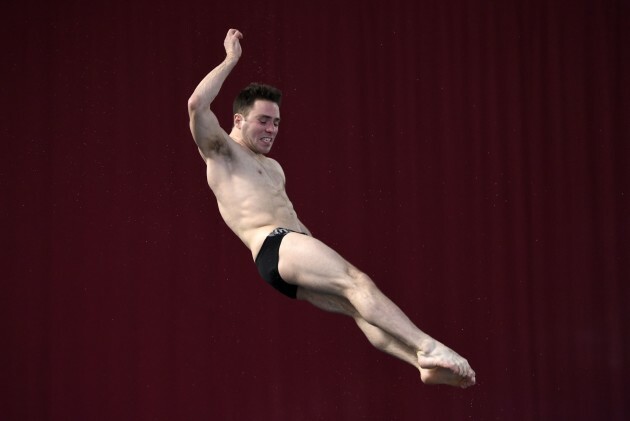 Andrew Matthews Dingley secured his Olympics spot by finishing 11th in the 3m event preliminaries at the Diving World Cup in Rio. Andrew Matthews
One of the big differences to diving in Ireland was that Dingley had to get used to performing outdoors in Brazil. Knowing it might seem like a bit of a shock to the system, he prepared meticulously for this new challenge.
Diving in the same pool that will be used in the Rio Olympics, Dingley gradually adapted to these surroundings.
"We went to Las Palmas early January to do a week's training and that was pretty chilly. It was raining quite a lot as well, so we dived with all the elements. When we got to Rio, we arrived a good 10 days before my event. So we did a night-time session diving in the dark — a lot of the events at the Olympics are going to be a bit later.
It's a loud place. You've got the roads, so whilst I was doing my dives, you could hear the traffic, horns going off, so there are potentially lots of distractions. That's why I've done so much work with the psychologist — zoning into that moment where it's just one dive at a time."
After this intense experience, Dingley took a few days off and went sightseeing with his family in Rio. He was accompanied too by Irish teammate Natasha McManus, who unfortunately failed to emulate his achievement and missed out on qualification.
"As an athlete, you go to a country and you go basically between the venue and the hotel. That's what you spend most of your time doing. So it was nice to go out there, stretch the legs, walk around, go down to the beach and just have a nice time.
It kind of pushed diving to the back of my mind for a few days, because diving is constantly at the forefront of my mind."
Indeed, it has been a prominent part of Dingley's life since the age of eight. Aged nine, he was in the British team and by 10, he was national champion.
His meteoric rise continued when he became the youngest ever Mens' British Champion on the one-metre springboard at the age of 15. He then repeated this achievement in 2009, 2011 and 2013.
Yet having had close to constant success since taking up the sport, Dingley encountered his first serious setback at the age of 19. He was controversially omitted for a place at the 2012 Olympic Games in London. Despite finishing second in the Olympic Trials, the diver who finished third was chosen ahead of him.
In the aftermath, Dingley has spoken of days where he was "crying a lot". While on holiday in Majorca, his girlfriend persuaded him to tune in for the spectacular Danny Boyle-directed London 2012 opening ceremony, but within minutes, he had burst into tears.
It was definitely character building," he says. "I was 19 at the time, still quite young. In my event, you hit your peak at about 25 or 26. I'm 23 now, so I'm still quite young and it was definitely a big life lesson early on.
"But it could have gone two ways — you could have looked at it negatively, or you could have looked at it positively. I think I did a really good job of looking at it positively. I've kind of had that outlook on life ever since."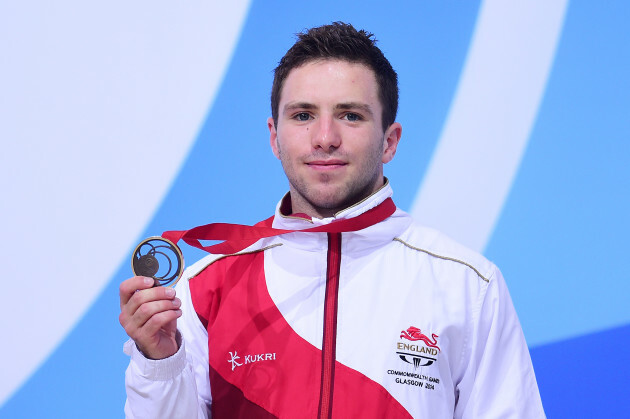 Tim Ireland Before opting to represent Ireland, Dingley won bronze for England at the 2014 Commonwealth Games. Tim Ireland
Limited opportunities with Britain and the potential to achieve more ultimately prompted Dingley to make the switch to Ireland, and he clearly feels the decision has been vindicated, given how well everything has gone since.
That said, it was not an easy choice to make at the time, and Dingley admits to having concerns about how it would be received on both sides of the water.
It was a big decision, but one I was very proud to make. I went on to a diving board — my first dive at the World Cup. I just took a few extra seconds to just look around. I was just thinking 'wow, I'm at the World Cup representing Ireland. And I can't believe I'm there and I'm so proud to do that.'
"The response from everyone has been so nice. I was very humbled that everyone's accepted me and I was worried about (Irish) people not accepting me. But I think, with the vast majority of comments I've seen, it's very nice. I genuinely can't wait to bring on my green tracksuit jersey at the Olympics, and go out there and represent Ireland."
He continues: "My diving really has taken off since moving to Ireland, with the supporters from Ireland, the Institute of Sport, the weights I get, the physiotheraphy I get, it's absolutely phenomenal.
The set-up over here with the national sports campus is really good. I think my diving's coming to a whole new level. I was actually injured going into the World Cup. I hurt my ankle about six months ago and I'm actually pretty sore from it. But once we get over that one, there's no reason why my diving can't go on to a whole new level after that. So it really is exciting times ahead."
At the moment, funding for Dingley is relatively sparse. He gets a small amount from Swim Ireland and from his campaign on Pledgesports — a crowdfunding website for Irish athletes. He also is sponsored by online food delivery company Gourmet Fuel, who kindly provide him with all the food a top-level athlete requires.
But ultimately, Dingley is optimistic that a big performance at the Olympics will ensure that simply getting by is not quite so taxing in future. Moreover, he is hoping to inspire others to follow in his path, so that hopefully, we won't have to wait another 68 years for an Irish Olympic diver to come on the scene.
"There's so much talent coming through. There's one young girl called Anna Power, who I think is phenomenal. I actually train with her. It's nice to train with the younger ones as well, because they kind of spur you on a little. You've got to watch your shoulder, that's for sure."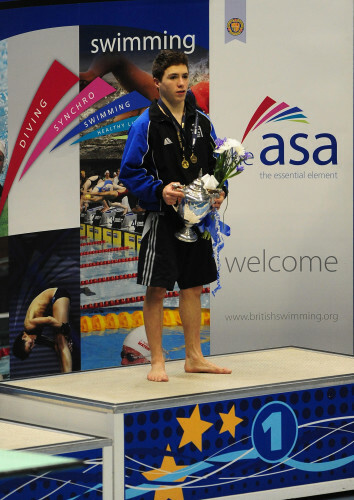 PA Archive / Press Association Images Dingley has been involved in diving since a very young age. PA Archive / Press Association Images / Press Association Images
And as for his own Olympic chances?
"Every athlete wants to win an Olympic gold medal, but we've seen how up and down diving can be… Obviously, the results are very important and we're aiming very high. But we try not to think about that. It's kind of a one-dive process… I try to think of one dive at a time."
Dingley is hoping that the 25-plus hours a week he spends in the pool and gym ultimately pay off, but knows it would be foolish to take anything for granted. Even his former teammate, British Olympic bronze medallist Tom Daley, has suffered from mental blocks. And Dingley admits that he has had his own struggles with the psychological side of the sport.
"There's not been too much of a struggle with mental blocks, touch wood. It's more of a confidence issue for me. I was never as confident as a lot of other divers, with myself really. I think my confidence has started to blossom a bit since moving to Ireland. The result we got recently has kind of confirmed that I am getting better and my confidence is going up.
The psychologist is (former Irish rugby international) Stephen McIvor. He really has been absolutely amazing. And he's also a great friend now as well. So it's nice to have that kind of person you can go to, tell all your problems to, and have a good laugh. I think psychologists at a high level of sport are extremely important.
"A dive lasts two seconds. At the very highest standard, if you miss one of those dives, a medal's gone. It depends how badly you miss it. If you miss one dive, you might even be out of a final or a semi-final. So it's such a small margin in diving. It's very hard. All the divers speak between each other, and say 'I'm scared about this one, this is on my mind.' So I was just thinking 'we're all in the same boat here'. They're going through the exact same process that I'm going through right now. So it does come to a matter of just mental strength at the end of the day in diving.
We're all human, we all have a dream, and that is to go to an Olympic Games and do extremely well. Sometimes in sport, you can put a bit too much pressure on yourself. That's why I go back to earlier. I start to think about the outcome and that's where I start to stutter with my diving. If you do one bad dive, you start to think about it: 'There's no way I'm going to catch up now, there's this much of a dive to do.' Or if you do a good dive and start to think, 'I've got this, I'm going to win this, most of the time, you tend not to win it.'"
Yet for Dingley, far from being something to fear, diving and sport in general (he played football for Middlesbrough until the age of 15) have invariably served as a sort of comfort blanket to counteract life's difficulties.
"I loved sport growing up as well. I always struggled at school. I was always very active. Diving was a sport I could go to and really enjoy, and I was kind of in my bubble. So no matter what happened during the day at school or with any other problems, diving would be there — the thing I could go to afterwards and go into my own little world."
The42 is on Snapchat! Tap the button below on your phone to add!
For more info and to donate to Oliver Dingley's PledgeSports campaign, click here.