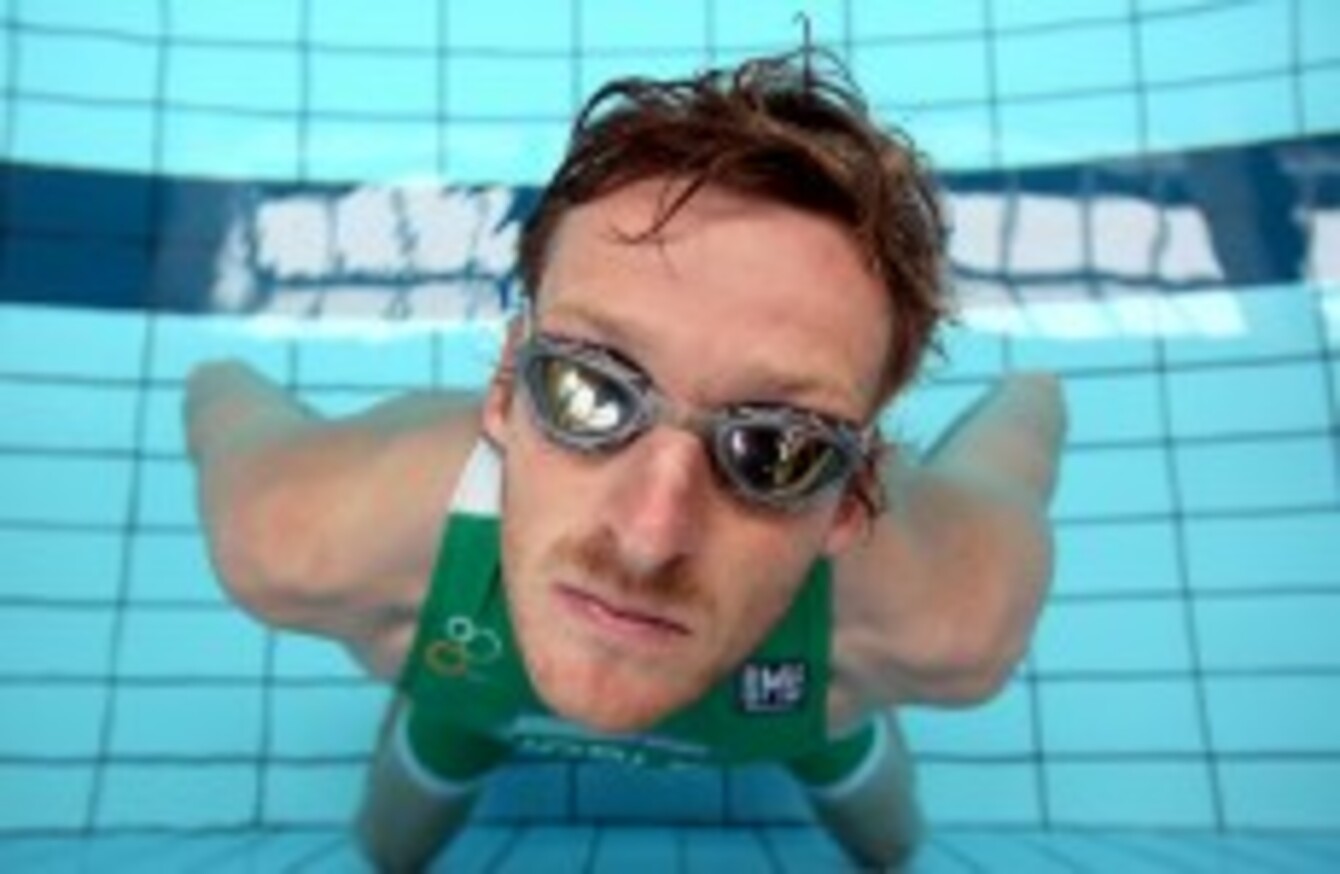 Image: ©INPHO/Dan Sheridan
Image: ©INPHO/Dan Sheridan
GAVIN NOBLE ISN'T shy about making his feelings known when there is something amiss.
Yet, you would be hard pressed to see him get emotional, that is usually reserved for his own counsel.
On Thursday however, everything had at last come together and finally appeared to have sunk in.
It hasn't been so much as a long road as a seemingly never-ending path leading right up to the horizon. Six days ago, the Enniskillen native became the first ever Irish man to qualify for the Olympic triathlon.
As he sat at the press conference's top table and thanked all the support staff who made it possible, he felt the lump rise in his throat. He almost shed a tear, but held it together. Few around the triathlon community had seen that soft side of him.
"It was hard because I came so close." He says of the heartbreak of missing out on qualification four years ago, "I mean, I was there, I had the slot, until the last race when a guy jumped me with an exceptional performance out of the blue. It was a shock."
With that letdown nestling in his memory bank, the past months and weeks have been a nervous wait as he sat and hoped that the races out of his control would fall his way.
He recalls waking at 4am, just to go and check results of a meeting in San Diego, the news this time brought relief and encouragement. As qualification points are measured over a two year period, Noble already had plenty of hard work behind him before those more recent sleepless nights.
Stress
A cause-and-effect injury kept him out of action for seven weeks this year. The first problem was a stress fracture in his left shin, but as long as he could survive a 10km run, on he went.
"It wasn't as if I could sit out 'the match' and wait for the next one. I had to race because I needed the ranking points." He says with his eyes opened wide, sincerity is never in doubt when you speak to Noble.
The result of pushing his weary bones through ever more punishing treatment was that he was forced to overcompensate, tilting his gait to the right. His knee was left to take on too great a workload and, eventually, gave up.
Last weekend he raced in Madrid but, while running among the chasing pack, bowed out after two transitions. But only after his team had relayed word back that those threatening his Olympic dream had finally given up the chase.
Be part
of the team
Access exclusive podcasts, interviews and analysis with a monthly or annual membership.
Become a Member
Qualification settled, there was no need to risk further injury. The only goal now is to get to the Hyde Park start line healthy. After that, who knows?
Noble is honest to a fault as he looks beyond his next two races, forward to the big one on August 7:
"I'm not trying to think in terms of a placing, I'm just thinking in terms of: It's not the result, it's performance. In the men's field right now… I'm not going to win a medal. I'm very realistic about that so it's the performance I'm looking for.
"I'm looking to get healthy again and, apart from the three British boys I'll have the most support out there, so it's a home games almost. I'm just looking to have a good account of myself and I think if I'm fit and everything goes well then I could be in the top 20."
Some would snigger at a top 20 finished being a goal. The 31-year-old won't be concerned by them, he's happy that all within the sport – who have poured their heart and soul into a gruelling 1500 metre swim, before a 40 km cycle and a final 10km sprint to the finish line – understand the achievement.
"Sometimes when you're watching an event and you don't really know much about it, the guy coming from fourth onwards are not really recognised. For me, triathletes all know that a top 20 in the Olympic Games is an achievement.
"At the end of the day you're coming through a process. So you're one of the best 55 athletes in the world so. There are 4-500 athletes actually ranked with the ITA so if I was 20th 30th, I'd still be in the second XV rugby team behind the world 'all-stars'."
©INPHO/Dan Sheridan
When he speaks he easily drops into to analogies from other sports. As a born athlete, he's played most of them. But as he'll admit, it was his natural stamina , not his ball skills that earned him starting positions: at centre half back on the GAA field, in centre midfield as a footballer and as "the tall skinny guy who never stopped running" on the rugby paddock.
Those days a long gone, he's an Olympian now. Yet even now that it has sunk, in you won't find him self-aggrandising or patting himself on the back, he knows the people who helped him get out onto the course:
"It's been hard, the last few months." He says summing up, "Because I've been injured and there's been sleepless nights – because I've been that close all the time and I just needed to get across the line, but carrying an injury it hasn't been easy."
"I'm delighted, but more-so for people who have supported me. Like my parents and family are really, really excited because now I'm actually there they can book flights – they're going to the Olympics."