IT WAS A mixed day for Ireland at the Olympics.
Ciaran O'Lionaird, Fionnuala Britton and Adam Nolan were among those who disappointed in their events.
However, there was some positive news too, with Michael Conlan and Joanne Cuddihy advancing to the quarter and semi finals of the boxing and 400m in athletics respectively.
Meanwhile, the theme of youngsters upsetting the odds in swimming continued, with 17-year-old Missy Franklin and 15-year-old Katie Ledecky both securing gold medals.
Headline of the day:
Boxing clever! Despite the disappointment suffered by Adam Nolan, there was great success for Michael Conlan in the boxing, as he advanced to the quarter-finals following a convincing defeat of Ghana's Duke Akeuth Micah.
What we learned today?
Age has not diminished Federer's stamina
The 30-year-old today competed in the longest match in Olympics history, beating Juan Martin del Potro of Argentina 3-6, 7-6 (5), 19-17. He thus achieves his aim of securing an Olympics singles medal – the only major accolade in his career he had yet collect. Whether that medal is either gold or silver depends on the outcome of his match with Andy Murray on Sunday. The British number one overcame Novak Djokovic in the semis today.
Things are looking up for Team GB
Having gotten off to such a terrible start that London Mayor Boris Johnson joked that they were being polite in refraining from "hoarding" the medals, Team GB have suddenly come to life, and briefly found themselves behind only China and the US in the medal table, before being overtaken again by Korea. Victoria Pendleton in the keirin and Anna Watkins and Katherine Grainger in the women's Double Skulls in rowing were among those who won gold for the country.
Missy Franklin is good at swimming
The incredibly precocious 17-year-old absolutely smashed the world record in the women's 200m backstroke this evening with a time of 2:04.06. It was her third gold in London and fourth overall. Franklin's colleague Michael Phelps also won yet another gold medal, gaining revenge over South African Chad le Clos (who beat him in the 200m butterfly) in the 100m butterfly. In addition, Katie Ledecky's triumph ensured it was a day to remember for American swimming.
Joanne Cuddihy's Olympic dream is still alive… just
Cuddihy finished fourth in her heat, but qualified by virtue of the fact that she was the fastest loser with a time of 53.09. The Irish athlete still however acknowledged that her performance was "not good enough". Sadly, both Ciaran O'Lionaird and Fionnuala Britton could not emulate her success.
Ireland's boxers march on
While there was disappointment for Adam Nolan, Michael Conlan delivered a hugely encouraging performance to advance to the quarter-finals. His victory means Ireland are highly likely to secure at least one medal, with three boxers only needing one more victory to do so.
Highlights from Team Ireland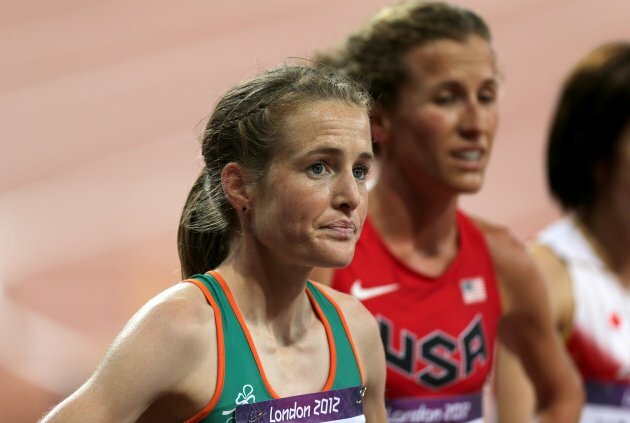 (Ireland's Fionnuala Britton after running in the Women's 10,000m Final – INPHO/Morgan Treacy)
Hero of the day
USA's Katie Ledecky who, at 15, has achieved more than most people will in a lifetime, took gold in the 800m ahead of the highly touted British swimmer Rebecca Adlington.
A new friend we made today
Saudi Arabian judoka Wojdan Shaherkani, who became the first female athlete from her country to compete at the Games today. However, the experience was fleeting, as she was beaten after just 72 seconds.
You said what?
"I was running on a flat tire" – Ciaran O'Lionaird reveals how injury troubles hampered his chances of Olympics success.
"In Germany, thankfully, you're only responsible for your own actions, not the company you keep" – the head of the German Olympic committee defends rower Nadja Drygalla, after it was alleged that her boyfriend is a neo-Nazi.
"That's just not good enough. My legs just absolutely died in the latter bit of the race" – despite ultimately qualifying for the semis, Joanne Cuddihy was not best pleased with her performance today.
Tweet of the day
Ciaran O'Lionaird sounded a little less pessimistic about his future in athletics, after some contemplation.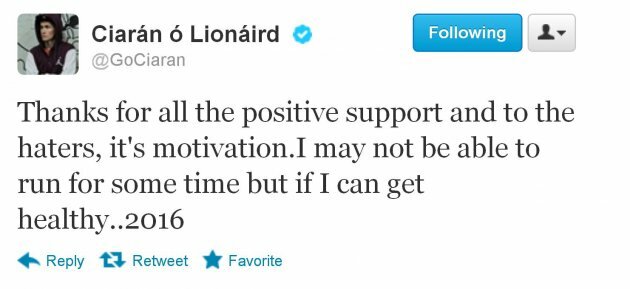 The best thing we read today
This piece on a man cycling from China to the Olympics is an amusing read.
Medal table (as of 22.54 on Friday, 3 August)