There's plenty of action for day nine including the small matter of the 100m Final this evening.
As always, we'd love to hear from you, so send us your thoughts and comments on all the action.
E-mail us at sport@thescore.ie, tweet us @thescore_ie, post to our Facebook wall or leave a comment below.
Hello, and welcome to day nine of the Olympics.
Cian O'Connor has just given a less than assured display in the showjumping, but remains in contention.
Meanwhile, Linda Byrne, Ava Hutchinson and Catriona Jennings are all competing in the women's marathon currently.
In case you were living under a rock for the duration of the day yesterday, here are all the key things that happened:
Patrick McCarry here. The Women's Marathon is underway and GB has lost Mara Yamauchi to injury early on. She had to pull up and is in tears.
The Show Jumping continues today at Greenwich. We will keep you posted on the exploits of Billy Twomey and Cian O'Connor.
We are 16km into the Women's Marathon and Linda Byrne is 85th, running alongside teammate Ava Hutchinson for now.
Missy Franklin won five medals (four of them gold) at London 2012. Here is what the swimmer has to say for herself and Rio 2016:
Over the next four years, I know I'll have so much fun, I have my senior year, I need to pick a college and go there. That is what I am focusing on now and hopefully I'll be at 2016.

I am definitely just taking (each Olympics) one at a time, I have taken so much motivation from being on that podium and seeing the flag go up.
IIt is pouring in London today but that has not stopped the fans from coming out and cheering the marathon runners on. Straneo of Italy leads by four seconds after 20km.
Stuart Pearce was trying to remain positive last night after he witnessed his side lose their quarter-final shoot-out 5-4. Daniel Sturridge missed the crucial penalty to give South Korea an advantage that they grasped. Pearce said:
We are in this together, the important thing is that all the players have had an experience to make them better and stronger.

Some of those experiences are scoring goals and winners, and some of those experiences are having days like today when you are disappointed because you missed a penalty. 'But experiences like that make you stronger and he will benefit from this tournament without a doubt.'
Cian O'Connor is down for eight penalties after his round in the Individual Show Jumping. He is joint-eight for now. Billy Twomey is further back after collecting 12 points for his two rounds to date. Both should advance to the next stage.
Victoria Pendleton looks set for a second gold medal of the games this afternoon. Cycling with Anna Meares, Pendleton was in impressive form at the Velodrome. The GB women set an Olympic Record in the Team Pursuit qualifiers. Martyn Irvine from Team Ireland will be in action later today.
Should be a day to remember for Andy Murray. The Scot will play Roger Federer in the Men's Singles Final at Wimbledon, then team up with Laura Robson against the Belarusian pair Victoria Azarenka and Max Mirnyi in the mixed doubles final.
Hot knife through butter! Hutchinson and Byrne have advanced to 82nd and 83rd in the Marathon after 27km. Caitriona Jennings is about 30 positions further back.
Una has the right idea.
Nick Skelton and Ben Maher of Great Britain have both had clear rounds in the show jumping. Twomey may struggle to advance, it seems, as his 12 penalty points have him placed near the back of the field.
Irish sharp shooter Derek Burnett is in 21st place after two rounds of the Men's Trap. He hit 47 out of 50 'clay pigeons'. Only two competitors have hit 50 flawlessly.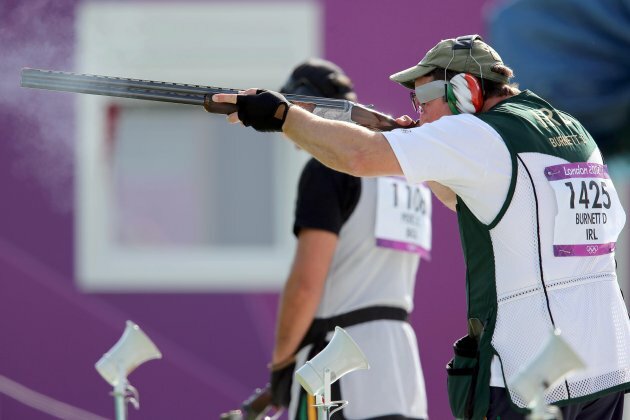 Burnett in action at the Royal Artillery Barracks. (©INPHO/Dan Sheridan)
George Hamilton must have been on IMDB or Wikipedia this morning. As the Women's Marathon goes into its final three kilometres, our George is telling viewers all about the movie career of Marilyn Monroe. Don't know how he segwayed to that topic – some runner must share a birthday with the Some Like It Hot star.
Gelana of Ethiopia leads. George, on RTE, explains that it is the 50-year anniversary of Marilyn Monroe's passing. All makes sense now.
It is Ethiopia (Gelana), Kenya (Jeptoo), and Russia (Petrova) crossing the line, in that order, finishing up the Women's Marathon. The Irish ladies are still out there. Best we can hope for is something in the 60.
Tiki Gelana set an Olympic Record in the marathon with a time of 2:23:07. Hutchinson and Byrne are still to finish while Jennings is near the back of the field.
Update from Team Ireland's boxing squad:
The Star sailing is underway with Peter O'Leary and David Burrows in action. Lovely use of the word 'rapido' from RTE's crack commentators as the Swedish crew trying to pick up some wind and momentum.
66th for Linda Byrne in the Women's Marathon, best of the Irish, and Ava Hutchinson is two places back. Jennings still to finish.
Ian Percy and Andrew Simpson from GB only needed to finish sixth in the Star Sailing medal race but they faded in the final 100 metres to end up seventh and drop down to a silver medal placing.
Serena and Venus Williams combine to devastating effect and get the Gold in the Women's Doubles Final at Wimbledon. Straight sets win. The sisters embrace and give the fans a little jig of celebration. That is two golds for Serena to follow her Wimbledon Singles win at SW19 last month.
I do not believe this. Another Irish athlete injured. Caitriona Jennings is battling through the pain as she nears the end of her marathon run. 11 runners pulled out but Jennings is determined not to make it 12. She is getting lots of encouragement from the fans lining the streets in London but looks to be in serious discomfort. I'm looking forward to hearing her interviews later.
Gold - Jin Jongoh of South Korea has retained his Olympic 50m Pistol title.
Roger Federer, GOAT (Greatest of All Time).
- BBC commentary ahead of his gold medal tennis match against Andy Murray.
Derek Burnett has got 23 from 25 in the Men's Trap and is currently in 24th place.
Peter O'Leary and David Burrows ended up in 10th overall at the end of the Star sailing. The Swedes came from behind to take the Gold while GB were second and Brazil third.
Caitriona Jennings eventually crosses the finishing line in the Women's Marathon. Her time was 3:22:11. Hopefully our man in London, Will Downing, can grab a word with her or someone from Team Ireland to learn more.

Gold medal for Lina Din of China. The first round conqueror of Scott Evans wins in three sets. And, what's this? AAnother Gold for the Chinese as Zou Kai wins the Individual Floor event in the gymnastics.
Jennings was carrying a foot injury into that marathon and it completely hampered her. She was in tears as she finished well over an hour behind the winner.
In the tennis, Andy Murray has just broken Roger Federer's serve to go 4-2 up in the first set. It's best of five, so still a long way to go, but we could be seeing Murray turning that gorgeous frown upside down by the end of the day.
Meanwhile, Ben Ainslie has just secured Great Britain's 15th gold medal of the Games in the sailing.
Andy Murray has won the first set of the tennis final 6-2.
Seaton and McGovern are eigth in the 49er at present. Murray broke Federer early in the second set and is looking to go 3-0 up.
India, India, India, when will you learn? They concede three penalty corner goals to South Korea in their 4-1 Men's Hockey defeat. The Netherlands and Germany are the table-toppers there with three wins from three.
Seventh place finish for Seaton and McGovern in Race 12 of the 49er. Still three races to go before the Medal Race on Wednesday.
Katie Taylor will face Natasha Jonas in her Monday quarter-final. The Great British boxer won her Last 16 bout against Quanitta Underwood around 15 minutes ago.
Holy smokes! Federer double faults to trail 4-0 to Murray in the second set. Best of five sets today so it is not over yet but the fans are getting very excited.
Paddy Barnes has gained a gigantic 3,000+ Twitter followers since he tweeted from the boxing ring last night.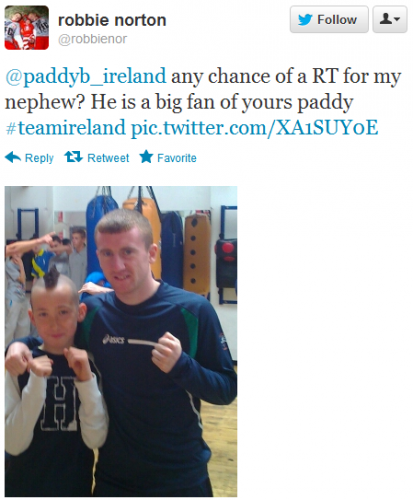 Sandra Raluca Izbasa of Romania wins Gold in the Women's Vault over at North Greenwich Arena. The 22-year-old, who lists her hobbies as music, dancing and make-up, holds off stiff, vaulting competition from McKayla Maroney of the USA and Maria Paseka from Russia.
Juan Martin del Potro breaks down in tears after beating Novak Djokovic in the Men's Tennis bronze medal match. Andy Murray, meanwhile, leads 6-2, 6-1 against Federer.
One hopes that the fervour of the home crowd at the ExCel Arena tomorrow does not sway the boxing judges for the Katie Taylor v Natasha Jonas bout. Kenny Egan found out all about hometown decisions when he went for gold at Beijing in 2008.
Taylor has kept away from the Olympic Village all week to train in Bray but she flew back to London last night.
Here, thanks to RTE, are some of the comments from the Team Ireland female marathon runners:
Linda Byrne (66th): I was hoping for a PB but the conditions today weren't great.

Ava Hutchinson (68th): Overall, I'm pleased. Today was about competing and getting in among the girls. It was a good, solid performance … The cheers for Ireland were unreal.

Caitriona Jennings (107th): I couldn't stop. I had so much support coming into this race, I'm just really sorry … I could feel (my foot injury) before the race so I knew it was going to be tough … The support was amazing. I'd like to thank everyone for travelling over and supporting me.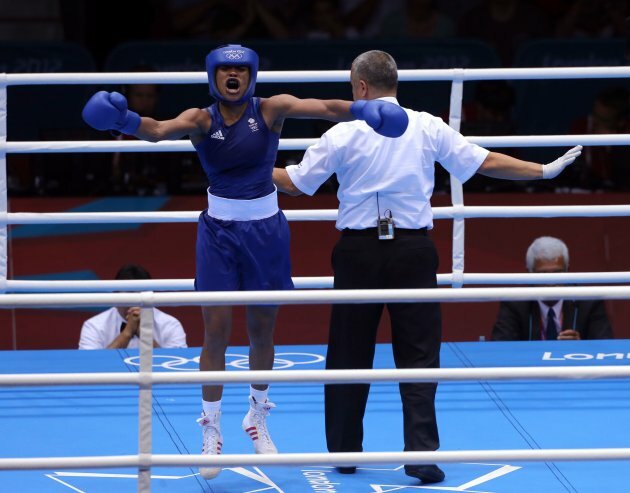 Natasha Jonas: Bring it on! (Nick Potts/PA Wire)
Andy Murray to serve for the gold medal at Wimbledon …
Ace to win it! GOLD for Andy Murray!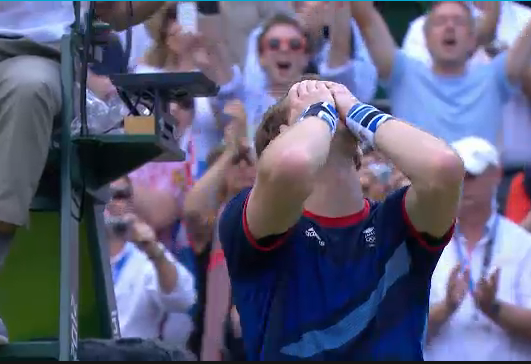 (Credit: Eurovisionsports.tv)

6-2, 6-1, 6-4 – comprehensive dismantling of Roger Federer. He was in another zone entirely today and the Swiss didn't stand a chance.
Sporting greats (and Joey Barton) line up to praise Murray's achievement:
Krisztian Berki of Hungary does just enough to capture Gold in the Men's Pommel Horse. He narrowly beats Louis Smith of GB with Max Whitlock, another local, getting bronze.
A less than amazing outing at Weymouth and Portland for Seaton/McGovern in the 49er. They finish 13th and are done for the day. Next Irish interest will be track cyclist Martyn Irvine at 5.01pm in the Men's Omnium 15km Scratch Race.
Andy Murray can't hit the bubbly yet. He is playing the Mixed Doubles Final, with Laura Robson, in 40 minutes time.

We don't know who Simon Zebo's bookie is but they are some very generous odds on Usain Bolt.
Martyn Irvine was 14th in the 4km Individual Pursuit earlier so he will need a very, very good scratch race to climb back up the standings. He is off at the Velodrome.
Shay Given enjoying himself at London 2012: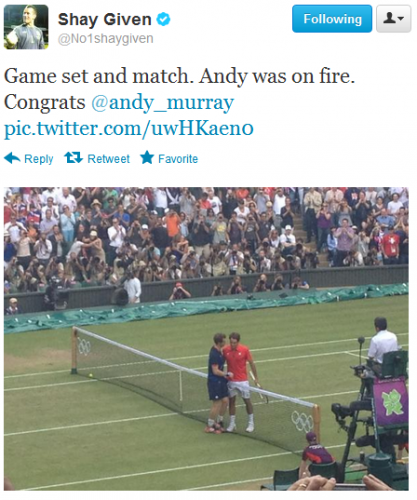 Martyn Irvine is going very well in the scratch race. He stayed with the leading pack for most of the race, even after they had dropped leading GB rider Ed Clancy, and comes in ninth. He couldn't quite keep up the speed of Frenchman Bryan Coquard but moves up to 13th overall. We can safely assume that he will not be taking home any medals but he will be looking to win the 1km Time Trial in an hour's time to finish as high as possible.
The other speedster in that race was, of course, Zachary Bell of Canada who was first.
Check out this lovely picture:
Here is what Andy Murray told the BBC's Sue Barker after his win:
I watched the athletics last night, it was just amazing. The way Mo Farah [in the 10,000m] won, I mean I do 400m repetitions in my training and when I'm completely fresh I can run it in 57 seconds and his last lap after 9600m was 53 seconds. It's just unbelievable fitness and it gave me a boost.
He is out at SW19′s Centre Court again – ready for a second goal medal match.
Not all going well for Team GB – their women's handball team have been battered 37-14 by Croatia. Five goals apiece for Dijana Jovetic, who is a teacher when she is not an Olympian, and Sonja Basic.
Diana Taurasi of Team USA, and Phoenix Mercury, is showing the Chinese how to play basketball. She has 22 points as the States lead 76-40 in the third quarter.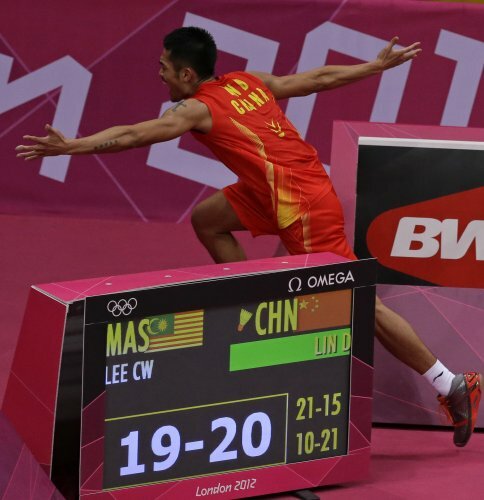 Lin Dan: Loves a win. (AP Photo/Andres Leighton)
I don't know if you have ever seen a water polo shoot-out but it is good fun. Australia's ladies defeat the Chinese in the quarter finals and I liked the tactic of the final two Aussie penalty takers – they skimmed the ball off the surface of the water, propelling it over goalkeeper Jun Yang. 4-2 win and they advance to the last four.
4-1 to Robson and Murray in the Mixed Doubles Final, first set.
Eamonn Coughlan, former World 5000m Champion, is speaking to RTE from London:
The atmosphere is really buzzing … From Victoria Station on the subway out to the (Olympic) Park, it is just thronged with people. I could almost feel the butterflies again, like when I was competing.
'Mixed emotions' he says when asked about Team Ireland on the track. 'Hats off' to walker Rob Heffernan, who got ninth yesterday, but he feels Joanne Cuddihy ran a horrible 400m heat and was lucky to get to the semi-final.
China's Zhou wins +75kg weightlifting Gold with a world record lift. in the process.
First set to GB in the tennis. Azarenka overhits a return and Murray/Robson win it 6-2.
Martyn Irvine is going in Heat 3 of the track cycling time trial, part of the Omnium. He will get going in about five minutes.
These stamps will require a lot of spittle but they will definitely get your letter to Santa:
We have a champions tie-break in the Mixed Doubles after the Belarussians level the match up. 3-2 to Belarus – first to 10 but you need to win by two clear points.
Laura Robson keeps the GB fighting but Belarus have one more match point and Max Miryni thunders in a serve, Murray can only scoop a return back and Azarenka's smash is too good for Robson. Gold for Belarus. Silver for Murray and Robson. 10-8 in the tie-break.
Andy, you can start celebrating your gold and silver … now.
Martyn Irvine finishes 13th overall in the Men's Omnium. Lasse Norman Hansen gets the gold while Ed Clancy of GB is third and a bronze medal winner.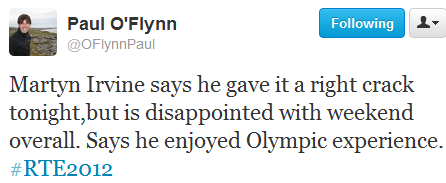 Sounds like a familiar lament.
Action is getting underway over t Olympic Stadium. Remember, we have the Men's 100m Final later – Bolt vs Blake – and the last Irish competitor of the day, Paddy Barnes, fights at 8.45pm. A medal could be in the offing there.
Ok, Tony Cuddihy is raring to go. He will guide you through a fantastic evening of sport at Olympic Stadium. As for the 100m Final – I'm backing Blake.
We are ten minutes from the semi-finals of the 100m. Ten minutes. Mes nerfs!

We're almost ready for the first Men's 100m semi-final.
Justin Gatlin wins, with an impressive time of 9.82.
Asafa Powell was quick off the blocks, but there was no stopping Gatlin once he got going.
Bolt… Chambers… Bailey… Here we go. It's the second heat of the men's 100m semi-final.
Bolt canters home ahead of Ryan Bailey, canters being the operative word. He's bang on form, the Jamaican. Chambers faded badly towards the end, giving a wry smile as he discovered he wouldn't be running in the final.
Bolt's time was 9.87, with some commenters insisting he was walking at the end.
Now it's Blake v Gay v some other lads who will be gallant in defeat.
And Blake takes it in a time of 9.85, just ahead of Tyson Gay and the British 18-year-old Adam Gemili, who JUST misses out on qualification.
Gatlin, Blake, Bolt, Gay, Martin, Powell, Ryan Bailey, Thompson – the eight runners hoping to take Olympic gold in the men's 100m tonight.
Ken Egan is talking to Bill O'Herlihy, saying he's as nervous now as if he was in the dressing room. John Joe Nevin's fight against Mexico's Oscar Valdez Fierro is coming up and there's a medal at stake for the winner, with at least bronze guaranteed.
It's coming up…
Here comes the 23-year-old from Westmeath, his third bout in these Olympic Games about to start. Ireland expects… Ireland waits… Ireland hopes…
It's a good start, Nevin landing a few blows and swerving Valdez Fierro's jabs.
We thought Nevin had the better of that but the score is 5-5 after the first round.
A scrappy second round, and what we would not give to have the scores on the screen to give us some indication of whether Nevin is landing these right hooks or not.
Nevin has gone three points ahead!
He won the second round 7-4, giving him an overall total of 12-9 going into the final round.
"One of the most brilliant amateurs we've had in Ireland in the last three decades," says Jimmy Magee.
We're waiting for the result…
Ireland have a medal! John Joe Nevin wins by 19-13 and that means that….
And on that very happy note, we're wrapping up the liveblog for the day, but don't worry – we're sticking around to bring you action from the men's 100m in approximately 45 minutes…