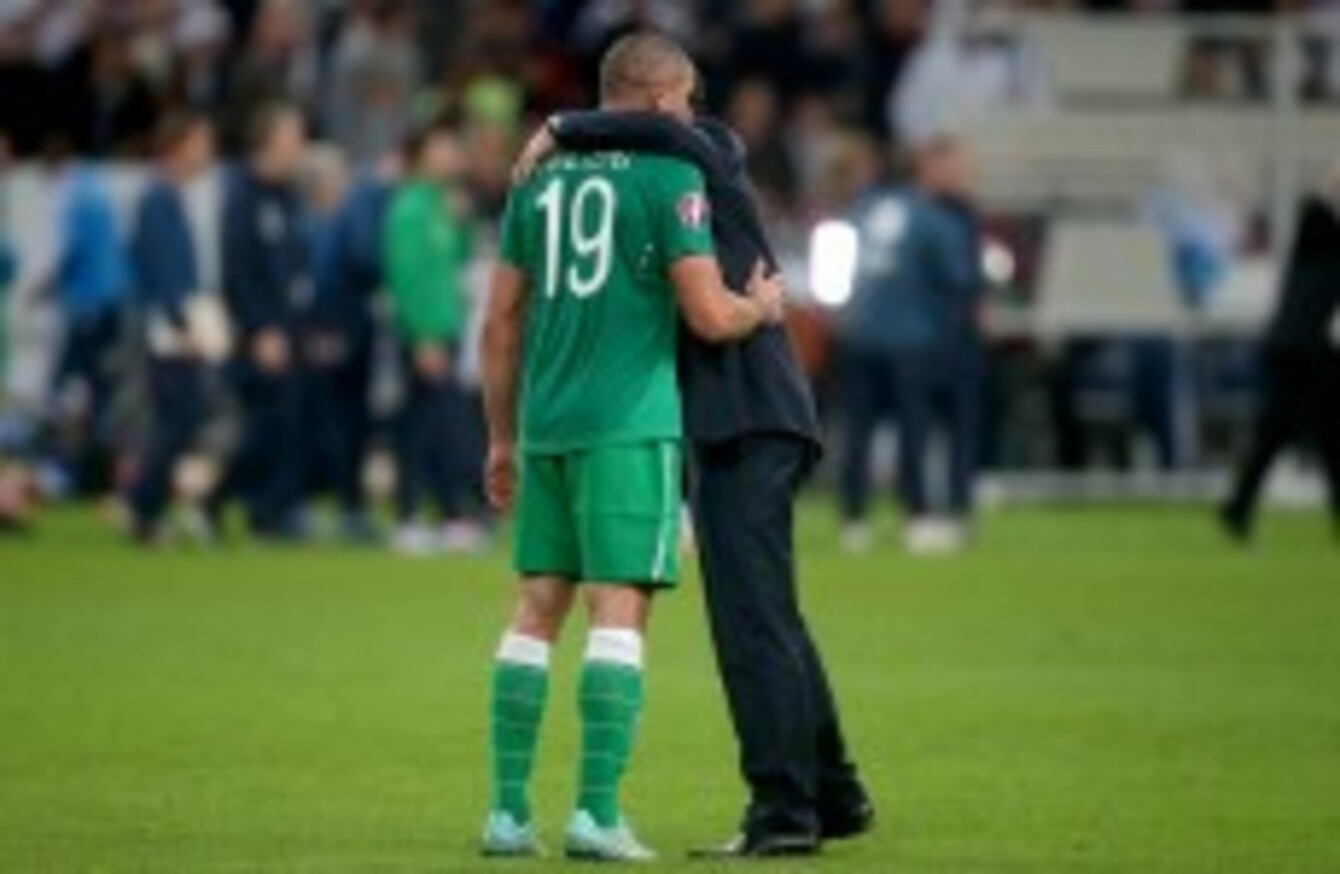 Martin O'Neill embraces Jonathan Walters after Ireland's draw with Germany.
Image: Donall Farmer/INPHO
Martin O'Neill embraces Jonathan Walters after Ireland's draw with Germany.
Image: Donall Farmer/INPHO
MARTIN O'NEILL has said that Jonathan Walters is an excellent example for all Irish footballers after the Stoke forward bagged the club's first ever Premier League hat-trick in their win over QPR on Saturday.
The Ireland manager, who also dismissed the most recent Roy Keane incident as nothing more than people making a "mountain out of a molehill", said that Walters' attitude for both club and country ensures he deserves any success that comes his way.
Speaking during his first press conference of the year in the Aviva on Sunday, O'Neill said: "I've known [Jonathan] now for just over a year and his attitude has always been first class and it obviously comes from his attitude at club level.
"When he comes with us, it's obvious he's anxious to play, he doesn't like to miss any time.
"He honestly is an excellent example [for all players]."
O'Neill also revealed he has not spoken to Everton boss Roberto Martinez since the Spaniard claimed that some of James McCarthy's injury problems stem from his time with the Ireland squad.
However, he is pleased the midfielder is close to a comeback, especially as the rest of the Toffees' Irish contingent are in and around the first team squad.
"I haven't spoken to Roberto since he said [McCarthy's] problems half came from his international matches but he's played one game for us in the last year.
"I think he played the Georgia game which is the only game he's played so I don't know how Roberto could blame the international matches for his injury.
"I went to Everton yesterday hoping that he might get into the squad but I think it's sooner rather than later [that he returns] which is good news for us. Seamus [Coleman] and Aiden [McGeady] played and Darron Gibson was on the bench – that's good news though he hasn't played for quite some time."
O'Neill went on to say, however, that with Ireland's next competitive game so far away, injuries will only begin to cause him sleepless nights a fortnight out from the match with Poland in March.
"At this minute some players are injured, you know Shane Long and Stephen Ward. Other players at this minute are doing fine. Closer to the time of the next game I think I'd be getting a wee concerned but there's still seven weeks to go.
"I'll start getting really concerned in the last couple of weeks."
The former Aston Villa manager has used the Christmas break to cast an eye over potential call ups to the Ireland senior squad but said that, while he wasn't in a position to rule anyone out, a call up for Chesterfield's Eoin Doyle would involve taking a risk that League One's top scorer could make the step up.
"Naturally, I think that [Doyle] is a harder one to make a judgement on. You're looking at League One and he's scoring some goals there but then you have to make a judgement call on whether that player can step up. Eoin is one example but I don't think I would be in a position to rule anyone out."
O'Neill has also kept a close eye on Watford's Tommie Hoban:
"I'd a conversation with Noel King and Noel was particularly impressed with Tommie. I thought I'd just get an update on him but, amazingly, I've been able to see Watford three times in the last 14 days and Tommie has been contributing there.
"Noel has mentioned a few other players but, in fairness, I don't think there are too many players either playing here, there or in Scotland that we haven't covered one way or another.
"There can only be one or two left that I haven't seen personally."