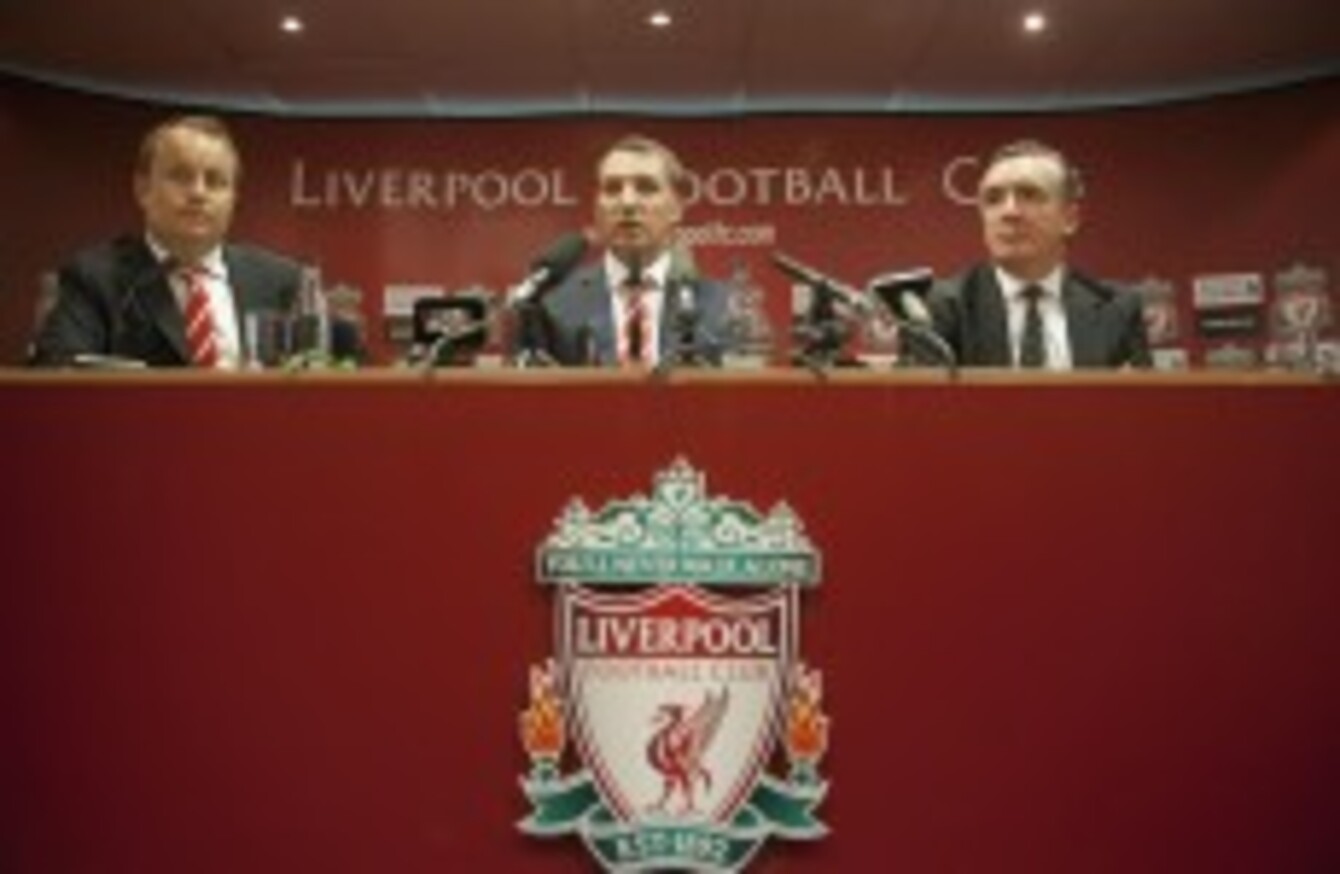 Brendan Rodgers, centre, at his so-called unveiling.
Image: Barrington Coombs/PA Wire/Press Association Images
Brendan Rodgers, centre, at his so-called unveiling.
Image: Barrington Coombs/PA Wire/Press Association Images
"NEXT YEAR WILL  be our year" — we've been hearing that from Liverpool fans for two decades now…their upbeat supporters convinced their fortunes would change.
The truth is, apart from a sprinkle of hope given under the leadership of Rafael Benitez, nobody outside of LFC ever really believed them when they fed that line.
Others ask regularly why Liverpool fans feel they have a right to be challenging at the top of the Premier League – it's been 23-years since they were kings of England.
But they are a massive club, easily England's second most supported club throughout the world, their turnover is massive (€230m in 2011), and they've had owners (a few!) who open up their chequebooks to the many managers they've had in the last two decades.
Of course, they've won the odd cup here and there…but that's not what LFC is about. They are desperate to win the Premier League – and last year they finished 37 points adrift of champions Manchester City – and just 27 points ahead of rock-bottom Wolves. The fact is, last season was a shambles for this great club. No Carling Cup victory can ever hide that.
But can "Next year be their year" – no. But finally they are heading in the right direction.
Liverpool have just hired Brendan Rodgers as manager. A shocking decision considering he is only 39 and has managed only one season in England's top-flight. He was also let go by Championship side Reading (albeit through mutual consent) just 18-months ago.
The Anfield regulars aren't happy – but they should be. Liverpool need to rid themselves of the "Next year will be our year" tag.  That was never going to be the case. This club needs a vision, it needs a plan and it needs uber patience if they are to get themselves back where their fans feel they belong.
Fergie time
Liverpool find themselves in a similar position to Manchester United in the mid-80s…what Liverpool need now is their Alex Ferguson. Have they unearthed their Fergie in the shape of the Northern Irishman? That's impossible to say.  It's also unlikely. But what the appointment does tell us is that the owners are willing to bring in a manager full of promise and give him the time to turn this club's fortunes around. Patience.
Liverpool need a five-year plan to mould the club in to challenging at the very top. There is no overnight remedy here. The Liverpool fans were kidding themselves for ever thinking there was. Last season they were jumping for joy when Kenny Dalglish was appointed manager, now with Rodgers' appointment they are downbeat. The truth is, they should be have been feeling the opposite on each occasion.
Dalglish was given €120m to spend to improve Liverpool in the short-term, to make "next year their year".  That was shameful – it was never going to happen.
Be part
of the team
Access exclusive podcasts, interviews and analysis with a monthly or annual membership.
Become a Member
Liverpool needed a young manager with innovative ideas, modern coaching skills and up-to-date tactical awareness. Dalglish — undoubtedly a living legend –was the complete opposite of the man required at the helm. It was disappointing to see Roy Hodgson (who was at the time the LMA Manager Of The Year) hounded out of the Anfield hotseat with cries of "Dalglish". Those same fans were actually calling for Benitez to be installed following Dalglish's sacking a couple of weeks ago.
It would seem Liverpool fans don't like outsiders. But an insider is the last thing this great club needs now… this needs a fresh approach, a five-year plan – and it needs the supporters to be very, very patient.
Some fans of the club won't believe this, but LFC truly is in a much healthier and promising  state now than it was this time last year under Dalglish. Liverpool supporters need to realize that they were going backwards under an aged, out-of-touch gaffer.  They need to accept that that was a ridiculous appointment and move on. Give a decent young manager the time to mould a dressing-room full of promise in to a team that can charge up the table within a few seasons. Patience truly is the key to eventual success at Anfield.
No — next year won't be their year.  But someday in the future, if they give this promising young boss the time to get it right, we might finally stop sniggering when they trot that line out.
What do you think?