Reproduced with permission from Action81
It was a sluggish start to the Championship campaign for the Kingdom as Jack O'Connor's Kerry laboured to a six-point win over Tipperary in Semple Stadium. Emmet Ryan reflects on a surprisingly informative match-up.
Donaghy's absence highlights familiar problems
The decision by O'Connor to leave Kieran Donaghy on the bench, irrespective of the cause, presented an opportunity to see how Kerry would cope without his size.
Donaghy's role for Kerry this year has been in a state of flux, with him switching between half-forward with heavy defensive duties and a target man up front.
Kerry were missing him in both elements early on. Defensively Kerry had a significant lack of size early and Tipperary had no trouble find room to attack. Three scores in the first seven minutes pushed the Premier County into an unexpected early lead as their forwards move the ball freely.
That initial surge was stifled in a manner familiar from Kerry's league campaign, with Bryan Sheehan and Anthony Maher dropping deeper to assist at the back. Effective as this approach is, it takes two big pieces out of their attack for long periods.
The other aspect, one that was never really rectified even after Donaghy's arrival, was the difficulty Kerry had in moving the ball into their front line. The Kingdom have no-one outside of the big man comfortable in ball winning role that high up the field and Declan O'Sullivan's adventures as a pure 14 were uninspiring, although he found more success further out from goal.
Donaghy had a clear impact once introduced, particularly when he stopped a long-range Sheehan free from going wide to subsequently earn a 13m free that the midfielder point.
The Austin Stacks man however still looked uncomfortable in phases. The task Donaghy has been assigned in 2012 is not unlike Michael Murphy's role with Donegal but his physical tools and overall game differ greatly from the Glen Swilly man. Cork have learnt this with their similar attempts with Aidan Walsh and have not asked quite the same of him.
Playing Donaghy in the the hybrid half-forward/half-back role could yet work but he is over-stretched combining these duties with his more familiar target man role.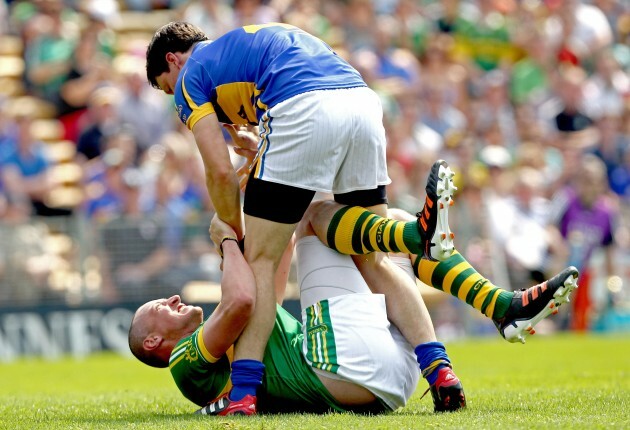 Kerry's Kieran Donaghy and Ciaran McDonald of Tipperary clash off the ball. INPHO/James Crombie
Defensive shape never slips for Tipp
Tipperary's pre-match scouting of Kerry proved effective at the back as they delivered an intelligent defensive display. The home side came out with the intent to sit deep and snuff out direct balls.
For much of the first half this frustrated Kerry's attack.
In addition to O'Sullivan's ball-winning problems, Kerry struggled to find scoring opportunities when developing play close to goal. With Tipperary focused more on shutting down space than tackling, the Kingdom's attackers quickly ran into walls in desperate need of an outlet.
Unlike Mayo's ball-carrier isolation approach, Tipp looked to force a mistake rather than immediately go for the tackle. This aspect dropped off as the game wore on but the deep-sitting shape managed to stay in place.
Even when Donaghy came on, Tipperary didn't over-commit to shutting him down (with the exception of Ciaran McDonald's MMA style shoot takedown of him) and kept four player around the 21 until the end.
We need to talk about Gooch
Colm Cooper is having a frustrating season with Kerry as O'Connor looks to make some rather significant adjustments to the way Kerry play. While the defensive approach Kerry play has been in place for over a year, the further switches in 2012 have made it harder for the Kingdom to utilise their most potent attacking threat.
Cooper no longer has a target man to work off and has become increasingly isolated outside. In Kerry's last outing, against Mayo, he didn't get a look-in for the first quarter hour. On Sunday he similarly struggled as Tipperary looked to contain out on the flank. As one of Kerry's free-takers and with an effective shot from long range, Cooper remains a presence on the scoreboard, but his impact in open play is reduced by his role.
Much of the problem is in how Kerry's other attackers are out of sync with their captain. On eight minutes Cooper got inside the 21 in front of goal. Cooper would mishit his shot wide but his first option was to find an outlet but, with defenders closing in, no-one presented for the pass. Cooper was open for a goal chance on 17 minutes but Kieran O'Leary didn't see him in position and instead rushed into a missed chance at a point.
When Cooper was able to get involved he could create at speed, as James O'Donoghue found out on the hour mark. Cooper was under pressure by a group of defenders but hand passed to the onrushing O'Donoghue who scored. Essentially Cooper is too high and too wide in the new look Kerry system and we saw against Tipperary how this can mute his impact. Pulling Cooper slightly further back from the other inside forwards and not so close to sideline, might enable Kerry to work him more into attack.
Kerry's attack finds a way to win
Much as this column has focused on the bad for Kerry, it was the good that brought them over the finish line.
The continued strength of Bryan Sheehan as a long-range free threat remains a crucial part of Kerry's attack. Scores outside the 21 proved crucial to developing a lead in the first half. With Tipperary sitting deep, Kerry initially failed to punish their hosts from long range starting 1 of 6 on scoring chances.
They would nail 14 of the next 20, with early long range scores getting the ball rolling. Tomás Ó Sé opened his account on 13 minutes and then Cooper did a one-two with Ó Sé to pop over from the right wing in the 15th minute. Darran O'Sullivan's darting runs also stood out, with the powerful forward scoring from a burst through the middle on 23 minutes and he secured a free, which Cooper pointed, in similar style in the 51st minute.
Tipperary's attacking switch comes up empty
Having struggled going forward for most of the first half, Tipperary made a clear change in approach after the break. With inferior personnel it made sense to take risks but unfortunately for the Premier County their high ball strategy proved ineffective throughout the second half. By 55 minutes the tactic of pumping high balls repeatedly towards goal had clearly failed but Tipp persisted with it through to the death. Trying to test Brendan Kealy in light of the new square ball rule made sense. Kealy and the Kerry full back line proved up to the task. With Tipperary never trying to adjust their approach later in the half, they severely limited opportunities to test the Kingdom's defence.
Kerry's Paul Galvin tries to cool down Pic: INPHO/James Crombie
The verdict
For Tipperary the positives lie in their discipline and organisation. While not an expansive game plan, the home side targeted a couple of key areas and worked well on them. The length of their summer will rely heavily on the qualifier draw but they certainly have the tools to last a round or two in the right circumstances. Kerry's bar is set a lot higher and they face a lot of questions going into their clash with Cork in a fortnight.
Kealy will likely see a lot more direct balls around the small square and be faced with a more physical attack than he saw on Sunday. Improved distribution will also be vital for Kerry. Paul Galvin's passing was mixed, much like in the Mayo game, and he will need to be more consistent in Páirc Uí Chaoimh.
Follow Emmet Ryan on Twitter.