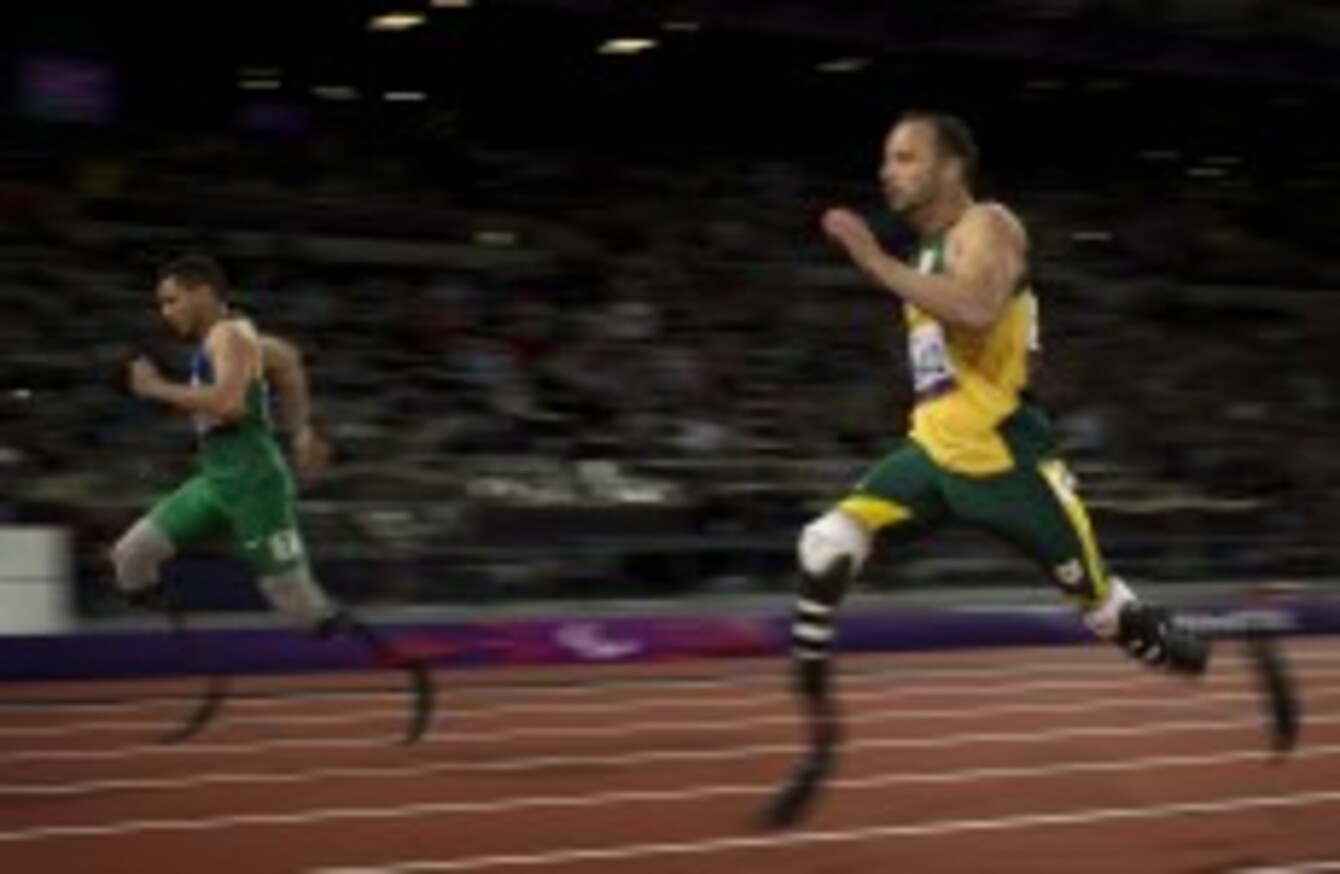 Image: Emilio Morenatti/AP/Press Association Images
Image: Emilio Morenatti/AP/Press Association Images
SOUTH AFRICA'S OSCAR Pistorius has re-opened the debate about whether artificial blades give amputee runners an unfair advantage after sensationally losing his T44 200m title at the London Paralympics.
The 25-year-old "Blade Runner", so-called because he runs on carbon fibre prostheses, was beaten into silver by Brazil's Alan Oliveira on Sunday evening, stunning the 80,000-strong crowd at the Olympic Stadium into silence.
He then hit out at the International Paralympic Committee (IPC), claiming that he was at a disadvantage in the race over artificial leg length.
"The IPC don't want to listen," he told Britain's Channel 4 television. "The guys' legs are unbelievably long. Not taking away from Alan's performance, he's a great athlete.
"But these guys are a lot taller and you can't compete with the stride length.
You saw how far he came back (down the home straight). We aren't racing a fair race. I gave it my best.
"The IPC have their regulations. The regulations allow that athletes can make themselves unbelievably high. We've tried to address the issue with them in the weeks up to this and it's just been falling on deaf ears."
Pistorius, who had been seeking to defend all three T44 sprint titles he won in 2008, said US bronze medallist Blake Leeper's knee height, for example, was "like four inches (10cm) higher than it should be".
"The guys are just running ridiculous times and they're able to do so," he added.
"I don't know how you can come back, watching the replay, from eight metres behind on the 100 to win. It's absolutely ridiculous."
Pistorius lost by seven-hundredths of a second, as Oliveira stormed from behind to win in 21.45sec.
His complaint comes amid lingering questions about whether carbon fibre blades give amputee runners an advantage and follows his successful challenge of a ruling that his own blades were unfair to non-disabled athletes.
Polemics
Oliveira, a double-amputee through congenital illness, said he was disappointed by the criticisms and rejected Pistorius' claims.
"It's not just about the protheses, there is training behind (my performance). I get upset to hear this kind of thing. I'm inside the rules," he told reporters.
"I came here to celebrate and do not enter in any polemics. (He is) not a bad loser. Pistorius is a great athlete. I'm just sad with the interview where he said that my blades are too big.
"He was bothered by the time I had in the semi-finals and wanted to get to me with this polemic with the blades but it did not work. I still do not know with whom he is picking a fight. It's not with me."
Johannesburg-born Pistorius had both legs amputated below the knee when he was 11 months old after being born without lower leg bones. But he played sports unhindered growing up, taking up running after fracturing a knee playing rugby.
At high school, he was so good that his personal fitness coach said she was unaware for six months that he ran on prosthetic legs.
But he was initially banned from achieving his dream of competing in the Olympics in Beijing in 2008 by the International Association of Athletics Federations (IAAF) on the grounds that his blades gave him an unfair advantage.
What are they
really like?
Rare insights on sport's biggest names from the writers who know them best. Listen to Behind the Lines podcast.
Become a Member
Anna Gowthorpe/PA Wire/Press Association Images
Some scientists claimed that his J-shaped "Cheetah" blades meant he used less energy to run at the same speed as a non-disabled opponent but others argued that was cancelled out by his slower start out of the blocks and acceleration.
The IAAF ban was overturned on appeal at the Court of Arbitration for Sport (CAS), although he ultimately failed to meet the qualifying standard time for Beijing.
He went on to win a silver medal as part of South Africa's 4x400m relay team at the 2011 World Championships, before last month becoming the first double-amputee to compete at the Olympics to wide acclaim.
He made the semi-finals of the 400m and ran in the final of the 4x400m relay.
Pistorius told a news conference in London this week that blades were designed for public use in 1996 and that they only become an issue in 2007 when he wanted to run in the Beijing Olympics.
They had been tested and approved by the CAS and could be used by any amputee athlete, he said, but acknowledged that question marks would remain about their use.
"There will always be a debate," he said.