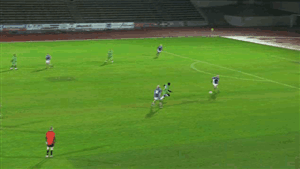 H/T: Brian Clerkin, European GAA PRO
AMARILIO VASCONCELOS MENDONCA. It's not the name of a recognisable GAA figure.
But he produced a great piece of skill last Saturday while lining out for the Oulu Irish Elks in the second leg of the All-Finland Gaelic Football final against Helsinki Harps.
The game took place at the Raati Stadium in the city of Oulu, just south of the Arctic Circle. And Mendonca, a Portuguese native who has been only playing the game for 5 months, struck the score of the game.
He raced on to a breaking ball, produced an audacious flick similar to that produced by Simon Zebo and swung over a beautiful point.
But would Hawkeye have been required to judge this score under the Northern Lights?
Here's some extended highlights of the game with thanks to – I Love Sport Oulu and www.sporttv.fi
YouTube: Cathaoir Sona