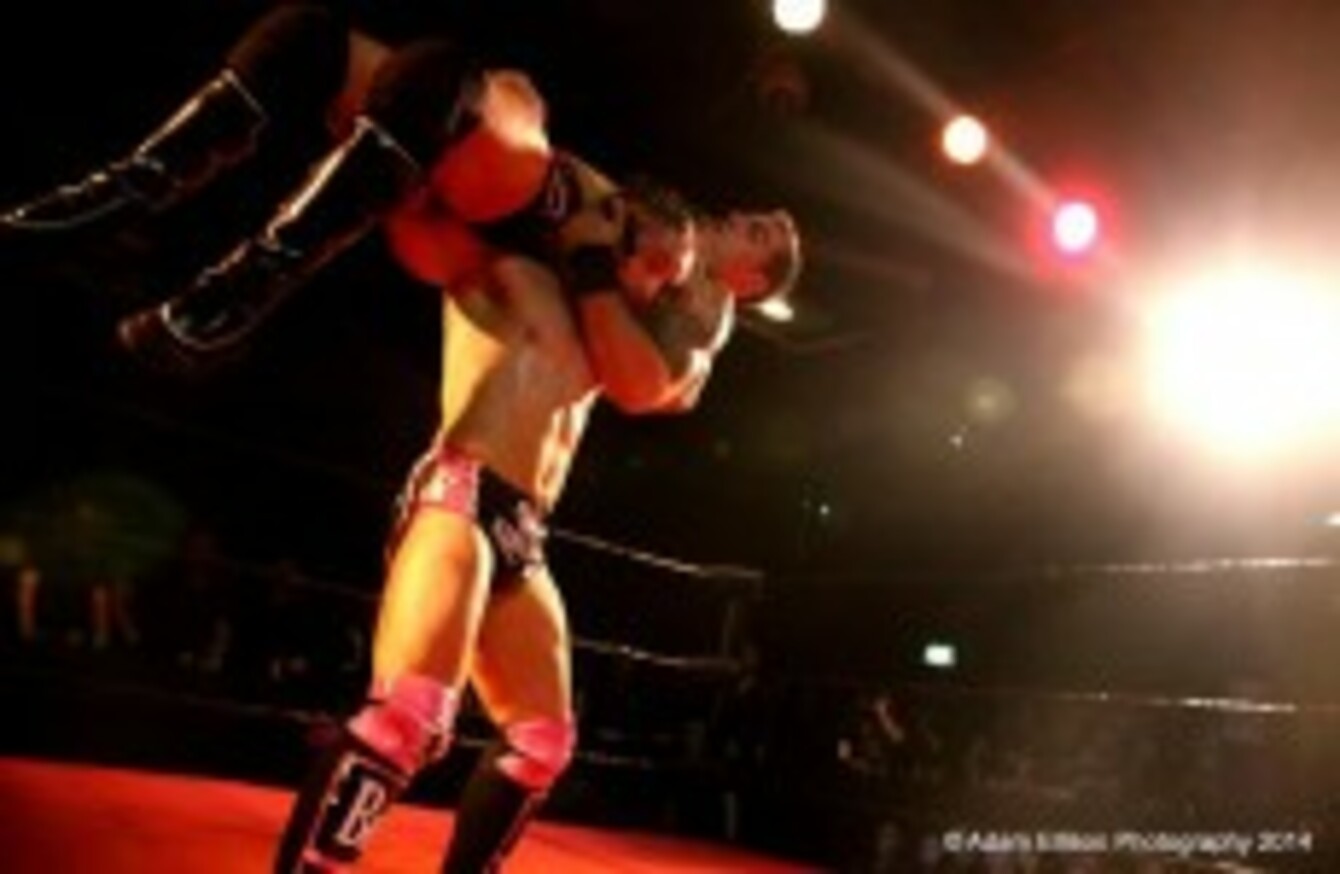 Over the Top Wrestling is pitched as an edgier counterpart to the WWE.
Image: Adam Ellison
Over the Top Wrestling is pitched as an edgier counterpart to the WWE.
Image: Adam Ellison
WHEN I WAS younger, I had an unhealthy obsession with watching wrestling.
Between the ages of about 12 and 14, while some kids my age would be recovering from hangovers on a Saturday morning, I'd be out and about traipsing up and down town in search of a shop that was selling a copy of the latest edition of Wrestlemania. It was just before the internet became huge, back when looking for something obscure was almost as fun as eventually consuming it.
Of course, I was aware the 'sport' was fake and that many people — including friends my age — attached little or no credibility to wrestling. However, despite the occasional shame that accompanied a look of bemusement on someone's face when they spotted the 50 odd wrestling videos sitting atop my shelves, I persisted for about two or three years in intensely watching the likes of Shawn Michaels, The Rock, Stone Cold Steve Austin and The Undertaker consistently thrill with their ostensibly inherent chutzpah, replete with incredible acts of athleticism and commendably straight-faced participation in increasingly ludicrous and literally unbelievable storylines.
Over the years though, my passion for wrestling quelled. As the internet became mainstream, I grew addicted to various blogs and found myself becoming more interested in the back-stage politics of proceedings, rather than what was actually going on in the ring. It was the equivalent of knowing how a magician does his tricks — the sense of fun and spontaneity was therefore ruined, as storylines were correctly predicted by these message boards weeks in advance and every new angle or story idea consequently felt more tired and clichéd than ever.
Since then, I've retained a vague interest in WWF (or 'WWE' as the kids are calling it nowadays), without ever coming close to falling back in love — no longer do I stay up on a Friday night and listen (yes, listen) to the weekly show Raw amid a blurry backdrop that people who refused to pay for Sky Sports used to be forced to put up with.
Last Saturday however, I took a step back into my childhood. An Irish company — Over the Top Wrestling — were staging their second big event in the Tivoli Theatre.
You might casually assume that the phrase 'Irish wrestling' is a by-word for lack of quality, but those that have been paying close attention will know that the activity has become increasingly popular on these shores in recent times. Wrestling schools have been established and Irish athletes have enjoyed some success both here and internationally — Sheamus and Fergal Devitt are two of the most well-known recent exports to the WWE.
(Sheamus is the most well-known current Irish wrestler)
Another Irishman who has spent time in Vince McMahon's venerated company is Luther Ward. Nevertheless, Ward – who TheScore.ie interviewed last month – ultimately left the WWE after a year, owing to a mixture of injury problems and general disillusionment with life in America.
As well as regularly competing across Europe nowadays, Ward is the one of the main stars of Over the Top Wrestling. The athlete, whose real name is Joe Cabray, has had access to some of the best trainers in the world thanks to his endeavours across the Atlantic, and is thus, clearly accomplished at what he does.
Moreover, the general standard of Over the Top Wrestling is quite high. Considering that the company has nothing like the resources of their more high-profile counterparts, they do an excellent job of putting on a three-hour show that's believable, technically impressive from a wrestling standpoint, and most importantly of all, consistently entertaining.
When TheScore.ie spoke to Ward recently, he explained that the organisation were aiming for a more extreme offering to the current PG-rated WWE product. This theme is immediately reiterated during a promo on the big screen at the event — a wrestler is shown waking up in his bed with a TV playing a WWE segment. "Turn that sh*t off," he says gruffly, before doing just that.
The venue feels more like a nightclub or concert than a wrestling event at times. Drink is readily available and the sound of loud music by hard-rock bands such as AC/DC and the Yeah Yeah Yeahs is ubiquitous both before and in between the action. The crowd also seems quite alternative — tattoos and piercings are a common sight, while I feel uncomfortably conspicuous with my glasses, notepad and decidedly more formal journalistic attire.
(Over the Top Wrestling proved popular with fans in the Tivoli Theatre last Saturday — image credit: Adam Ellison)
It's at least an 80-20 ratio of men to women, and there's a slightly boorish tone to the evening at times. The good-looking female ring announcer opens proceedings with an utterance that sounds more like an exclamation than a question: "Are you ready to get shit-faced?"
The in-ring characters range from the contemporary and politically resonant to the more crudely drawn. For instance, one heel (wrestling speak for 'bad guy') claiming to represent Irish Water continually insults the crowd on the microphone before aiming the remnants of his opened bottle of water towards the unfortunate folks sitting in the front row.
The audience are equally animated upon the appearance of a flagrantly camp wrestler accompanied to the ring by a noticeably young-looking female manager, amid unsettling crowd chants of "she's not legal".
Other popular performers include a tag team who can politely be described as working class in appearance. They enter the ring to the sounds of throbbing techno, dancing that stereotypical techno dance, and wearing tracksuit bottoms while generally looking quite unkempt and slightly out of it. The turning point of their match occurs when they improbably get their hands on a bag of a white substance that is obviously meant to look like cocaine. One of the duo breaks the bag open hurriedly and they take turns sniffing it from the surface of the ring, before their performance suddenly improves immeasurably and they win the match easily. The increasingly tipsy and vulgar crowd subsequently erupt, vociferously applauding this act of well-orchestrated madness.
Such shenanigans are far from politically correct and thus easy to criticise, but the same could be said for Goodfellas and a host of other Hollywood films. Wrestling, like those movies, is entertainment first and foremost, and performers consequently feel obliged to push boundaries, especially when they are representing an organisation that is consciously aiming to be as edgy and x-rated as the most typically adult HBO shows around.
The evening ultimately ends in spectacular fashion. The aforementioned hero Luther Ward and his dastardly opponent compete in what is a palpably intense no-holds-barred encounter, whereby both athletes seemingly put themselves through plenty of actual pain, while the climax sees these two impressive physical specimens falling from a great height onto a strategically placed table and breaking it in half.
Ward celebrates his eventual victory with a number of other wrestlers who suddenly appear in the ring afterwards, saving him from a post-match gang brawl in the process. They each mark the occasion by guzzling a few cans of Guinness while also throwing some of the alcohol into the crowd, much to the fans' audible appreciation.
The audience are suitably energised and the atmosphere is genuinely electric amid this chaotic conclusion. The sporting event that it feels most akin to is not the similarly adrenaline-fuelled UFC but another form of entertainment with which drink has an irrevocable association — darts. Like Phil Taylor and co, wrestling is not exactly sophisticated but undoubtedly effective in its attempts to invoke the spectators' passion. And judging by the near-full venue and hyperactive onlookers, Over the Top Wrestling certainly has the staying power to match its impressive sense of spectacle.