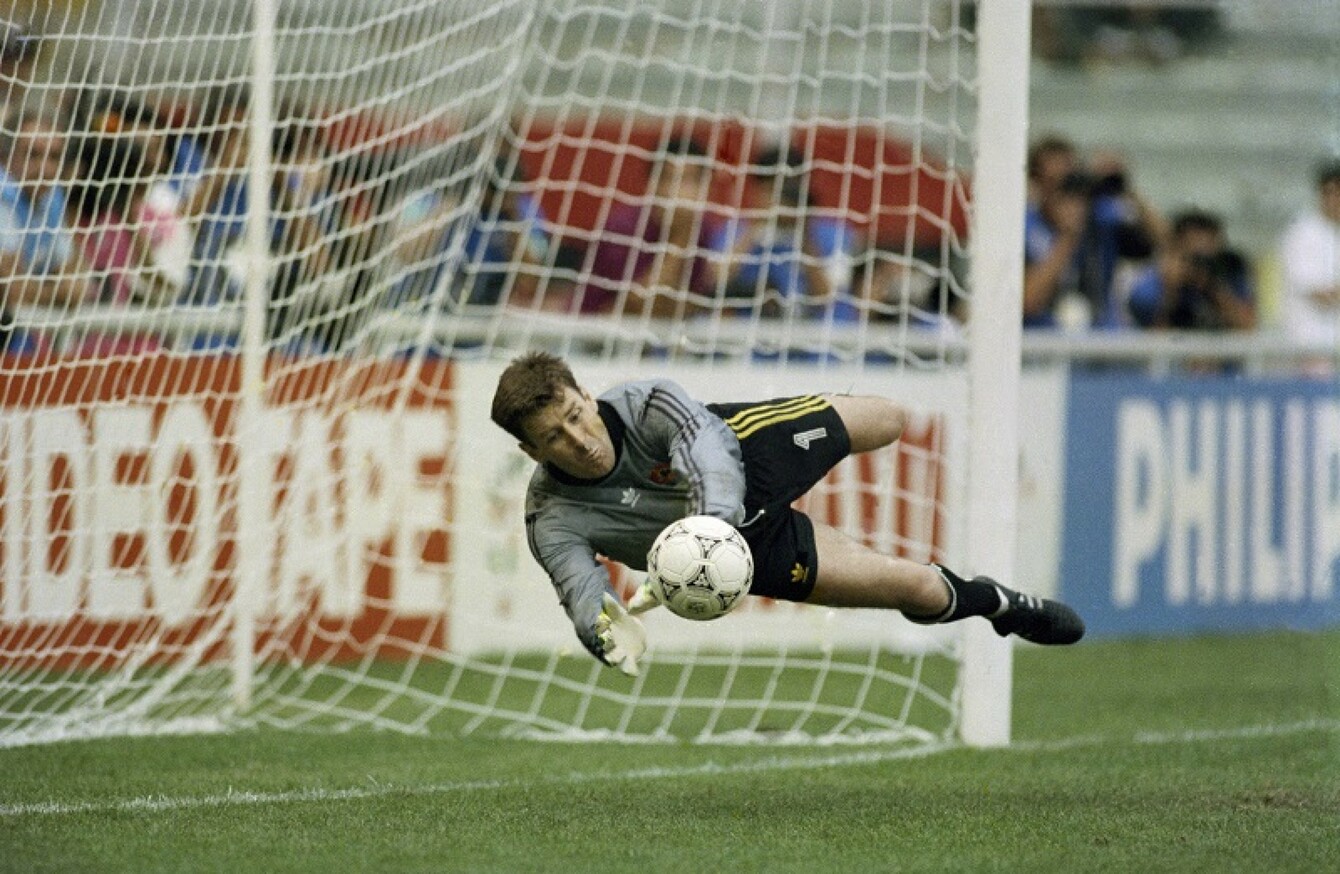 Bonner's save in the penalty shootout against Romania helped Ireland progress to the quarter-finals of the World Cup.
Image: Billy Stickland/INPHO
Bonner's save in the penalty shootout against Romania helped Ireland progress to the quarter-finals of the World Cup.
Image: Billy Stickland/INPHO
ADORATION DOESN'T SIT comfortably with Packie Bonner.
His famous penalty shootout save against Romania in the World Cup led to one of Ireland's greatest-ever sporting triumphs, changing people's lives forever.
But to meet him you wouldn't know that.
"I wasn't initially comfortable with it — as a Donegal person, adulation is a no-no," Bonner explains.
"The younger generation are still talking about it. Something like that can do so many things for a country. It has affected people's lives – I know of people who got married because of it."
The former Celtic goalkeeper says it took him a while to look back over the clips from his Ireland career, but you get a sense that particular moments can trigger Bonner to reminisce about that day in Genoa.
"I clearly remember Timofte going up to the ball and the angle he stood at. There were two penalties late on this season and both of them were missed – same angle for the run up and the ball hit the same spot."
Ireland still needed David O'Leary to convert his penalty and he duly obliged to change the Irish sporting landscape forever.
But after winning 80 caps for Ireland and making 642 appearances for Celtic, the sixth most in the club's history, there is much more to Bonner than that moment during Italia '90 – he's not a one-save wonder.
In fact, Bonner's greatest performance for Ireland came two years earlier at Euro '88 in Stuttgart when he denied England, and in particular, Gary Lineker on several occasions.
"It was the most special game [during his international career]. It was our first game at a major tournament and especially considering the opposition we were playing."
But in typical Bonner fashion, he downplays his role in the game, calling some of his saves "lucky".
The goalkeeper was an integral part of the Jack Charlton era, playing in three major tournaments and he sees a lot of similarities between Big Jack and the current Ireland manager Martin O'Neill.
"They both have a bit of eccentricity about them. Martin wouldn't be the coach on the pitch. He sees people and he knows people. He is able to build good relationships.
"Jack also had brilliant communication skills; he knew how to make a room happy. He took the pressure off the players. He made you feel relaxed and never raised his voice. He felt like he was borrowing the players from the clubs and treated us like adults.
"The manager helped create a happy environment. Yes, success helps, qualification helps, but the players felt like it wasn't all about the football. Even the players that were injured wanted to show up. Everybody shared in the team; you can see that in the reaction of the penalty shootout."
"The Dublin players used to be able to go home but Jack put a stop to it and made the squad a lot more united. We'd go out to the races, do some clay pigeon shooting or golf, just to be in a different environment. But it has changed; there is a lot of media pressure now."
Out of the 22 named in the squad for the 1990 World Cup, only six were born in Ireland but Bonner says there were no divisions in the group, and where a player was born made no difference to the squad.
"If you were born in England, it didn't matter, especially after we had success. Dave O'Leary was born in England but lived all his life over here. Mick [McCarthy] for example was totally committed.
"My son was born in Glasgow but he has [underage] Irish caps. My parents were married in Edinburgh and lived near Ibrox after they got married before moving back to Ireland. I'm Irish — I could have been born over there, but I would have still been Irish."
When Bonner played in major tournaments, he was the undisputed first-choice goalkeeper but Ireland enter Euro 2016 with the goalkeeping situation far from clear.
Darren Randolph is the most likely to start against Sweden but both the West Ham goalkeeper and Shay Given have struggled for game time with their clubs this season.
Bonner doesn't necessarily feel a lack of minutes is a problem.
"It depends up to a point. It's more important if you're young; if you're older it's easier. Shay looks like he is fit. When I trained with him you used to have to drag him off the pitch, his work ethic is second to none. He reads the game well and has never lost any of his sharpness.
"Darren Randolph always performs well. He kicks the ball well, he's big and strong and it will help him to prepare with Shay.
"When I played only two goalkeepers went, Gerry Peyton and then Alan Kelly, and there was no goalkeeping coach. It was really good to have somebody beside you, to talk to, discuss things with and work with you. But now it's different, before we roomed together, you were living in each other's pocket for four to five weeks, it was like a marriage."
While Bonner made some memorable contributions during his first two major tournaments, the trip to America in 1994 didn't go as planned and culminated in the goalkeeper making an uncharacteristic blunder against Holland in the knockout stages. But it was in New York against Italy that Bonner felt started to feel apprehensive.
"I wasn't totally prepared. You'd go training for 20 minutes but you'd be shattered with the heat. We would normally train for over an hour, but we couldn't. The mind starts playing tricks tricks the night before.
"You can't afford to think in a negative way. You train hard to have a positive attitude. You have to be mentally prepared with positive thinking. Visualise what's going to happen. In many ways, we were our own psychologists."
Just four years earlier Bonner was the hero, but now he was culpable for Ireland's exit after failing to deal with Wim Jonk's innocuous attempt that helped send the Dutch through – the perilous nature of being a goalkeeper.
One of his teammates during USA 94 was Roy Keane but Bonner feels Celtic made the right choice in hiring Brendan Rodgers ahead of the Cork man.
"Roy was there as a player and has a feel for the club. Has he learned from Martin O'Neill? I'm sure he has to a point. I think he will [go back to club management] or the Ireland job if he doesn't feel he is too young. He still has a bit of learning to do, nobody is the finished article.
"Brendan will be looking to make a name for himself again. It would have been a shock to leave Liverpool but Celtic is a huge club, a worldwide institution. Peter Lawwell and Dermot Desmond did well to persuade him to come. There were around 13,000 people there to welcome him, the fans are excited. It's a huge statement.
"The key will be getting the right players. There are around 40 players in the squad and some will have to be shipped out. Rodgers likes a tight squad but it will take time but he needs to make an impact very quickly. Qualification for the Champions League isn't easy because Celtic will be only starting in pre-season while other clubs will be in the middle of their season."
The Burtonport native will be working as a Uefa consultant during Euro 2016, helping to compile a report on the latest goalkeeping trends during the course of the tournament and how the position fits in with the rest of the team.
He was part of the generation of goalkeepers that had to adapt to one of the most significant rule changes in recent years, when in 1992 Fifa decided to implement the backpass rule.
"The position has completely changed from when I played. Now it's a lot with the feet and the training needs to reflect this. No longer does the goalkeeper just do his own job or practice in isolation."
Bonner's advice of the class of 2016 is to prepare properly for the challenge ahead but don't let it pass by you – and he certainly knows about that.
Packie Bonner's autobiography 'The Last Line' is published by Ebury Press. More info here.
The42 is on Snapchat! Tap the button below on your phone to add!