IN 1988 PÁDRAIG Harrington won the Leinster Boys Championship at the Royal Tara Golf Club in Meath.
He tore up the course to win by 11 shots and was desperately close to setting a new course record when he posted a 67.
It was the breakthrough victory for the teenager and placed him on the golfing  map. Watching on that day was a local youngster Paul Keane and Harrington's success compelled Keane to keep track of the Dubliner's future progress.
That level of interest never dulled and has culminated in sports journalist Keane penning 'Inside Padraig Harrington's Head, Obsessed' , a recently-released biography which sees 30 interviews conducted with key figures involved in Harrington's career.
The resultant product gives an insight into the mindset and character of the 41 year-old who won three Majors in a 13-month period spanning 2007 and 2008 before his star has dimmed in recent years.
"He's just an intriguing character and I was mad to explore him," says Keane. "I put it to his manager but he (Pádraig) is not the type of guy who's going to do that. It would have been great if he took some part in it but he never did.
"But it was more out of courtesy that I made that contact, as I wanted to talk to all these guys about him. If you asked Harrington all these questions, you're going to get a version of what he wants because he manages his profile superbly. But you go to 30 people and ask them, you'll get different views and a greater picture of him."
"I researched about a hundred interviews that Harrington had given and that lead to people who he referenced repeatedly. So I wanted to talk to people who were meaningful to Harrington and also some whose stories had not already been fleshed out."
Bob Torrance
Keane interviewed a myriad of personalities with Paul McGinley, Bob Torrance and Jean Van De Velde amongst those who featured. For Keane, a passionate golfer who plays off a handicap of 5, writing the book was a gilt-edged opportunity to meet protagonists of the sport. And Torrance, who Harrington broke coaching links with in July 2011, was fascinating to talk to.
"Bob Torrance was the best interview I ever did. I met him up in his driving range in Scotland, up in Largs. I didn't know would he do it because it was only a few months after he'd split from Harrington.
"He seemed very disappointed. One of Harrington's famous quotes was how he'd be wheeling Torrance out in a zimmer frame and that he'd always be his coach.
"Harrington has never explained why he made the move but has just said he needed a change. It was still raw when I met Torrance but it was good and I've developed a relationship with him since. He rang me a few weeks ago and said he'd enjoyed the book."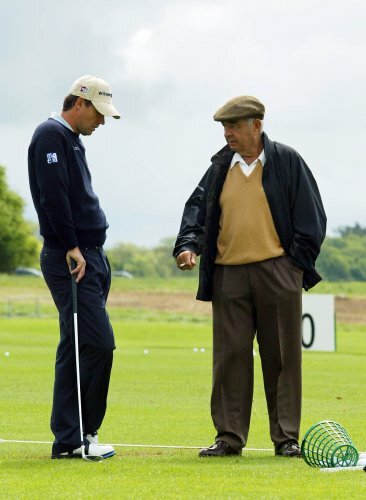 Padraig Harrington with former coach Bob Torrance. Pic: INPHO/Cathal Noonan
Keane took a particular interest in Harrington's first Major success in 2007 when he won the British Open in Carnoustie. It was a triumph borne out of determination as Harrington bounced back from going into the Barry Burn twice on the 18th hole of his final round to eventually prevail in a play-off against Sergio Garcia.
Keane sought out Jean Van De Velde, whose infamous Carnoustie experience from 1999 is well-documented, to talk about the challenge the course represents. Less is known about the story of Stephen Dundas.
Exclusive Six
Nations Analysis
Get Murray Kinsella's exclusive analysis of Ireland's Six Nations campaign this spring
Become a Member
"In 1992 Harrington lost in the British Amateur Championship to Dundas," outlines Keane. "When they were on the 18th in Carnoustie, Harrington had fought back to level. He'd a six iron into the green but he pulled it out of bounds to lose the match.
"He never got over this. His meltdown at the 72nd in 2007, the very same hole and same scenario, meant all this same stuff was coming back to him. No one had ever followed up to Dundas to see what he thought of Harrington now and what he remembers of it.
"So I tracked him down, he's working now as a head pro in a place in Russia. He's working with the Russian equivalent of the GUI over there for the last number of years. And he remembered it all very clearly and was eager to talk about Harrington."
Gaelic Football
Keane delves into other sports such as Gaelic Football, which Harrington's father Paddy excelled at for Cork, and also talks to GPA chief Dessie Farrell, who Harrington competed against in schools GAA matches.
From a wide array of figures comes a wide array of opinions about the three-time Major winner. And even in an era where Rory McIlroy's shadow dominates the Irish golfing landscape, there are those who predict Harrington will rise again.
"Personally I think for most golfers, it's a moment in time when it happens for you," says Keane. "It's nearly four years since Harrington won his last Major and two years since he won his last tournament. It feels to me that it was a moment in time and he won't do it again.
"But the feedback I got in interviews for the book was that there's more in him. Irish golfer Gary Murphy thinks Harrington has at least one Major, 5-6 tournaments and one Ryder Cup left in him. (Bob) Torrance was saying the same thing, in the context that Harrington has such a strong mind. You never know."
*Paul Keane is the author of Obsessed: Inside Pádraig Harrington's Head which is available nationwide*