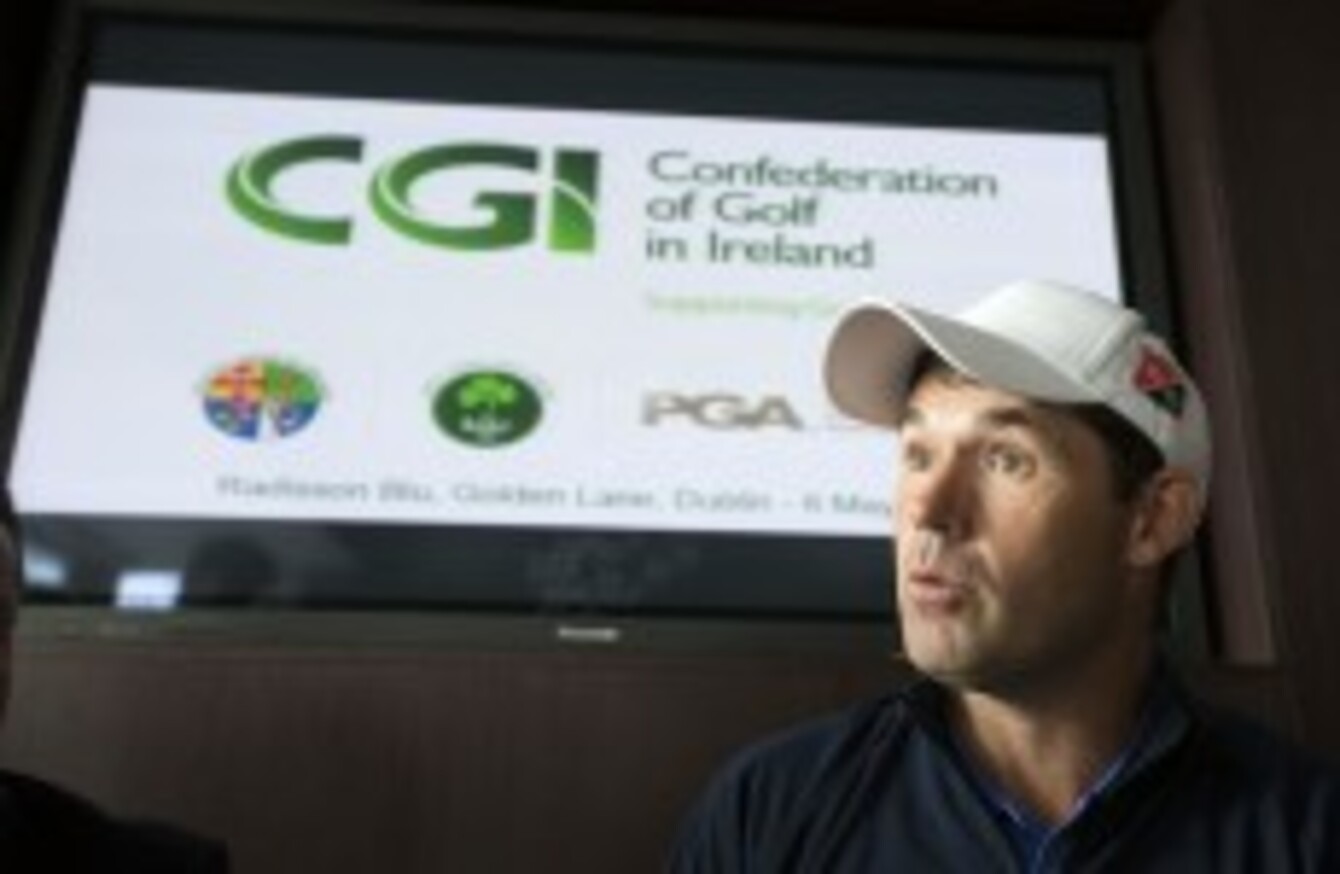 Pádraig Harrington, three-time Major winner is pictured at the unveiling of the new Development Plan from the Confederation of Golf in Ireland (CGI)
Image: Breda Brown/Tara Humphreys via Andreas Poveda
Pádraig Harrington, three-time Major winner is pictured at the unveiling of the new Development Plan from the Confederation of Golf in Ireland (CGI)
Image: Breda Brown/Tara Humphreys via Andreas Poveda
AT PRESENT, THE issue of which country Northern Irish golfers will represent in the 2016 Olympics is such a hot-button topic that most players and officials are keeping well clear.
Ever since golf was announced as a Summer Olympics event, back in 2009, the question has been posed and, for the most part, dead-batted. If a player, such as Rory McIlroy, ever attempts to give an honest answer, the story kicks into overdrive. The Olympics are two years away and, as the situation currently stands, golf's ruling body the Royal & Ancient, the European Tour and International Olympic Committee have taken a 'wait and see' approach.
Three-time Major winner Pádraig Harrington attended the launch, this afternoon, of the Confederation of Golf in Ireland, a new golfing body that hopes to drive up the numbers of people playing the sport in Ireland.
The Dubliner, who has taken a dip in the world rankings since the turn of the year, was at his frank and loquacious best as he discussed innovations that will encourage involvement, his never-ending quest for perfection and losing to his son at crazy golf. He took time out, however, to give his take on the Olympic stand-off and offered up an honest, if somewhat optimistic, alternative to Northern Irish golfers having to choose allegiances before Rio 2016. He said:
What the European Tour has done has been to try and stay away from politics. I don't think… they've been trying to sort out that political questions for hundreds of years and it will take better men than us, sitting up here, to figure it out.
"What the European Tour has done has been particularly neutral," he said. By changing the status quo, and not being neutral, Harrington reasoned, it will upset more people and make it more divisive. "In a perfect world," the Dubliner mused, "would we play under the GUI flag? It was perfect for us as amateurs because it represented everybody."
"I'm looking here at the Irish Ladies Golf Union emblem [of a green shamrock]. That's not going to upset anybody and represents everybody."
"I can't see a Scottish guy wanting to play under the Union Jack," Harrington added. "Some of them might but most of them want to play under the Scottish flag. It's the same with the Tricolour. If I'm from Northern Ireland and consider myself British, I don't want to play under the Tricolour or the Union Jack, I want to play under the national flag.
Be part
of the team
Access exclusive podcasts, interviews and analysis with a monthly or annual membership.
Become a Member
"The golfing union [GUI] works as an All-Ireland body because we play under the four provinces flag. I don't want to play under the four provinces flag. I did that when I was with them and I understood what it meant. But I want to play under the Tricolour now.
There is no other option. The flag for a Northern Ireland [amateur golfer], as I said, he's happy playing under the GUI flag because it represents him. The Tricolour doesn't necessarily represent somebody from Northern Ireland who consider themselves part of the United Kingdom."
"I think what the European Tour has done is correct," he continued. "It's given the Welsh guys [the choice] to play under the Welsh flag, the Scots the same. They don't put them down as British so why would you necessarily categorise somebody from Northern Ireland [that way]?
"What they've done has covered all bases and I certainly haven't heard, from a player, who's upset about it."
When it was argued, with Harrington, that Welsh and Scots golfers would not hold steadfast positions as the political context is different than Northern Ireland, the golfer responded, "I think Scotland have a question on [devolution] coming up pretty soon… It's a strong thing at the moment in Scotland, that's why I brought up Scotland.
For more on the newly formed CGI, its key objectives and Development Plan for 2014-2020 you can visit www.cgigolf.org