GOLF IN IRELAND is currently thriving, however the road it took to reach its current zenith is just as fascinating as the sudden success enjoyed by Rory McIlroy, Graeme McDowell and Padraig Harrington among others.
A new three-part documentary, From Tee To Green — The Story Of Irish Golf, which starts on Setanta at 9pm tonight explores the story of the sport's development in this country.
The film is directed by Andrew Gallimore and produced by Rory Dungan — a pair who have previously worked together on other acclaimed sports documentaries on rugby ('Gualainn le Gualainn') and boxing ('The Gentleman Prizefighter').
The duo were "amazed" there had yet to be a film documenting the incredible success story of Irish golf and so proceeded to undertake the year-long process of filming one, attracting high-calibre contributors, including golfers such as Rory McIlroy, Padraig Harrington, Graeme McDowell and Darren Clarke, and journalists, broadcasters and historians such as Dermot Gilleece, Philip Reid, Charlie Mulqueen and Shane O'Donoghue.
"It focuses on a couple of different facets," Dungan tells TheScore.ie. "It focuses on the game starting in Scotland — how it came from Scotland to Ireland largely through the British military and British noblemen through the genteel classes. They were largely responsible for bringing the game over and it started as far back as the 1850s in the Curragh.
"In Royal Belfast, it took root a bit there, and then in Dublin. It had a couple of phases of spreading. The game was able to spread to the likes of Lahinch and Ballybunion and those famous courses in the South-West, and then up to the North and Donegal. It had its tentacles out once the railways were established and the game spread that way."
He continues: "It was an interesting one politically. The sport was pretty much brought over by the British military, so because of that, it was seen as a Unionist sport. But it survived quite well, because in spite of it being seen as a Unionist sport, it escaped the GAA's foreign games ban."
The reasons why it avoided this ban remain unclear, however a number of theories have been put forward.
"I think it was probably because the likes of cricket and rugby were seen as being more directly linked to the British establishment," Dungan explains. "It meant that the more prosperous Irish and the kind of people who wanted to be more associated with a club and the kind of people in their own social strata were able to get involved in golf clubs and that was a little bit incendiary.
(Joe Carr, pictured above, was an early example of a renowned Irish amateur golfer)
"While the nationalists were trying to start a Republican movement, the Irish upper social classes were happily engaging in their social pursuits at the golf club, and the nationalists and the Republicans, as it got closer to the Rising and the War of Independence, they were digging up the Phoenix Park golf club, because they would have seen it as being very elitist. There were things like that from the Republicans, who just saw the elitism of golf as a Unionist thing and kind of reacted."
Of course, golf in Ireland has come along way since then. The startling success of the sport has been highlighted by the fact that only the US rivals Northern Ireland in producing recent major winners. So is this statistic as freakish as it sounds, or is there a more logical explanation as to why this small country has been performing with such distinction on the world stage?
"Some of it can be explained logically to a point," he says. "Golf developed into an industry and the guys who would have been plying their trade in the 30s, 40s and 50s, the more famous guys would have been amateur golfers while the professional golfers would have been more working class. They would have made their money from wagers against other golfers where the club members would have — almost like a horse-riding situation — backed their guy to beat another club member's guy.
"The professionals then were greenkeepers and caddys — it was very working class. Professional golf overtook amateur golf when events like the European Tour and the USPGA started happening. The European Tour was the big thing in Ireland, where we always had plenty of good golf courses and plenty of good amateurs, who had done well at amateur championships and amateur tournaments. When people were able to make a proper living from the sport, we had the likes of Christy O'Connor Senior and then the next generation of Des Smyth, Eamonn Darcy, Christy O'Connor Junior plying their trade."
Yet not so long ago, it was virtually impossible for Irish golfers to compete in any major event other than the one that took place in Europe.
"We had all these good golfers and they all came close to winning the Open, but it was the only major they were able to play in. There were only a couple of invites handed out to the American majors. So they [usually] only had one opportunity a year to win a major.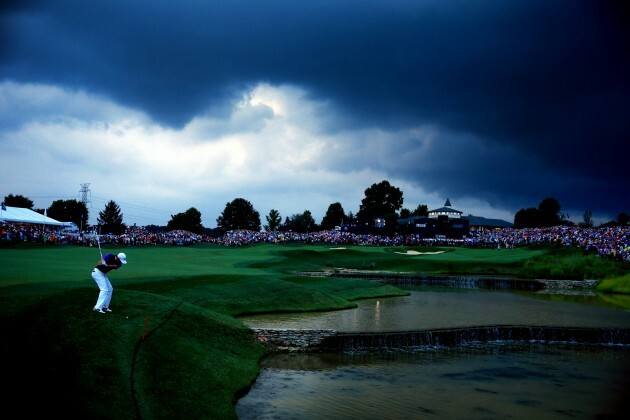 David Cannon David Cannon
(Rory McIlroy pictured at Valhalla where he won the PGA Championship recently)
"The likes of Christy O'Connor Senior could never afford to play the Masters. He did get invited because he was such a big name but he would have had to leave his family behind. He would have hade to pay to fly there, pay for accommodation, it was like a different world. Once more money flowed in and more TV sponsorship flowed in, then came the 70s and 80s era of the Des Smyths and the Christy O'Connor Juniors."
However, the subsequent relaxation of these major rules paved the way for McIlroy and others to prosper, in addition to the excessive funds ploughed into the sport owing largely to company sponsorship and TV deals, which allowed Irish players to make a living from it.
Moreover, Padraig Harrington's first major win, in particular, is cited as pivotal in giving Irish golfers the self-belief to reach the highest level.
"Rory McIlroy is kind of a generational talent. He talks in the documentary about how when he saw Padraig Harrington winning the Open the first time he won it in 2007, McIlroy was there as silver medallist for best amateur, and he was on the green with him.
"He mentions it as being a defining moment for him, as he saw one of his compatriots winning. He sees he can do it, then G-Mac goes and wins the US Open, so he says: 'Why can't I do that?' These guys are Irish golfers that have now won majors. He thought: 'I don't think they're more special than me,' so it's sort of success breeds success.
"I don't know if it's an Irish mentality thing of getting over the hump finally or whether it's anything to do with that. It could just be a bunch of great Irish golfers playing at the same time. But you can see it continuing, because there are good young guys coming through. You can imagine someone like Lowry stepping up and winning a major over the next few years, as well as guys behind him."

info@tiltedpictures.ie / Vimeo
Episode One of From Tee To Green – The Story Of Irish Golf can be seen on Setanta at 9pm tonight. Episode Two will be shown on Wednesday at 9.45pm, while the final episode can be seen on Thursday at 9pm.