GAA DIRECTOR-GENERAL Paraic Duffy believes the case for the retention of the provincial championships has been strengthened by the series of breakthrough victories over the past month.
The Dublin hurlers, the Limerick hurlers and the Monaghan footballers have all ended long droughts without titles in their respective provinces.
After the clamour early in the summer for the GAA to alter their senior championship structures, Duffy is adamant that recent results prove the provincial system works best.
"I have always felt we should keep the provincial championships. Last Sunday and the Sunday before underlines the reasons why.
"For a county like Monaghan, 25 years since they last won for Monaghan players and supporters that's a huge goal in itself. I was in Monaghan on Monday night for the celebrations and to see what it means to people.
"People who say we should get rid of the provincial championships don't really get it. You have to be from a smaller county where success is limited to see what provincial championships mean.
"That's what sport is about. It has to be about romance so the small guy can have his day. For Monaghan, it's only been four times in the last 75 years that they have won Ulster. You have to have that hope that you can somehow do it."
Champions League System
Duffy believes that the adoption of a Champions League style system would create more lopsided games at senior level.
And he argued against a recent suggestion by RTE's Sunday Game pundit Kevin McStay that the All-Ireland championship should be seperated into different tiers.
"Okay there are teams there that are not good enough and I get that. There are a very small number who are not good enough to compete but those counties want to be part of it.
"You have to accept every year there will be a few mismatches. But if you had eight groups of four, you'd have far more mismatches than you have with the present system.
"Someone suggested a few weeks ago we should have senior, intermediate and junior in football. That was one of the ideas floated. On that basis, both Cavan and Monaghan certainly, and London, wouldn't have been there.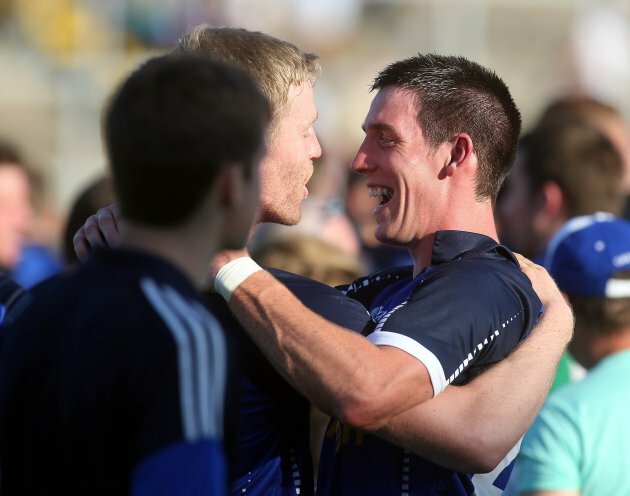 Cavan's Rory Dunne and Killian Brady celebrate after last Saturday's win over Derry.
Pic: INPHO/Presseye/Lorcan Doherty
"Monaghan are in the quarter-finals and either Cavan or London, will be as well. London wouldn't have qualified for the senior, they mightn't have qualified for the intermediate.
"If someone comes up with a better system, we'd always be open to look at it. But I don't think doing away with the provincial championship is the solution."
Duffy confirmed that the Football Review Committee, chaired by Eugene McGee, are continuing to carry out their brief of examining the structures of the senior championships.
"They're looking at structures, that's what they've been asked to do. I've no idea what their views are or what they'll come up with. That's a matter for them."