AFTER JOYOUSLY CELEBRATING Ireland's first gold medal of the meet, the tally has been quadrupled in a single day.
Wexford's Darragh McDonald got the ball rolling with a commanding display in the pool.
The 18-year-old smashed his PB by seven full seconds and finished several lengths clear of his nearest challenger in the 400m freestyle.
We hope McDonald's massive achievement won't be entirely eclipsed by events later tonight. Track and field so often captivates and when you have Irish athletes like Jason Smyth and Michael McKillop bypassing world record it is easy to see why.
What we learned today
Smyth and McKillop are world beaters
Make no mistake, the pressure was on these boys. Yet, they came out, trusted in their ability and delivered on the biggest stage… in emphatic style. Two track golds and two world records. Sensational.
GB and Australia still dominate the velodrome.
Team GB took away two more gold medals from track cycling as Sarah Story won the 5oom and Neil Faiche the km time trial. Ireland's Michael Gallagher was one of many victims in the 4km pursuit. He could only follow as Jon-Allan Butterworth set a new world record – a time that proved good enough only for bronze as Australian's Michael Gallagher came out to set a new one.
Oscar Pistorius means business.
The South African 'blade runner' set a new world record 21.30s in his 200m heat this evening. He wasn't letting up, despite leading by a good 20 metres at the end. The final is tomorrow.
Headline of the day
'Golds, golds, golds. We're lookin' for a good time.'
Other news from Team Ireland
We've mentioned already that Cathal Miller was disappointed with his performance in the 4km pursuit. There was also heartbreak for Catherine O'Neill who came fourth in the women's club throw – another even in which a world record was needed for gold.
10m air-rifle marksman, Sean Baldwin fell just short of a place in tomorrow's final. All eight finalists carded perfect scores of 600 while Baldwin's was 589.
"I am disappointed as I had a good chance here." Baldwin explained, "It was a timing issue, I needed to pick up the pace and it led to the score of 27 in the third string, I knew then that I wouldn't qualify. Now the focus is on my last event on Wednesday".
Hero of the day:
We're spoilt for choice, but we'll go for…. (*covers eyes and picks name from hat) Michael McKillop. His kick once the bell sounded for the final lap was a thing of beauty.
You said what?
"This just goes to show that if you work hard and apply yourself you can achieve at the greatest level.

"Times at championships are irrelevant. It doesn't matter whether you run ten zero or eleven zero, it doesn't matter as long as you win. I believe I can run quicker that again."
Just when we think Jason Smyth has inspired us as much as he can, he comes out with a line like that.
Medal table (as of 11.15pm Saturday September 1)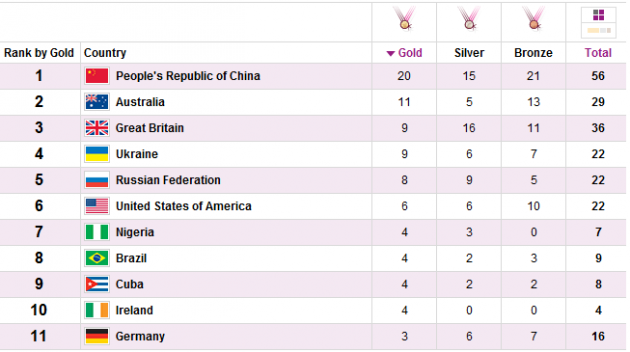 Take THAT, Germany!