THE WORLD RECORD for the 4km pursuit was broken twice this morning at the Velodrome, but the high speed edged Cathal Miller out of the reckoning.
The Dubliner, who narrowly missed the podium in Beijing, clocked a time of 4.49.237 on his ride, but it was Jon-Allan Butterworth who set the incredible early pace.
The time of 4:35.026 was over two seconds faster than previous holder Michael Gallagher, but the Australian bounced back to reclaim his WR. The pair will face off later this afternoon.
Miller, though, cut a disconsolate figure after his performance left him out of the running: "the wheels came off the wagon when Butterworth passed me, I feel I let everyone down."
Meanwhile, James Brown and Damien Shaw, adapted to the 1km time-trial, an event which is by no means their speciality, and finished ninth overall in a time of 1.07.979. Team GB combo Neil Fachie and Barney Storey.
Brown said "We are happy with our performance, our main event is the 4km pursuit, if we concentrated on every event there would be something wrong, we got a PB, you can't ask for much more."
While Shaw added: "It was great experience racing in front of the crowd again, the atmosphere here is brilliant."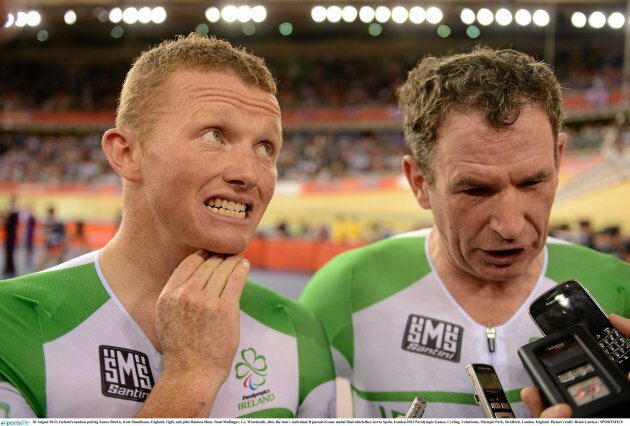 Brian Lawless / SPORTSFILE
In the Stadium, Catherine O'Neill fell short of the medal positions in the women's club throw. The world championship silver medalist hit a mark of 13.64 metres with her third throw, but the top three bettered that on each attempt.
"I threw well in the first three throws but it just didn't happen for me. Disappointing!! The atmosphere was quite distracting so I worked hard to block it out. I look forward now to my main event, the discus."
O'Neill was beaten GB's Gemma Prescott, Algeria's Mounia Gasmi and while Maroua Ibrahimi claimed gold for Tunisia with a new world record distance of 23.43 metres.
Down at Eton Dorney, Kevin Du Toit, with Sarah Caffrey, gave a strong performance in the mixed coxed fours race and finished fourth in the repêchage. Du Toit and Coffey will now progress to tomorrow's B final taking place at 10.30am.