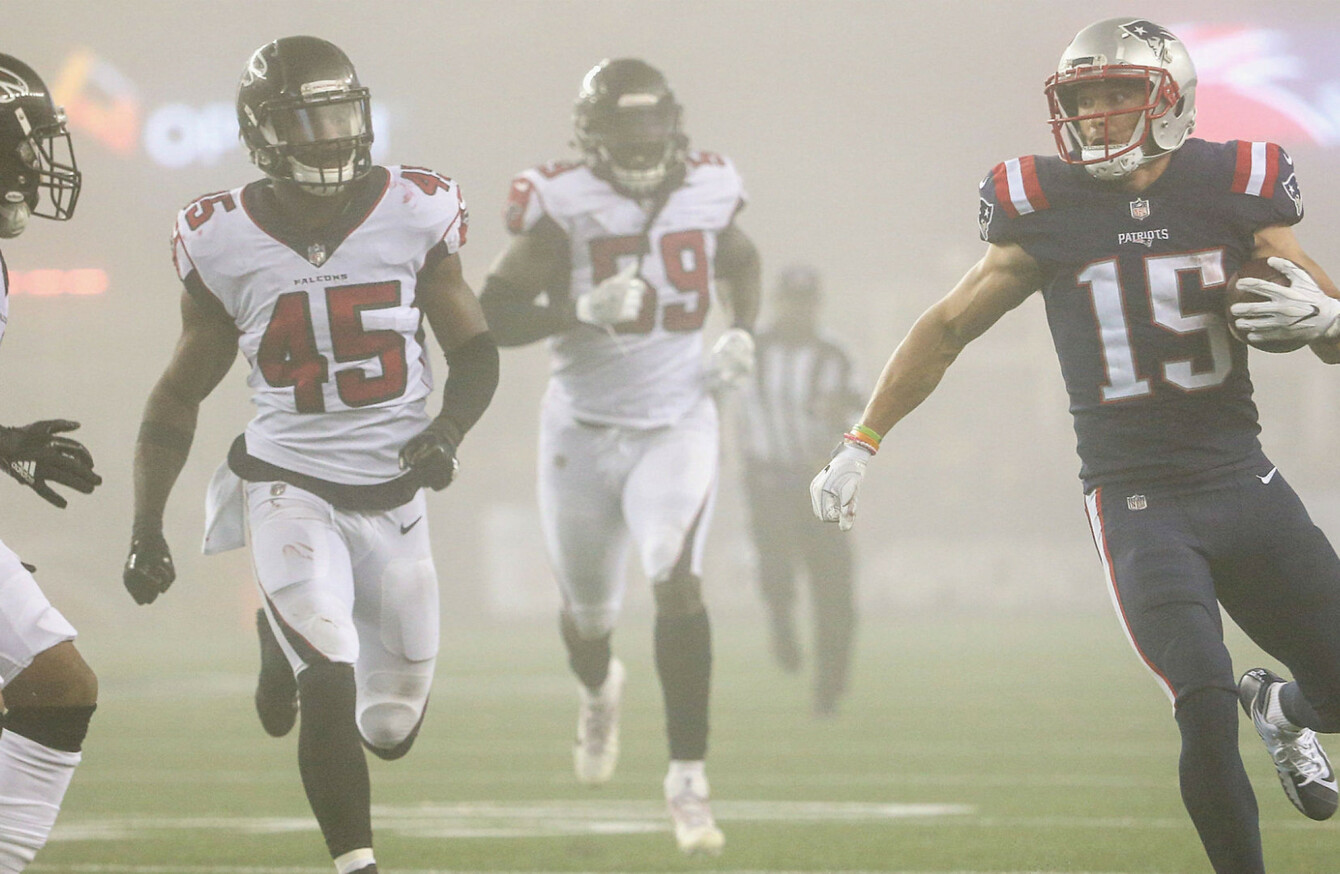 Upper hand: Chris Hogan.
Upper hand: Chris Hogan.
THE NEW ENGLAND Patriots dominated the Atlanta Falcons to claim a 23-7 win in the Super Bowl rematch on Sunday.
The much-anticipated clash was somewhat similar to their last meeting, in Super Bowl LI. One team jumped out to a huge lead, dominating the other.
Only this time, the Patriots were the team leading. And unlike the Falcons, who blew a 28-3 lead in the Super Bowl as the Pats mounted the biggest comeback win in the game's history, the Patriots held on.
Most of the night, the Falcons' chances of winning seemed about as hazy as the fog that rolled into Gillette Stadium during the game.
After a scoreless first quarter, the Patriots seized control. Tom Brady connected on an 11-yard pass to Brandin Cooks for the first score, and after a Stephen Gostkowski field goal, Brady finished off the half with a two-yard TD toss to James White to give the Pats a 17-0 half-time lead.
It was White's first touchdown since his walk-off score in the Super Bowl.
The Falcons mounted a nice drive to open the second half, only to get nothing out of it when kicker Matt Bryant doinked a 36-yarder off the left upright. Gostkowski later added a field goal for the only scoring in the third quarter.
Then came the sequence that defined the Falcons' futility Sunday in Foxborough. The Falcons marched 70 yards in eight plays, and had third down and goal inside the Patriots' one-yard line. But the Pats stopped them on third and fourth down to take over on downs.
The Falcons finally got on the scoreboard with four minutes, nine seconds remaining with Matt Ryan's one-yard TD pass to Julio Jones capping an 11-play, 88 yard drive. That broke a Falcons scoring drought of more than 91 minutes, dating back to the second quarter of their loss last week to the Miami Dolphins.
Brady was his usual efficient self, hitting 21-of-29 passes for 249 yards and those two scores. Ryan connected on 23-of-33 passes for 233 yards.
For the Patriots (5-2), all appears well after a couple of stumbles to start the season. They have won three in a row. But the Falcons (3-3), who have now lost three straight, have some big questions. The league's highest-scoring offense a year ago, Atlanta have now scored 17 points or less in three straight games. New offensive coordinator Steve Sarkisian is already under fire for the offense's lacklustre performance.