HE WAS TOLD in March to close the Gaelic football chapter in his life.
The doctors advice to Paudie Hurley was frank.
He needed to avoid contact sports in the wake of clots being having been found in both his lungs.
March 9th was the date of discovery. Hurley had been in goal in a senior challenge game for Castlehaven, his West-Cork based club, against divisional outfit Beara.
It was a routine early season match as Castlehaven sought to feel their way back into competitive action in the wake of the disappointment of their 2011 Cork senior final loss to UCC. When a high ball flew towards him, Hurley rose to catch it in a customary fashion.
"I caught the ball and did a one-two with one of our defenders. But I was starting to feel dizzy so I left it off to another teammate. I turned around and my legs were gone like jelly. I'd to go back and catch onto the goalpost to get my breath again.
"And the next thing I can remember is one of our defenders David Limrick had me caught by the head. I don't remember falling to the ground or anything else."
People rushed to his aid but Hurley was able to walk off the pitch soon after. He figured he had just fainted. Still an ambulance was summoned and he was ferried to hospital in Bantry.
"I went in that Friday night and was in the ICU until the following Tuesday. They did a whole load of tests but were keeping a close eye on my heart. Everything seemed to be okay there, but the thinking was there had to be something more to it.
"So eventually I was sent for a scan after they had pumped dye into my bloodstream. That showed up then on the screen that I had a couple of clots in both my lungs. That was causing me to get light-headed. My heart was working harder because of the clots in the lungs."
The gravity of the situation quickly hit home.
"I was blessed where it happened. If I was training on my own, it could have been a whole lot worse. But the fact that there was loads of people around for that match mean I got help. I was very, very lucky. It was fairly scary thinking about what might have been."
He was prescribed a course of medication for 12 months and with the proviso that he would get his bloods checked every fortnight to monitor his progress. The discussion with doctors soon switched to his lifestyle.
"They said I was going to have to stop playing contact sport. They'd no problem with me doing training on my own like running or cycling but didn't want me to go back playing Gaelic football. For at least twelve months anyway. That was very hard to take."
Gaelic football has been a constant fixture in Hurley's life. The Castlehaven club, which draws its players from the twin villages of Union Hall and Castletownshend that hug the West Cork coastline, is a hotbed for the game.
And Hurley excelled at it, making rapid progress. In 1999 he fired 0-7 against Kerry in a Munster minor football final with players like Cork senior hurler Tom Kenny, Cork senior footballer Noel O'Leary and Crystal Palace defender Damien Delaney amongst his teammates.
Two years later Hurley was rubbing shoulders with Graham Canty and Derek Kavanagh, and chipping over three points as the Cork U21 footballers won a provincial decider against Limerick.
At club level he won a county senior medal in 2003 at corner-forward for Castlehaven with his prodigious kicking ability ensuring he made a vital contribution.
Then his career underwent a makeover. The Castlehaven management were in search of a goalkeeper a few years ago and they threw that curveball in his direction, looking to deploy him at the opposite end of the pitch.
He adapted and settled into an unfamiliar role. But to have his career concluded not on his own terms was difficult to absorb.
"Gaelic football is just very important to us down here. There are no other sports in the village. To be watching the lads train or doing water at matches was tough. When they played the first round of the championship this year against Aghada, it was torture to watch on."
That match occurred on May 7th but Castlehaven then endured an idle summer with their fourth round tie against Newcestown not being played until August 31st.
Yet in the build-up to that match, Castlehaven's new goalkeeper Anthony Seymour got injured. And so it was the management turned to Hurley.
"I didn't know it until the day of that game that they were stuck for someone. It was a Friday night in Dunmanway and they asked me would I play. There was no pressure, it was completely up to me.
"I thought about it and didn't want to turn down the chance. I'd been training a small bit on my own and was feeling better. I reckoned I might be safe enough in goal so I played."
Castlehaven prevailed by two points that night. From there they kept winning. St Finbarr's (after a replay), Carbery Rangers and Duhallow were all toppled. And Hurley kept playing, keeping clean sheets for the remainder of the championship.
In the final on a desperate, grey day at the end of October, a 14-man Castlehaven clung on grimly for a one-point win. Duhallow attacked frantically in the final few moments yet Hurley emerged with the ball in the final act of the game before they were crowned champions.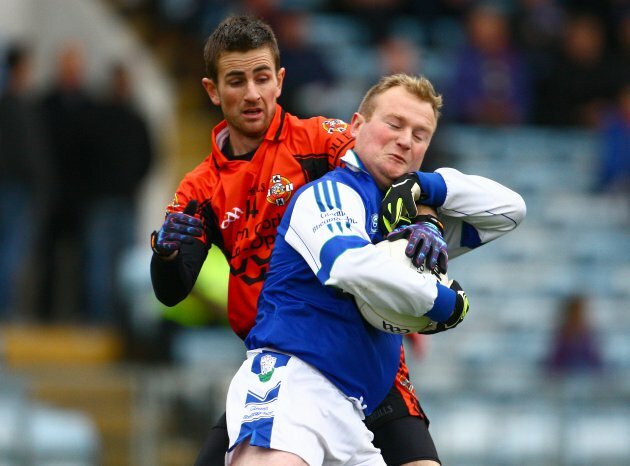 Paudie Hurley in action in this year's Cork county senior final. INPHO/Ken Sutton
It's a been a year of difficulties. The month after Castlehaven's 2011 county final loss, Hurley's mother Elizabeth had passed away after a brave battle against cancer. In his victory speech this year, captain Seanie Cahalane dedicates the win to her.
After those tough times, the renaissance of his football career is something Hurley savours. And the support to get him to this stage has come from various sources. His wife Anna. Family members. Castlehaven teammates. Club supporters.
"They have been all fantastic to me. Nine years on from my first county senior win, and given everything that's happened, you'd appreciated this a lot more."
The journey continues. On Sunday they travel to neighbouring Clonakilty to face Waterford's Stradbally in the Munster SFC club semi-final. The feverish excitement for remains in the parish.
In mid-November, Hurley is glad to be still finishing work with John Burchill Construction and heading to training on midweek evenings. There is another chapter to be penned yet.