PAUL GALVIN HAS ruled out performing a u-turn on his decision to retire as a Kerry footballer.
And the 34 year-old feels that the time was right for his decision after Gaelic football lost some of its excitement.
After Colm Cooper suffered a season-ending injury last week, Galvin has been urged by people to return but he is at peace with his decision.
"I was surprised to be honest (with calls to come back). It's not on the agenda. I was just trying to give it time and it was proving very hard. I just felt that I'd come up short, in terms of trying to do all the things I was doing.
"A little bit of the fun went out of it. Things like the gumshield I found tricky. I played a couple of games and I couldn't get my wind and I couldn't talk to fellas. Things like that might seem small and silly but the black card was another thing that could be tricky."
Galvin revealed that he had been on the brink of retiring before the start of the 2013 season.
"I just found after the club campaign last year that I found I was really slow going back. I was weighing it up to go back last year. When I was thinking that way I just felt this year would have been another stretch.
"I'd a chat with Eamonn and we said we'd give last year a go. Then I said after last year that I'd call it quits. The half-back thing got me interested again. But no it was time."
Galvin is currently based in Dublin but still hopes to play with his club Finuge and go back playing hurling with Lixnaw. He admits he is set to become detached from the sport.
"It's not an intention, but I just don't think about it now anymore. When I was there it was all I used to think about. It's only a tough thing to do until you make the decision. Once you make it then it's fine. The few days after were tough. You are just immersed in it for years. You have good friends that you might not be in contact with or won't see as much of any more."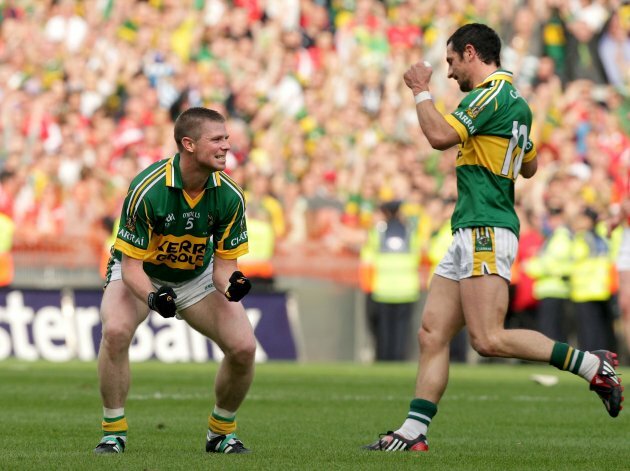 Paul Galvin with Tomás Ó Sé after the 2009 All-Ireland final win.
Pic: INPHO/Morgan Treacy
Dressing Room
The changes in the faces in the Kerry dressing-room offered Galvin another reminder of the evolution of the game.
"The dressing-room definitely changed. You see, when you were dealing with the fellas that I was dealing with for years, Darragh (Ó Sé), and Tadhg (Kennelly) and Tomás (Ó Sé). You were talking about big characters and raucous guys. Every day they would be looking for mischief.
"Those guys don't come along all the time, they're rare enough in the game. I would have done a good bit of laughing with those fellas. I think you probably have a different type of craic now. I taught guys that are main players now.
"Fionn Fitzgerald, a super player and I'd expect big things from him this year. James (O'Donoghue), Jonathan Lyne and Brian Kelly, the sub goalie, they were all on our school team that went to the Hogan Cup final. That's not to say it changed for the worst, it just changes. That's life."
*Paul Galvin was speaking at the launch of the 2014 An Post Cycle Series – www.anpost.ie/cycling