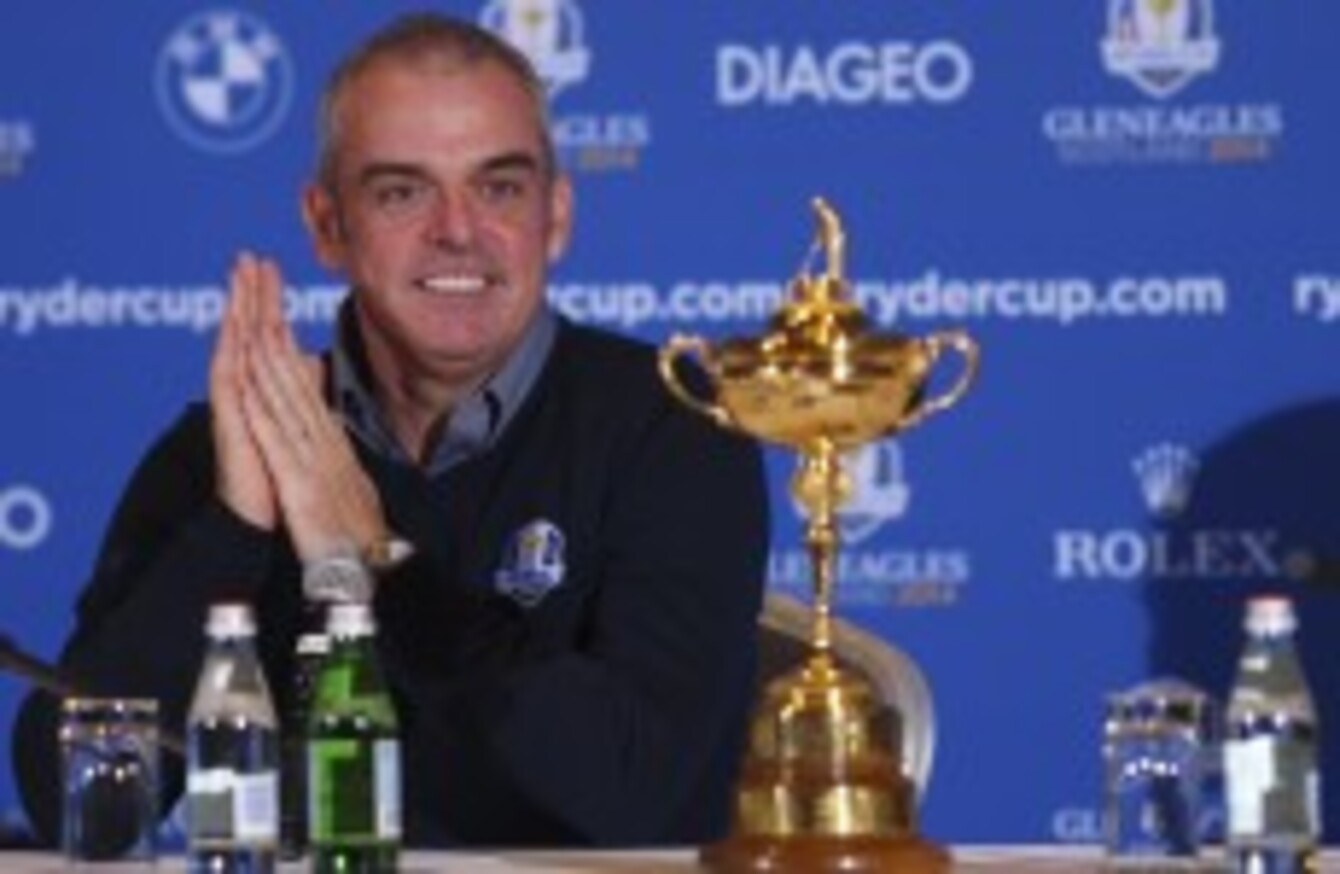 Image: Manuel Salazar/AP/Press Association Images
Image: Manuel Salazar/AP/Press Association Images
PAUL MCGINLEY IS already focused on the little details that will make his Ryder Cup captaincy a glorious one.
"Every night I go to bed thinking about the Ryder Cup and every morning I wake up still thinking about it," the Dubliner said yesterday ahead of his return to Gleneagles, the host course in 2014.
In his own meticulous manner, McGinley has spent the six weeks since his appointment researching whether the present qualifying and wildcard set-up will help deliver Europe a record-equalling third straight success.
He will travel to Florida in coming months to discuss the merits of "tweaking" the process with Europe's leading players.
McGinley would not disclose what he had in mind but he may consider the approach of 2012 USA captain, Davis Love III, who had four wildcard picks for last year's match at Medinah while Europe's Jose Maria Olazabal had two.
I'm about 60 percent down the path with that research but then I want to go to the Players Championship and bounce some of my ideas off the leading European players and to see how open they are to the idea of either a, b or c but without asking them to make a decision.

However I can assure everyone it will just be a tweak rather than a change because I feel if it's not broke, why fix it.
McGinley was officially welcomed to Scotland on Tuesday by First Minister Alex Salmond at his Bute House residence in Edinburgh. The first question Salmond asked was whether the role of captain has sunk in.
"I'm so excited about it and I have so many ideas," McGinley said.
Even when I'm watching a football match I'm now analysing it in a different way. Even when I'm reading all the quotes in newspapers I'm not looking for headlines from players any more. I want to know what the managers are saying.
Salmond presented McGinley with the gift of specially commissioned replica of an 1880 St. Andrews Golf Company putter to mark his visit to the Home of Golf.
McGinley will spend today at Gleneagles with European Tour staff and hotel officials getting more familiar with next year's host venue.
"It's exciting to be coming here as Ryder Cup captain," he said. "It's the first time I've been to Gleneagles when it hasn't had the stands up but coming here now is a huge moment in my career.
"Now, irrespective of what the result is, this will be a place that is synonymous with me for the rest of my life. Just as The Belfry has become in terms of me holing that winning putt, I can feel that sense of connection between me and here forever more."