IT'S BEEN A long, hard season for Paul O'Connell. Despite currently being in the twilight of his career, the star's appearance rate this year would make some players ten years his junior envious.
O'Connell has turned out consistently for Munster, in addition to playing an integral role in Ireland's Six Nations campaign. What's his secret?
"Games are better for me," he says. "My last pre-season was the pre-season before the World Cup, which was 2011, and it's something you just can't under-estimate getting that really hard conditioning into your body.
"There are times this season where I have felt really sluggish and I can feel the fact that I haven't had that pre-season work in me but putting a season of 25, 26 matches or whatever it will be at the end of the year all going well, if I can achieve that together with a good pre-season, it will put me in a really good position for next year."
"There have been other seasons where I have played more games. I don't know about minutes. I have played about 19 and come off the bench in three. Certainly at the start of the year I missed two or three games that I could have played in. I missed one over Christmas.
"I was supposed to play against Treviso after the Six Nations and missed the Scotland game. It's been a little bit like that because I hurt my hamstring at the start of pre-season this year, so I didn't get a lot of the running that a lot of the other players got in so I was just in, played against Gwent off the bench and then played Leinster and then we were straight into Heineken Cup. I have been playing a little catch up at times throughout the year."
O'Connell is also eager to be part of Ireland's summer tour of Argentina and is showing no signs that his desire for the game may be waning. In fact, on the contrary, he seems to love it more than ever. Is it the John Hayes attitude that's inspiring this seemingly relentless drive of his?
"I'd like to play six weeks in a row and then have a week off. That would be my ideal way of doing it but it doesn't always happen like that. You may have a six-day turnaround with both away games. You throw in travel to Cork on top of that with Munster the way we are split between two centres and you spend a lot of time on the road and end up putting yourself at risk of injury. But yeah, I'm definitely that kind of guy and it gets that way when you are older, you do certainly enjoy playing games week-in, week-out and that is what keeps the body ticking over.
"The last 15, 20 minutes of a game is when you really start to struggle and that is when you start to really make the gains. It's one thing I found even over in Hong Kong with the Lions last summer, the next game I played I felt incredibly fit. I played 67 or 68 minutes in the heat and humidity in Hong Kong and the last 20 of it were a real struggle, but you do get gains out of it. The more 80 minute games you put in, the better."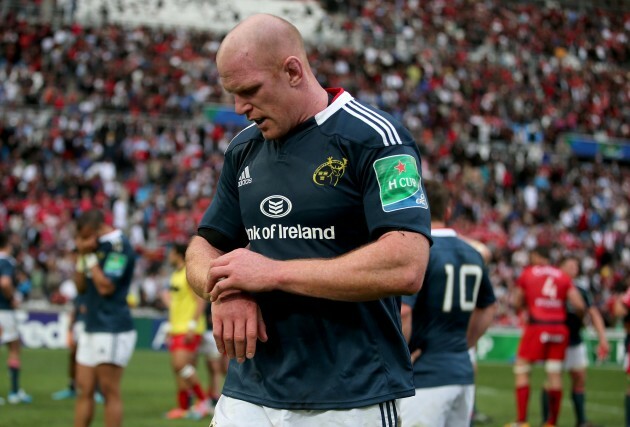 Dan Sheridan / INPHO Dan Sheridan / INPHO / INPHO
(Paul O'Connell pictured during the Heineken Cup semi-final)
Consequently, match fitness is one of the many reasons why O'Connell is hoping Munster make the RaboDirect PRO12 final. Otherwise, there'll be considerable gap between Munster's last game and Ireland's first.
"A three-week break never suits me. I like playing as many games in a row as I can, get a week off, do a small bit of training that week and you feel great a week later."
Exclusive Six
Nations Analysis
Get Murray Kinsella's exclusive analysis of Ireland's Six Nations campaign this spring
Become a Member
He's also hoping that such consistent fitness will ultimately lead to a reward in the form of a potential last hurrah for O'Connell — a place in the Irish 2015 Rugby World Cup squad.
"It plays on my mind and I even chatted to Jason Cowman only last week about looking after myself. Jason has a theory that the more pre-seasons you can accumulate together back to back, the better conditioned you will be. So it's all about making big steps in your pre-season, hopefully staying injury-free during the year, making a few small steps and then big steps again in your pre-season, a few small steps again so the longer you go without those long-term injuries, you can really accumulate fitness, strength, conditioning.
"Ideally for me, if I can manage my body really well, I'm in a good season this year, ideally get a good pre-season in again, another good season and another good pre-season and hopefully I should be in as good a shape going to a World Cup as I have been in a long time."
And as far as Munster are concerned, O'Connell believes his side will find it difficult to attract quality players in the summer, though he acknowledges that bargains are out there — as Connacht's recent signing of Mils Muliaina proved.
"I think it is a hard time to attract players anyway with the World Cup next season — that is one thing for sure. Certainly we are restricted on who we can sign as well at the moment. Look, Joe has one opinion on it and I am sure Rob has another.
"No matter what I say, I am sure I will annoy one of them. I am sure Pat Lam has to do the best he can do for Connacht. To sign a guy of Mils Muliaina's quality is something."
"Money plays a massive factor but I'd like to think we can still compete. I just don't know if we can compete with a lot of the money that is on offer in France at the moment. So I think that is probably the biggest factor in it. We have been in semi-finals in the last two seasons and I think the quality of player is there in Munster. A lot of the players who have come through in the last two years are excellent players. They may not be household names yet, but I think a lot of them will be."