PAUL O'CONNELL SETS the highest of standards.
Two Heineken Cups, three Celtic Leagues, a Grand Slam, a Six Nations trophy, four Triple Crowns and a victorious Lions tour are products and feeders of the 34-year-old's lofty demands on himself and his teammates.
Two days out from Munster's most important game of the season so far, and five days after "a really poor performance" against Leinster, O'Connell is the man questioning what his province have achieved on the pitch during this campaign.
There has been plenty of positivity around the apparent progress of Rob Penney's team in recent months, but ahead of the visit of Toulouse to Limerick on Saturday, O'Connell is wary of believing those opinions.
"I don't think we've played particularly well in a long time. We defended really well against Gloucester away from home [in December] and we played well against Leinster at home when we beat them at Thomond Park [in October].
But I'd find it hard to put my hands on any big performances from us in recent months. You look at the squad Toulouse have, the quality of player they have, the size of men they have, it's an absolutely mammoth task for us.
"It's great to be at home and everything, but this is an incredible team, with incredible players and an incredible talent. It's just a massive uphill task for us."
As well as setting high standards, O'Connell is a master of sending out the right message, both to media and his fellow players. Talking down Munster's chances, particularly when the bookies have them as favourites, comes as no real surprise.
James Crombie / INPHO James Crombie / INPHO / INPHO
His fear against Toulouse is that the Top 14′s side unpredictability makes it so difficult to build an expectation of what Saturday's game will look like.
"I don't think you ever know what's coming against Toulouse. They've so many flair players, so many players that can play off the cuff. We certainly looked at a lot of them, they certainly still play an incredible offloading game.
"As the weather gets drier and drier and the pitches get harder and harder, that's going to suit them. The talent they have allows them to play the game in such an unpredictable way."
O'Connell name checks Yoann Huget, Yoann Maestri, Louis Picamoles and Yannick Nyanga as particularly threatening influences for Toulouse, while highlighting their entire squad's sheer size.
They're incredibly big men and incredibly talented players. There's talent all over the pitch and they're not a team you can really analyse. There are certain teams you can analyse and plan to try and stop what they're going to do.
"The thing with Toulouse is the way they play and the style of rugby they have, it's very hard to predict what they're going to do. That makes it very difficult."
Les Toulousains made a remarkable 104 offloads during the pool stages of this season's Heineken Cup, an average of 17.3 per game. Munster's average of 8.83 over their six games so far gives us an indication of how much Toulouse look to keep the ball alive.
Oftentimes, a strong concentration on offloading is linked with a looseness of possession; that is, teams who offload a lot also spill plenty of ball and therefore provide the opposition with chances to counter-attack.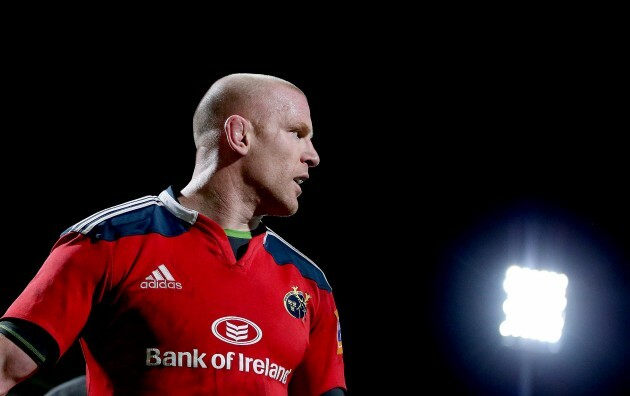 Dan Sheridan / INPHO Dan Sheridan / INPHO / INPHO
O'Connell says there is a real difference with Toulouse, alluding to the fact that they have also beaten more defenders [164] than any other team in the tournament so far.
"I think if you're forcing an offload game, it can be very dangerous, but they've such skilful players with such good feet, such speed and such size that it isn't something they force and it's something that comes naturally to them.
"It's probably something that's bred into them since they're very young. It is a really tough game to defend. If it leads to us getting one or two balls off them and we get to counter-attack them, that's well and good.
But I think defending that game and trying to stop that game is going to be a big part of our game plan for the weekend."
It's beautifully poised for Saturday, with Toulouse's offloading and sidestepping Gallic unpredictability juxtaposed with Munster's set-piece and breakdown focus. This is what European club rugby is all about.
"I think it probably makes it a brilliant occasion for Munster supporters and for the Heineken Cup itself; to have Munster and Toulouse playing a game in Thomond Park in Limerick is a massive occasion."
Time for Munster to provide O'Connell with a performance that satisfies his high standards and his thirst for success.