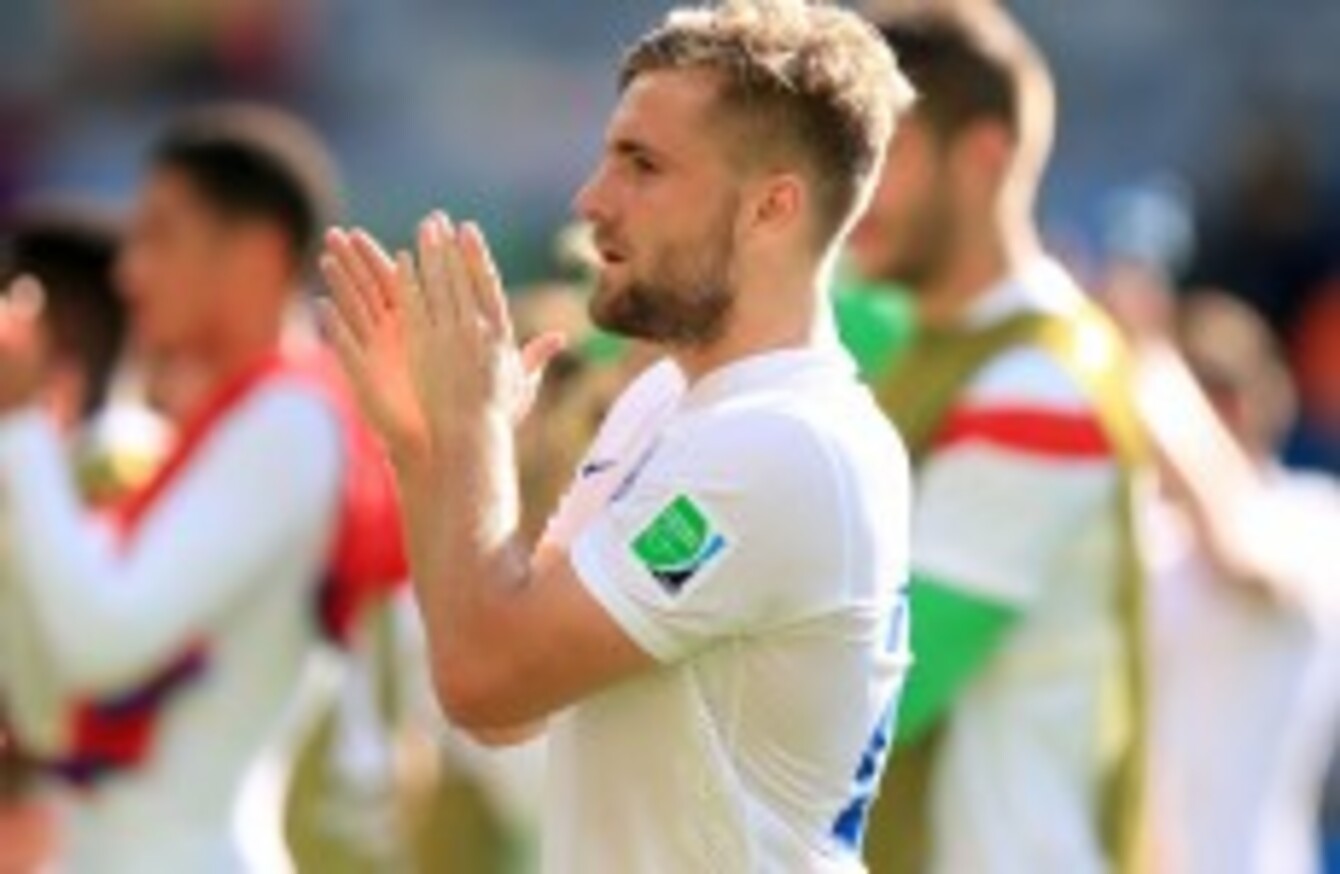 Southampton left-back Luke Shaw is due to have medical at Manchester United ahead of a proposed move.
Image: Mike Egerton
Southampton left-back Luke Shaw is due to have medical at Manchester United ahead of a proposed move.
Image: Mike Egerton
Updated at 12.45
MANCHESTER UNITED GREAT Paul Scholes said the proposed move of teenage England left-back Luke Shaw to Old Trafford for a fee in excess of £30 million (€38m) was a sign of just how "silly" English football had become.
Southampton starlet Shaw was a member of an England squad containing several highly-valued players which, nevertheless, crashed out of the World Cup at the group stage after failing to win a single match in Brazil.
Former United and England midfielder Scholes, in his blog for bookmakers Paddy Power, said young English players were not getting enough first-team action at Premier League clubs.
But he added part of the reason clubs relied on cheap foreign imports was because so many home grown footballers were too expensive.
"The proposed £34m transfer for Luke Shaw to United is another example of something which has a bad long-term impact," Scholes said.
"Clubs are priced out of this market which is why they go abroad for cheap options. For a left-back to be worth £34m shows how silly the game has gone," Scholes said.
He also wrote that England had been "going backwards" since 1990 when they reached the semi-finals of that year's World Cup in Italy.
"Compared to La Liga and the Bundesliga, English players are not getting enough first-team time in the Premier League," said Scholes. "We're going backwards from 1990 and the era of Paul Gascoigne and that conveyor belt of talent.
"Players as talented as David Silva, Robin van Persie, Sergio Aguero and Eden Hazard only make the Premier League stronger.
- Average players -
"But it seems the Premier League is known as a market for average players (or their agents) to say: 'I'll go to England and they'll pay me stupid money to play'.
Meanwhile Scholes poured scorn on English Football Association chairman Greg Dyke's target of winning the World Cup in 2022 and his plan for a B-league to help increase the number of England-qualified players.
"From what I've seen at this World Cup, we'll be lucky to qualify. I fear England are going the way of the Republic of Ireland, Wales and Scotland," Scholes said.
"England can take some positives. Raheem Sterling, Daniel Sturridge and Ross Barkley, even though he didn't start the first two games, are a sign of the future – fast, intelligent footballers. But otherwise I'm struggling."
The only time England have won the World Cup was on home soil in 1966 when then beat the then West Germany 4-2 in a final at London's Wembley Stadium.
Dyke's predecessor as FA chairman said the governing body was not set up to deliver an England team capable of matching that achievement, insisting the power of the wealthy Premier League was a stumbling block to international success.
"We've been knocked out of the World Cup again and this compounds 40 years of under-performance. We've had different managers, different players and, by and large, the same results," David Bernstein told Friday's Daily Telegraph.
"Is there a connection between that and governance-structure issues? Of course there is. As in any organisation, if you're not right at the top, the rest won't be right."
He added: "The Premier League has £3bn-£4bn of income…The FA has £300m, less than one tenth of the income. So it's outgunned financially.
"The Premier League exercises considerable influence over the game and over the FA. It has strong representation on the FA board.
"The FA is not capable, in my view, of self-reform and without change, we will continue with this disappointing cycle. Real progress is not possible.
"It will need legislation or a regulator imposed to make the changes."