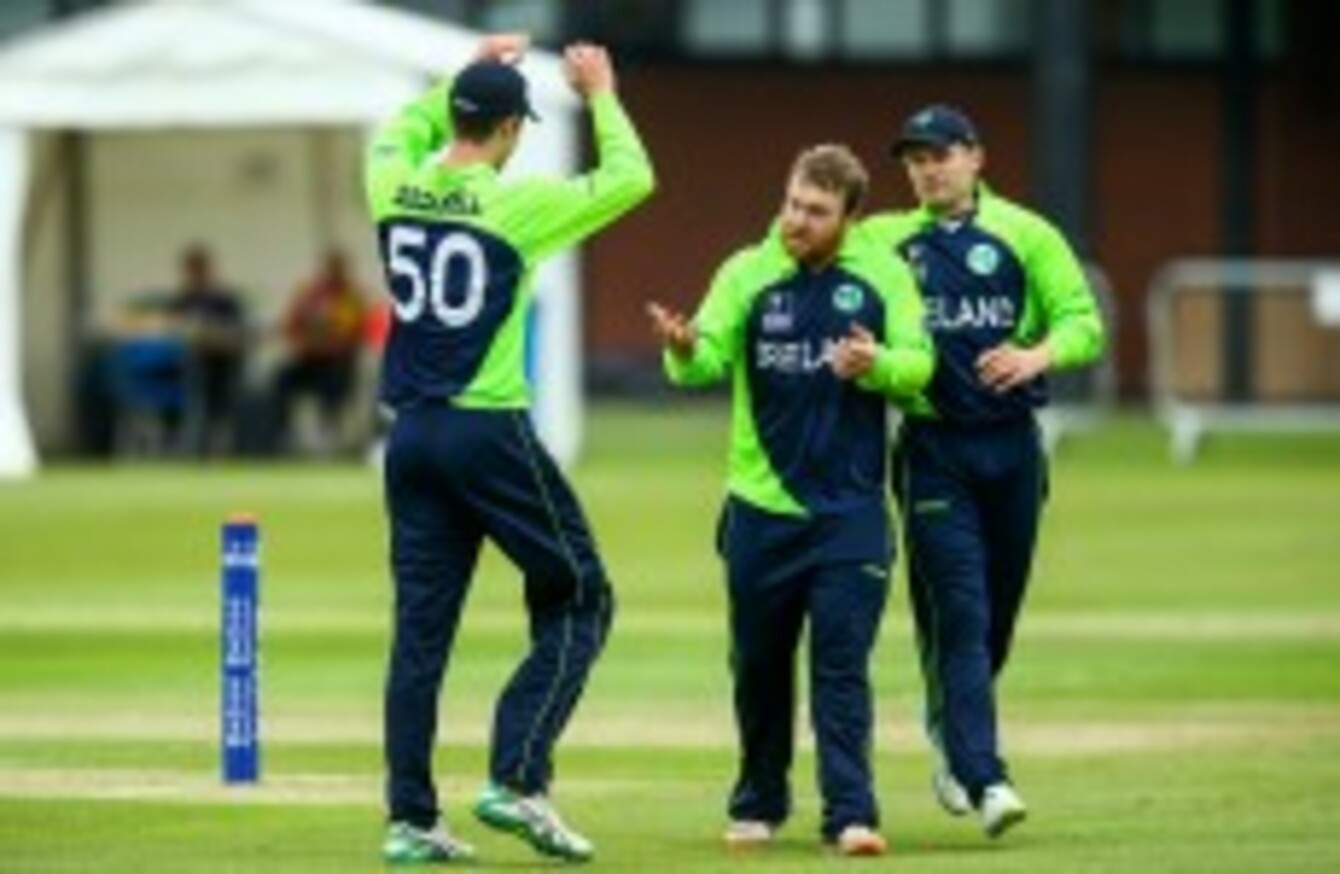 Stirling has been one of Ireland's standout performers during an underwhelming campaign.
Image: Presseye/William Cherry/INPHO
Stirling has been one of Ireland's standout performers during an underwhelming campaign.
Image: Presseye/William Cherry/INPHO
IT WAS HARDLY the way Ireland would have expected to book their passage through to next year's World Twenty20 as the celebrations ended up erupting in the corridor of their team hotel.
Ireland's supremacy at Associate level has been so steady that they've rarely had to rely on other results but John Bracewell's side have certainly not had it all their own way at this World Twenty20 qualifying tournament.
Shortly after securing a place in a seventh World Cup event in the last decade, Kevin O'Brien took to Twitter to admit they'd used their 'get out of jail free card.'
After suffering unexpected, and almost ignominious, reversals to Papua New Guinea and then Hong Kong earlier in the group stages, it had looked like Ireland would be forced to enter the lottery of the playoffs.
But an extraordinary set of results on Sunday afternoon worked in the hosts' favour as their four pool wins ended up being enough to finish in the automatic qualification berth.
The circumstances quite possibly made the achievement that bit sweeter but Ireland have failed to perform to the level that's now expected of them at this tournament.
Yet it says a great deal about William Porterfield and his team-mates that they've been able to get the job done even when they've been far from their best.
The two humbling defeats served as a wake-up call and a stark reminder that, even at this level, Ireland are now unable to just show up and canter across the line.
"Of course it wasn't the way we wanted it to go," Paul Stirling admitted to The42. "But we have no right to win every game – no team does, but that's no what everyone expects us to do."
"We didn't listen to the criticism from outside because we knew what we had to do to fix the problems and we showed that against Jersey."
Stirling played a key part in that emphatic win as they made light work of Jersey in what had ultimately become a knock-out game.
The Middlesex all-rounder took three wickets and then plundered a half-century as Ireland eventually escaped a winner-takes-all showdown with Afghanistan and Netherlands.
Instead, they have had a week off to take stock and prepare for this afternoon's semi-final against the Dutch, who negotiated the playoff hurdle against Namibia during the week.
It will be the first meeting between the sides since their unforgettable game at the last edition of the World Twenty20 in 2014. On that occasion, Netherlands upset the odds to stun Ireland with the most remarkable onslaught in Bangladesh.
But Stirling insists revenge is the last thing on the minds of the Irish camp in the build-up to Saturday's last four tie in Malahide.
"I think that's been talked about more by the public and media then us," he continued. "We are desperate to win but not any more because of what happened in Sylhet.
"That's along time ago now and we're not thinking about that."
While the ultimate goal of qualification has been achieved, Ireland are still determined to reinforce their standing as the kingpin of Associate cricket and are just two games away from securing a third successive title.
If they can go all the way, it will have been via an alternative path but that will matter little should Porterfield be lifting yet more silverware aloft on home soil come Sunday tea-time.
Ireland's game against Netherlands starts at 2.15pm in Malahide with the other semi-final – Scotland against Hong Kong – taking place at 10am. Tickets are available at the gate while both games are live on Sky Sports 3.