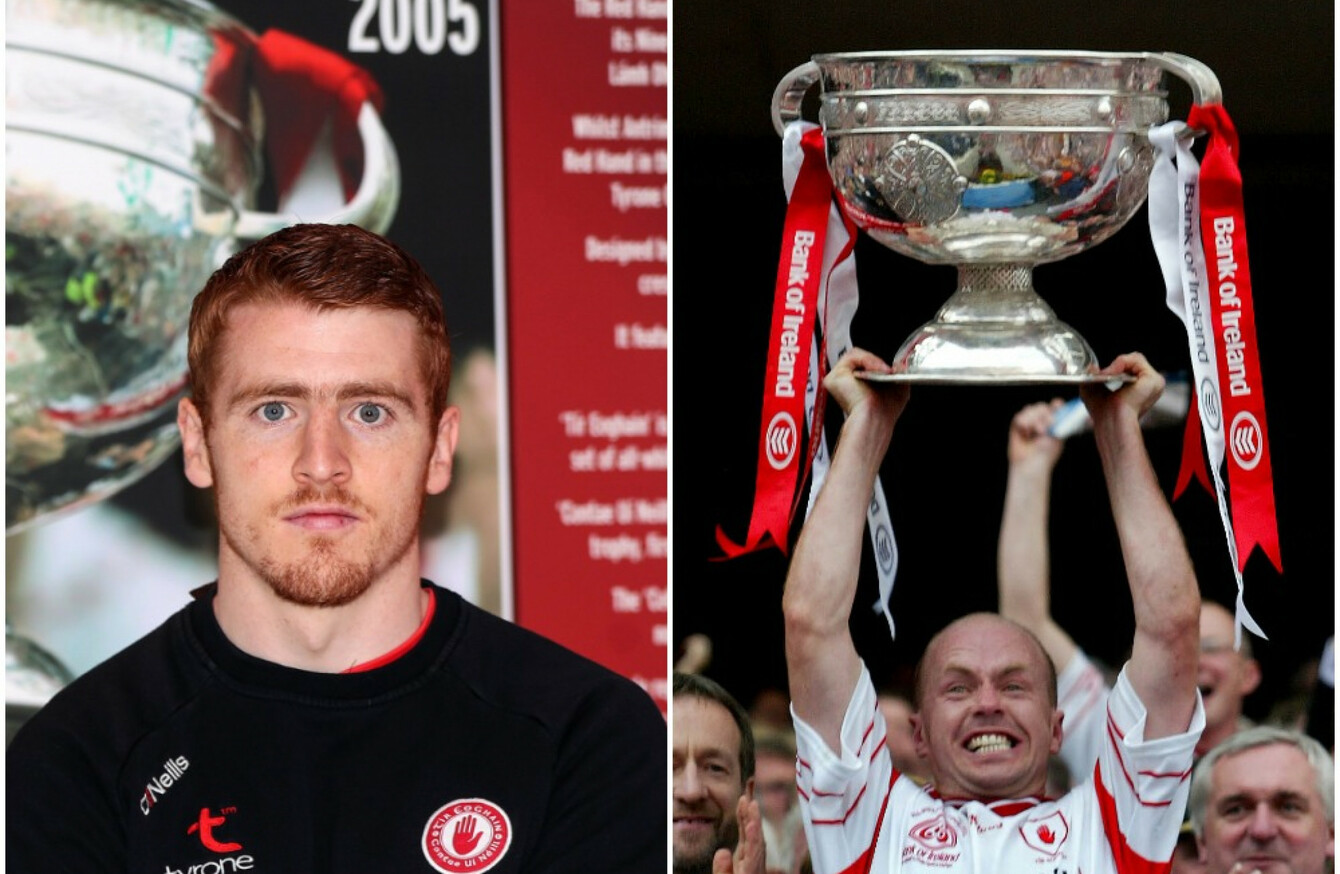 Peter Harte gets for his maiden All-Ireland senior final appearance.
Image: INPHO
Peter Harte gets for his maiden All-Ireland senior final appearance.
Image: INPHO
WHEN YOU ASK questions of the extended Harte clan, it strikes you that you are dealing with a breed of people who think quick on their feet.
An example. Peter Harte who passed away in 2010 and was brother of Mickey and uncle of the present day player of the same name, was President of the Ulster Council from 1980 to 1983;  a time that coincided with massive unrest and the Hunger Strikers.
At a time with sectarianism at its absolute depths and GAA clubrooms in  constant fear of damage, Harte ushered the Ulster Council safely through, never putting a step wrong.
Therefore, when it is suggested to Tyrone's flame-haired attacker that Tyrone will definitely turn up for Sunday's All-Ireland final when they face Dublin priced at 6/1, he grins and quips; "There's a bus booked so we may as well come down for the weekend!"
As soon as the preliminaries are finished on Sunday and he lines up, he will have John Small for company. No surprises there.
The Ballymun Kickhams man has imposed his will on Harte regularly. Last year he hardly let him out of his sight in their 12-point semi-final win, restricting Harte to a single point from play.
That's all he got in the league game in Omagh in early February, while when they meet during the Super 8′s, it was the same story.
Yet, he has the mental resolve to reverse this.
During the Ulster Championship he was marked by Fintan Kelly in their defeat to Monaghan. He scored just one point and a frustrating afternoon ended with him red carded with a closed fist hit on Ryan Wylie.
By the time they met Monaghan in the All-Ireland semi-final, Kelly coped well until the last ten minutes when Harte was moved to the inside line and dragged them over the line.
"Just looking forward to another battle," downplays Harte of another evening in the company of Small.
"Hopefully we can get on the front foot and put him on the back foot more. He's been marking the best players these last few years for Dublin, and he's excellent at it, as you all know – he's strong and fast.  
"I just have to concentrate on my game and do the best I can to help the team out; hopefully everyone else will do that as well and if enough boys are doing that, you leave yourself with a chance." 
His abiding memory of the 2003 All-Ireland finals; being in the Cusack Stand with his best friend and running onto the field to see Peter Canavan lifting Sam Maguire.
Sometime in the future, Canavan will be his father-in-law as he is engaged to his daughter Aine, a doctor who is an accomplished player herself for Tyrone ladies and Errigal Ciaran.
As a child, he spent a childhood soaking up Canavan masterclasses at the nearby club grounds of Dunmoyle, when Errigal were a constant presence in Ulster Club football.
"As a child he was just a hero to anyone who grew up close to here," he says.
Be part
of the team
Access exclusive podcasts, interviews and analysis with a monthly or annual membership.
Become a Member
"I don't think you had to be from Errigal (Ciaran) to be a massive Peter Canavan fan. I remember during an Ulster club run half of Tyrone was at Errigal games because Peter was such a big draw and people wanted to see him play."
The Ulster club campaign of 2002 was a highlight. Errigal captured a county championship in Mickey Harte's one season in charge over Killyclogher before playing out a series of games against Crossmaglen, eventually triumphing and going on to beat a very good Enniskillen Gaels team in the final.
If that inspired him, the following year was even better, with Harte bringing seven Errigal players into the county set-up.
For all of Tyrone's big days, young Peter was there. For the last of them a decade ago, he was a star turn on the county minor team that drew with Mayo on the day Tyrone overturned Kerry in the senior final. They won the replay a week later.
In the blink of an eye, he went from the shy lad seeking to fill his autograph book with signatures of that team to nudging them along the benches at senior training, sitting in on strategy meetings and winning an Ulster title in his first year on the team in 2010.
"The Doohers. Big Packy (McConnell). JD (John Devine). Jesus, you could go through the whole team nearly – Mugsy, all them boys," he says.
"I was nearly in as a fan at the start, because you're just in absolute awe, these are the boys you've watched the last last ten years, basically win All-Irelands and do things … Mugsy's goal against Dublin and stuff like that. These are just your heroes. So it was class to come in. 
"But, in the first year, we won Ulster and you kind of thought 'This is just the way it's going to be; just win games and whatever. But, very quickly, that all changed and football moved on really quickly and the Dublins and Donegals brought the whole conditioning, they just brought football probably to a new level." 
Now they come up against a side being tipped as the greatest of them all. Certainly, the best prepared. It's an inexact science, but in all the conversations around the country about this final, few can offer up examples of underdogs being priced so long in an All-Ireland final.
Still, he knows what an All-Ireland final means to his county.
"The first one, probably for any Tyrone fan, is the one that sticks out the most," he says.
"For any Tyrone fan, you'll never forget that. Probably just the happiness and emotions, and going back that night to meet the team and all the rest. Going to Aughnacloy and Omagh (for homecomings), they're just things you'll never forget." 
It's over to Harte, his uncle's deployment of him, and their ability to carry it out, to make similar days for today's children.
The bus is running…
The42 is on Instagram! Tap the button below on your phone to follow us!