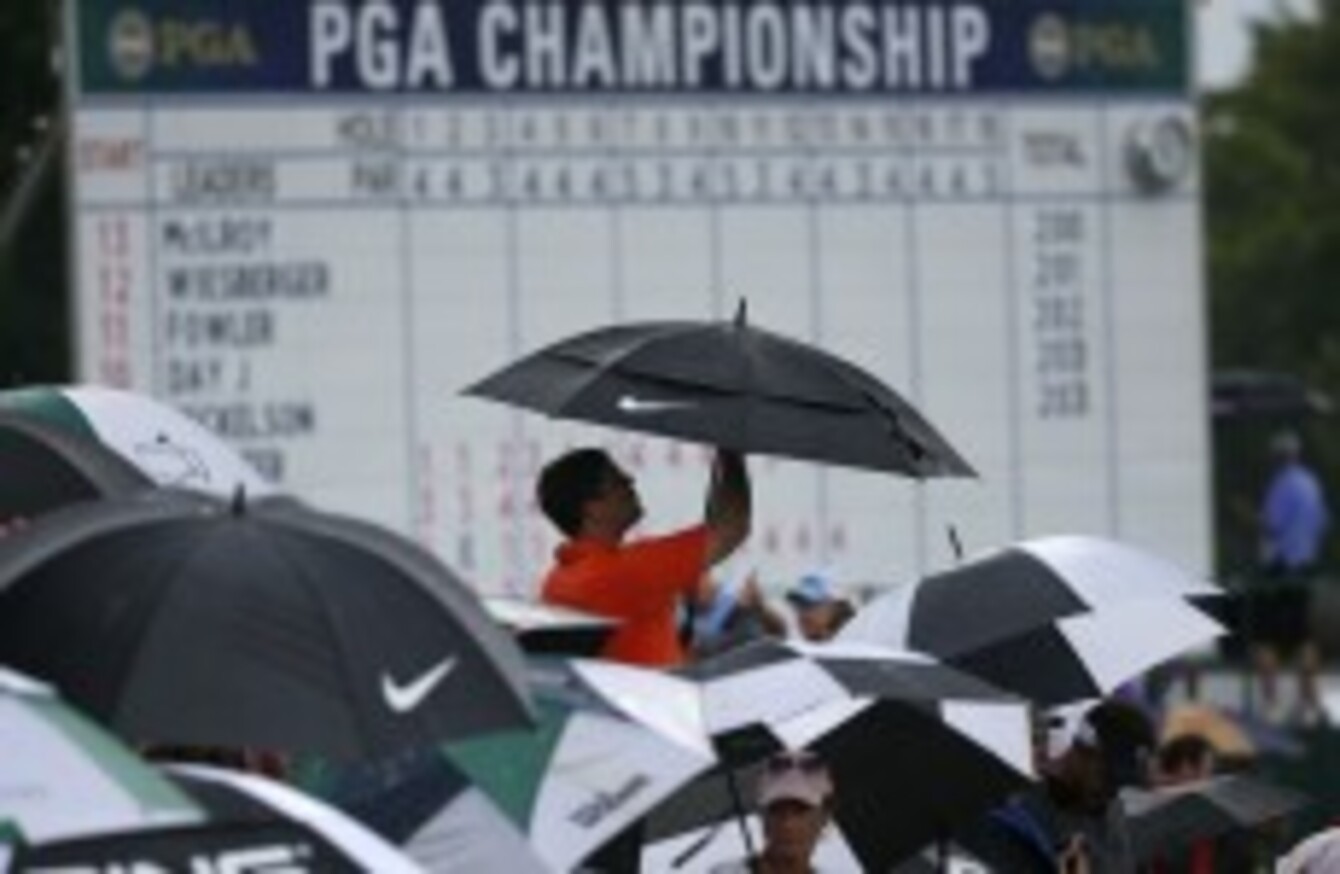 Golf fans disappear beneath a sea of umbrellas at Valhalla.
Image: Mike Groll/AP/Press Association Images
Golf fans disappear beneath a sea of umbrellas at Valhalla.
Image: Mike Groll/AP/Press Association Images
HEAVY RAIN HALTED play in Sunday's final round of the PGA Championship, swamping the Valhalla course and raising the threat of a Monday finish in the year's final major tournament.
World number one Rory McIlroy, who leads Austria's Bernd Wiesberger by one stroke, was among 24 players yet to start his round when the storm struck.
"There's not much you can do about it," McIlroy told Sky Sports. "We just have to wait it out until we get the chance to go out and play."
Water-logged Valhalla's flooded fairways and greens, already saturated from a three-day drenching, could not cope when the latest downpour struck, leaving the course unplayable.
"The course took a real soaking and it doesn't take much to flood the greens and fairways," McIlroy said. "Hopefully it will dry up and we get the chance to get out there and play some golf."
Rivers of rainwater rolled down several fairways and the 18th green quickly became an island, the 7,548-yard layout growing more swamped by the minute, hole flags surrounded by lakes at several spots on the course.
A lengthy delay brought into question whether the round could be finished by nightfall.
Only eight players – including Ireland's Shane Lowry whose four-under 67 saw him finish the tournament on -1 – had managed to complete their final rounds when the storm struck.
Wet conditions had made the course receptive, helping produce a record-low average of 69.57 strokes Saturday, but the latest deluge on a course named for the Norse hall of gods was proving more than course workers could handle.
When play resumes, McIlroy will try to complete a hat-trick of victories after winning the British Open three weeks ago and a World Golf Championships event last week.
"I'm feeling confident," McIlroy said. "It helps having been in this position recently at the British Open. Maybe some of the other guys on the leaderboard haven't."
Only two major winners, five-time major champion Phil Mickelson and 2010 British Open winner Louis Oosthuizen, were within five shots of McIlroy.
If he wins, the 25-year-old would become the fourth youngest man to win his fourth major, trailing only Young Tom Morris, Tiger Woods and Jack Nicklaus.
McIlroy, whose other major wins came at the 2012 PGA Championship and 2011 US Open, would be the first man to win two majors in a row or in the same year since Ireland's Padraig Harrington took the British Open and PGA in 2008.
And only three times since 1988 has a player won a major the week after a victory, Tiger Woods doing it in 2007 and Phil Mickelson pulling it off twice, in 2007 and then last year winning the Scottish Open before taking the British Open crown.
McIlroy would join Harrington, Woods, Walter Hagen and Nick Price as the only men to win the British Open and PGA in the same season.
Any European winner would make this the first year in which Europeans have won three of the four majors, a good omen for the trophy holders entering next month's Ryder Cup matches with the United States at Gleneagles, Scotland.
The round marks the end of US Ryder Cup qualifying while Europeans still have three weeks remaining. Each captain will make three selections to fill out the roster on September 2.